SmartHedge
Our risk management and valuations platform
Keeping track of your foreign exchange exposure can be difficult and time consuming, but our cutting-edge risk management platform, SmartHedge, makes this easier. Considering the volatility and fast paced nature of the currency markets, your business will benefit from spending less time processing information and more time making key decisions.
This platform has been created with our clients at front of mind – it's therefore quick to set up, incredibly intuitive and easy to use.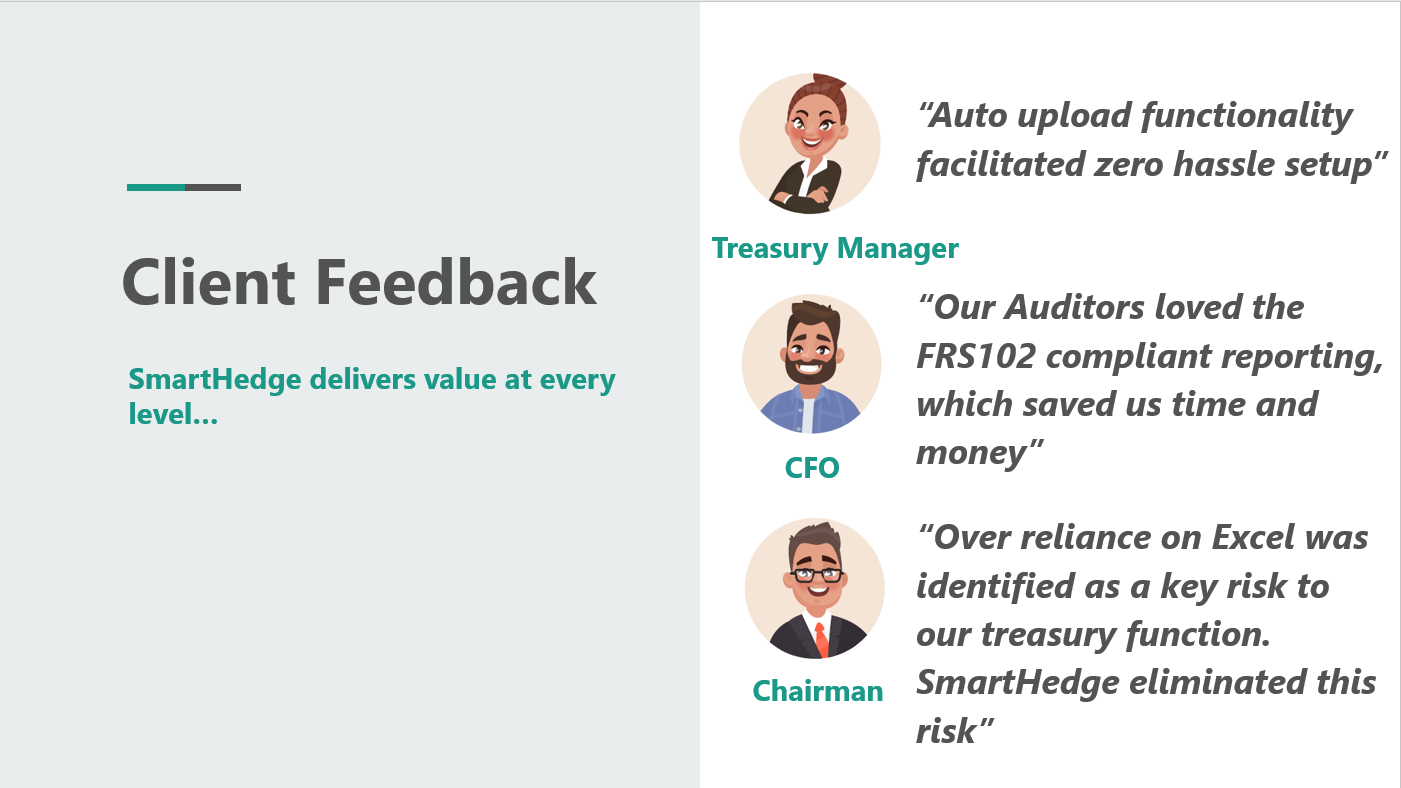 Valuations

Reporting

Cloud-based

Product/Counterparty agnostic
Sensitivity Analysis

FRS 102 compliant

24/7 access

Quick setup and easy to use
Do senior figures and board members need to be informed of your FX exposure?
In a time when senior figures need to be aware of the potential risks to your business, SmartHedge can generate clear and concise monthly valuations, giving you real time visibility and consolidation on your hedging position.
Is preparation for audits strenuous and time-consuming?
SmartHedge can generate annual valuations for audits that include all hedges that you have in your portfolio, even those from third parties. You'll no longer have to wait for counterparties to submit their valuations for your positions.
Do you need to analyse your currency exposure efficiently?
Our platform gives you a clear view of how your hedging strategy is performing as well as potential market shifts, so you can make the necessary reviews and adjustments.
Do you struggle to understand how cash-flows could be impacted by currency fluctuations?
SmartHedge collates your cash-flows and hedges all in one place, making it easy to gain a greater understanding of how unhedged flows could impact your business.
Are your excel spreadsheets difficult to manage?
With SmartHedge, all your data is available on one, secure, cloud-based platform, which can be accessed from anywhere, 24/7. No need to store data on multiple spreadsheets that are prone to human error – SmartHedge collates everything, making it easy to view your overall position.
Are you able to back-test your hedging policy?
Using historical data, SmartHedge can back-test your hedging policy to assess how successful it's been in the past and suggest improvements that can be made going forward.
So far, we've introduced SmartHedge to a number of clients, including the Institute of Physics Publishing and home appliance providers Ebac. After using the platform for several months, they explained that SmartHedge saves them time when preparing for audits, allows them to answer crucial questions about their hedging strategy and improves efficiency when dealing with ourselves here at Smart.
If you're interested in learning more about what SmartHedge can do for your business, why not book a free demo with us? Fill in the form below and we'll get back to you as soon as possible.
Alternatively, email us on support@smartcurrencybusiness.com for more info.
Fill in the form below to discuss your specific requirements with us
Disclaimer:
Option contracts are offered by Smart Currency Options Limited (SCOL) on an execution-only basis. This means that you must decide if you wish to obtain such a contract, and SCOL will not offer you advice about these contracts.
This material provides you with generic and illustrative information and in no way can it be deemed to be financial, investment, tax, legal or other professional advice, a personal recommendation or an offer to enter into an option contract and it should not be relied upon as such. Any changes in exchange rates and interest rates may have an adverse effect on the value, price or structure of these instruments.
SCOL shall not be responsible for any loss arising from entering into an option contract based on this material. SCOL makes every reasonable effort to ensure that this information is accurate and complete but assumes no responsibility for and gives no warranty with regard to the same.
Foreign exchange options can carry a high degree of risk and are not suitable for everyone as they can have a negative impact on your capital. If you are in doubt as to the suitability of any foreign exchange product, SCOL strongly encourages you to seek independent advice from suitable financial advisers.
Consulting a website or receiving a publication does not constitute a customer relationship and SCOL shall not have any duty or incur any liability or responsibility towards any person or entity as a result thereof.
SCOL is a wholly-owned subsidiary of Smart Currency Exchange Limited, and is authorised and regulated by the Financial Conduct Authority to carry out MiFID business with reference number 656427.
SCOL is a private company limited by shares registered in England and Wales. Company number 9034947. The registered office address is at 26-28 Hammersmith Grove, London W6 7BA.