Do you struggle to manage your ongoing currency valuations?
Do you find valuing hedging positions at your financial year-end a challenge?
Is preparing figures for audits strenuous and time-consuming?
Do you struggle to manage currency exposure/mark-to-market values across multiple counterparties and currencies?
Do you know the extent of your margin call risk and how this may impact your business?
Do you effectively measure against current credit facilities?
Are you constantly aware of the current fair value of your hedges?
Currency valuations
In managing your FX risk you need to know more than just the exposures, cashflows and hedges. You need independent valuations. In fact, you need the exact valuation, mark-to-market or fair value.
During times of market volatility, SmartHedge gives you direct access to instant, reliable and accurate valuations on your current hedging instruments, regardless of the counterparty they are booked with. Using SmartHedge's simple yet powerful valuations functionality (IFRS 9, CVA/DVA for IFRS 13, and IFRS 7 compliant) you can more effectively manage your mark-to-market exposure and make clearer and more informed data driven decisions – becoming proactive rather than reactive. SmartHedge offers the ability to value forwards, as well as a vast array of currency options.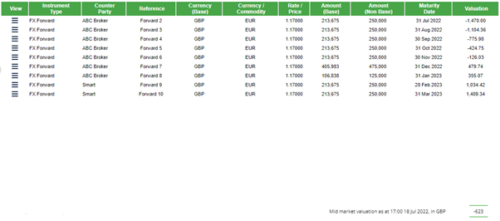 Sensitivity Reporting
SmartHedge has in-built sensitivity reporting that lets you understand the impact of moving exchange rates. You can now predict the outcome of market movements with greater accuracy and manage margin call risk and credit utilisation more effectively.

Advantages of valuations with SmartHedge
Quick and easy: Your team can be using SmartHedge for FX Valuations immediately.
Better informed decisions: Support hedging decisions with accurate sensitivity tracking of FX movement.
Part of our offering: Access to SmartHedge is a standard component of our corporate offering.
Access anywhere: Highly secure, cloud-based solution for anytime, anywhere access.
Reliable: Favoured by our clients for support during key reporting dates throughout the year
Enquire about SmartHedge today