Stress testing and analysing risk
Do you struggle to assess the impact of a moving exchange rate on your current hedging?
Do you struggle to quantify the potential profit or loss you could be exposed to?
Is quantifying current or potential performance versus your budget rate a challenge?
Are you able to model, quantify and prepare for 'Black Swan' events?
Do you struggle to model hedging outcomes given changing exchange rates?
Our risk management and valuations platform SmartHedge can provide solutions to these challenges. For our trading clients, the SmartHedge is included within our service offering and we are on hand to offer guidance and support to help you make the most of this valuable platform.
How can SmartHedge help me understand and model currency risk?
We have specifically developed SmartHedge, not only to assist not only with managing current forecasts and hedging, but also allow you to easily model risk and prepare for all eventualities.
Simple and intuitive to use, SmartHedge will give you the power to make informed and data driven decisions to help better manage your currency exposure risk. You can quickly 'stress-test' of your current hedging position using our scenario analysis tool and highlight areas of potential significance. Managing broader hedging decisions in a volatile currency market is made easier than ever – become proactive, not reactive.
Easily see your current forecasts and hedging positions in one place, with the ability to set different types of forecasts in one model.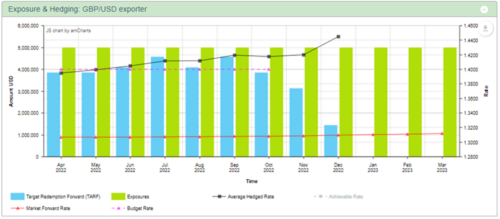 Assess the impact of a changing exchange rate on your current hedging position, to better anticipate the impact of future events. You can assess performance versus market rates or your budget rates
"Smart are very easy to work with; our dedicated adviser is always available to answer my calls, whether it is to place a trade or answer a query about how to reduce our currency risk."
Enquire about SmartHedge today