Do you find it a challenge to accurately forecast currency movements?
Are you able to make effective, information-based decisions on hedging currency forecasts?
Do you fully understand the implication of market volatility on your hedging versus forecasts?
Are you able to easily model distinguished forecasts and update your currency requirements in a changing environment?
Our risk management and valuations platform SmartHedge can be the solution to these challenges. For our trading clients, SmartHedge is included within our service offering and we are on hand to offer guidance and support to help you make the most of this valuable platform.
How can SmartHedge help my cashflow forecasting?
We have specifically developed SmartHedge to assist not only with managing currency forecasts, but to also  contextualise these against existing hedging. A series of simple graphs and tables allow you to quickly monitor your overall exposures, anticipate upcoming cash flow requirements and make clearer and more informed hedging decisions.
Easily see your current forecasts and hedging positions in one place, with the ability to set a variety of distinguished forecast in one model.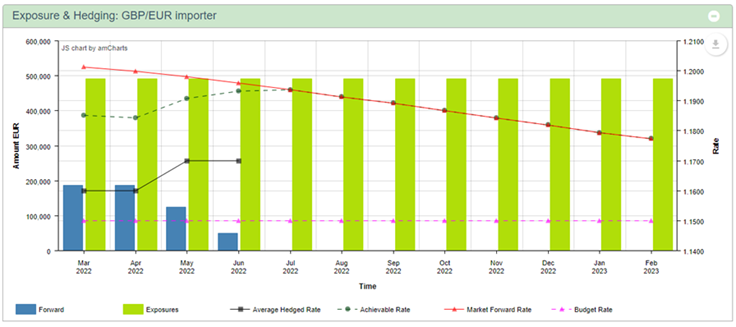 Assess the potential impact of a volatile currency pair on your forecasts, taking into account current hedging.

Ability to quickly amend particular forecasts by notional amount or tenure.

"Smart are very easy to work with; our dedicated adviser is always available to answer my calls, whether it is to place a trade or answer a query about how to reduce our currency risk."
Enquire about SmartHedge today