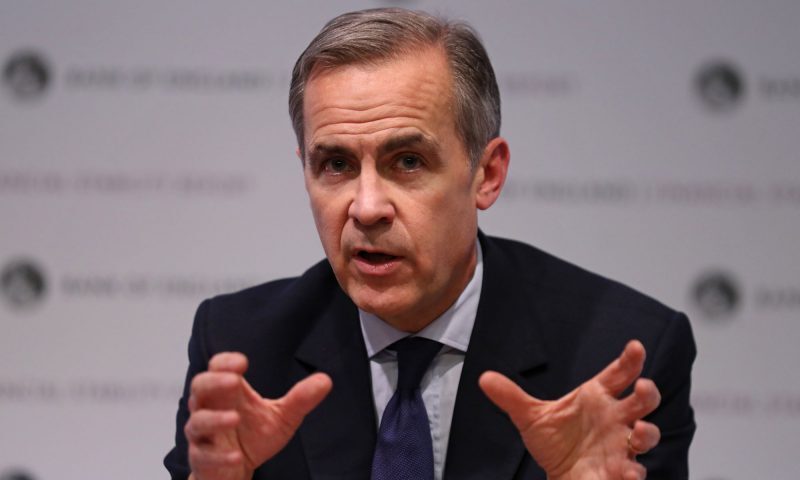 Following his comments yesterday, the Bank of England's Mark Carney was interviewed on Radio 4's Today Programme where he was asked about the central bank's latest Brexit analysis. Governor Carney said it was part of BoE's job to look at what could go wrong with Brexit, then put those outcomes into a scenario to ensure the banks have more than enough capital to absorb the potential losses to the banking sector. Importantly, Carney said "It's not what's most likely to happen. It's what could happen if everything goes wrong, and we use that to help make sure things go better."
He went on to deny John Humphrys' charge that he was playing politics and trying to scare people. He said he did not have a preference for a specific type of Brexit, though conceded that the Bank prefers a transition period (which is included in Theresa May's current Brexit proposals). Carney went on to say that a lot of work still needs to be done in order to prepare for a no-deal Brexit.
Elsewhere, Theresa May spoke to a committee of senior MPs and told them that the government would have to reopen negotiations with the EU on the Brexit deal if the UK sought an extension to the departure process. The prime minister claimed that extending article 50 would invalidate the Brexit deal. When asked if she had been told that by the EU, May refused to answer, instead saying "What has been made clear is this is the deal that we have negotiated with the European Union."
In the US, Michael Cohen pleaded guilty to lying to Congress. Trump's former lawyer said that the president continued trying to develop a tower in Russia's capital months into his campaign for the presidency. Trump responded by calling Cohen 'weak' and cancelled his G20 meeting with Putin, saying that Moscow's failure to return Ukrainian ships was his reason for the decision.
In Germany, the unemployment rate came in better than expected and inflation dropped to 2.3% in November from 2.5% the previous month. Late last night, the Federal Open Market Committee released the minutes from its latest meeting and they confirmed Jerome Powell's comments from earlier in the week. Almost all participants believe another rate hike is imminent – almost certainly in December – and rates will continue to rise, but more gradually than previously thought.
There's still time to read our latest white paper on Brexit. We outline our position, as well as highlight some potential scenarios and things to think about when preparing for Brexit. Do have a read and let us know your thoughts. We'll be publishing some scenario analysis in the next few days, so watch out for that.
GBP: governor Carney defends Bank of England's analysis
After Jacob Rees-Mogg personally insulted the Bank of England Governor, Mark Carney, for daring to suggest that the UK's withdrawal from the EU could have a negative impact on the economy, Carney defended the Bank's analysis. Speaking on the Today Programme, Carney said that this type of analysis was necessary, if only so the Bank could ensure it had more than enough capital to absorb the potential losses to the banking sector.
Sterling fell back below the $1.28 level and it lost some ground against the euro too. It is fair to say that we could see some significant sterling volatility in the next couple of weeks, especially if MPs vote against May's Brexit proposals. The extent of sterling's moves will largely depend on how many MPs vote against the bill – if it is heavily defeated then there will be increased fears of a no-deal Brexit.
Mortgage approvals came in better than expected for October, with 67,086 approved in October 2018 from an upwardly revised 65,726 in the previous month. It is the highest number of approvals since January. Today we will see Gfk consumer confidence for November, which is expected to drop to -11 from -10 the previous month.
EUR: German inflation rate drops to 2.3% in November
The main release from the eurozone yesterday was the German inflation rate for November. It had been expected to fall to 2.4% from 2.5% the previous month, but it actually dropped to 2.3%. Last time, it hit a ten-year high, so the drop will be welcome news. Prices of services and food are expected to rise at a slower pace.
Business confidence in the eurozone picked up to 1.09 this month from a 17-month low of 1.01 the previous month. It was better than the 0.96 the markets had been expecting. We also saw the German unemployment rate for November which came in at 5% from 5.1% the previous month. It had been expected to hold steady.
Today's highlight is the eurozone's unemployment rate for October, which is expected to drop to 8% from 8.1% the previous month. We will also see the flash inflation reading for November which is expected to drop to 2% from 2.2% in October. We will also see German retail sales for October.
USD: Trump calls Cohen weak as former lawyer pleads guilty
The big news of the day from America was Trump's former lawyer, Michael Cohen, pleading guilty to charges of lying to Congress. Trump called Cohen 'weak' and claimed that he is lying to get a reduced sentence. Importantly, Cohen said that Trump continued trying to develop a tower in Moscow months into his presidential campaign. This could well be the start of something big.
Initial jobless claims surprisingly jumped up to 234,000 in the week ending 24 November from the previous week's unrevised level of 224,000. Markets had been expecting a drop to 220,000. There won't be too much concern over the data, as it is possible that Thanksgiving celebrations played a part in the figures. It will be interesting to see what the reading is next time around.
Today is extremely quiet for US economic data, but it wouldn't be a surprise if we saw continued fallout from the Trump and Cohen situation. Expect some defensive Tweets from the former reality television star.
For more on currencies and currency risk management strategies, please get in touch with your Smart Currency Business trader on 020 7898 0500 or your Private Client trader on 020 7898 0541.