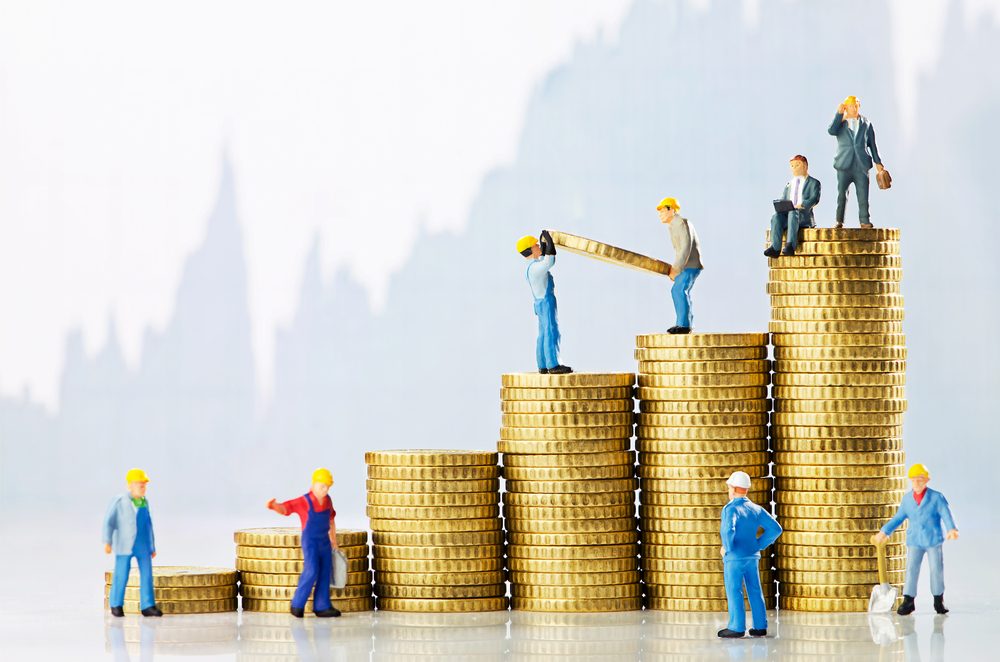 Following Tuesday's UK inflation data release which showed that inflation surprisingly fell to 2.7% in February 2018, attention turned to yesterday's wage growth data. We learned that basic pay increased by 2.6% per year in the three months up to January, which was up from 2.5% in the three months to December 2017. However, including bonuses, earnings rose by 2.8% which is the biggest jump since September 2015.
Ultimately, this means that the UK's cost-of-living is easing as the gap to inflation is narrowing all the time. The good news is that real wages have stopped falling – if you're one of the UK employees that gets a bonus. There was more good news as the UK employment rate hit 75.3% in the three months to January. Unemployment is now at its joint lowest level since 1975.
Meanwhile, over the pond, the Federal Reserve did as expected and increased US interest rates by 25 basis points to 1.75%. The decision was always unlikely to cause any dollar movements, given that the markets had already priced in a rate hike with 100% probability; of more interest was the subsequent press conference for indications of future monetary policy. New Fed Chair Jerome Powell spoke for only 45 minutes of his allotted hour, but said there would only be three rate hikes in 2018 (though the Fed is forecasting an extra rate rise in 2019). Still, it was enough to send the dollar tumbling against sterling which hit a six-week high.
If your business's year-end is March, you still have just over a week to submit your R&D Tax Credit claim for 2016 and 2017. You have absolutely nothing to lose by getting in touch with us and, seeing as the average claim for UK-based SMEs is £61,314 and a ten-minute conversation is often all it takes to determine whether you have legitimate grounds for a claim, we strongly advise giving us a call.
Contact us on 020 7898 0500 or email charlie.davies@smartcurrencybusiness.com. We'll get back to you promptly and see about getting you some money back.
GBP: cost-of-living easing as wage growth accelerates
It has been a pretty good week for UK economic data so far this week, what with inflation dropping more than expected and wage growth accelerating to ease the cost-of-living burden. Sterling promptly strengthened following the release of the latest labour market data from the Office for National Statistics. The prospect of a UK interest rate rise has now increased, although it is felt that such a hike would come in May rather than later today. But you never know…
…we will find out at 12pm when BoE come together to announce their rate decision. It is unlikely that news from yesterday could significantly influence policies outlined today, but there is certainly increased expectations of a rise in May. If this happens, it appears that the central bank is toeing a similar line to the Fed, with gradual rate hikes in a relatively short space of time.
We will also see the retail sales figures for February which, year-on-year are expected to have dipped a little from 1.6% to 1.3%. However, so many recent releases have come in above or below forecast that it is currently anybody's guess what the actual reading will be. A pretty eventful couple of days all told.
EUR: euro slides against sterling in 10 of the last 11 days
There were no major releases in the eurozone yesterday, as attention turned to the wage growth figures from the UK, as well as the Fed's interest rate decision in the US. However, despite the lack of key data releases, the euro still found itself strengthening against the dollar.
If we take a look at the last week or so, we can see that the euro has slid against sterling 10 days out of the last 11. The moves amount to more than 2.5 cents gained by sterling – this is largely in line with the moves since the turn of the year. While there haven't been any major movements between the GBP/EUR pairing, sterling is enjoying a positive run of late and you do have to wonder when the next big move will come. Perhaps further progress in the Brexit talks could trigger significant sterling strength.
Today we have a much busier day, as we will see a raft of purchasing managers' index data from Germany and across the eurozone. We will also see the German Ifo business climate for March – it is expected to slip a little from 115.4 to 114.6.
USD: rates hiked as expected, but only three in 2018
The key economic data release yesterday was the Fed's interest rate decision which, as expected, increased by 25 basis points to 1.75%. Powell spoke at the subsequent press conference and by all accounts gave a good account of himself. He was positive about the US economy, but suggested there would be only three hikes in 2018 (many had been expecting four). This helped sterling climb to a six-week high against the dollar.
The other main release from the US was the existing home sales figures for February. They had been expected to rise from 5.38 million in January to 5.4 million in February, but the release beat forecast by coming in at 5.54 million.
Today we will see the Markit composite, manufacturing and services flash PMI readings for March, as well as the initial jobless claims in the week up to 17 March.
For more on currencies and currency risk management strategies, please get in touch with your Smart Currency Business trader on 020 7898 0500 or your Private Client trader on 020 7898 0541.