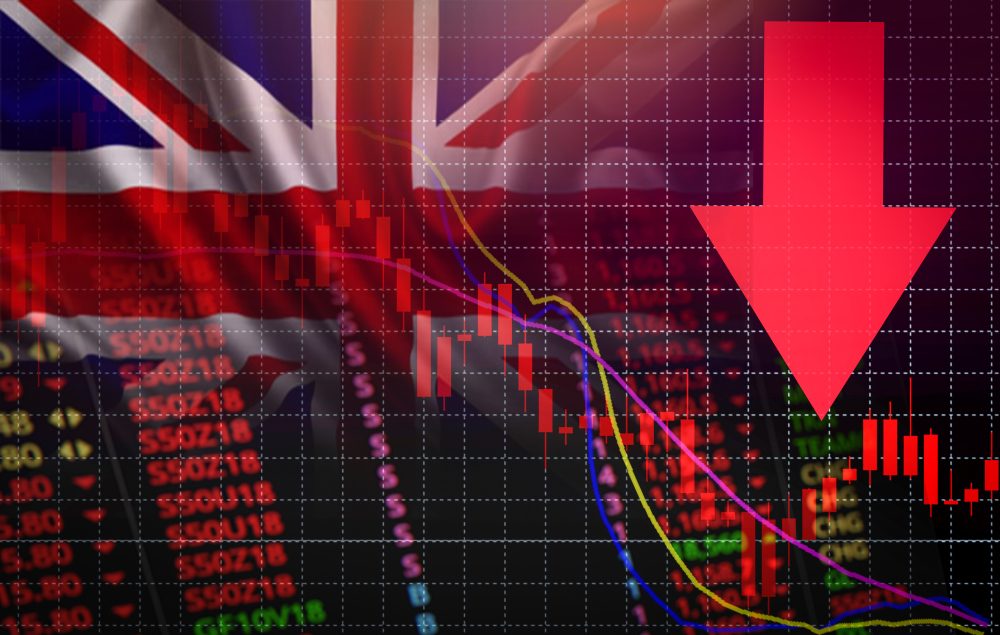 Heightened political uncertainty and continuing Brexit-related concerns have created an economic slump in Britain. Figures released yesterday showed that the UK's dominant services sector has fallen to the brink of stagnation. In January, the Markit services PMI reading dropped to 50.1 from 51.2 the previous month and some way below the 51.0 the markets had been expecting. Any figure above 50.0 shows growth, so the latest reading is some cause for concern.
The reading was the lowest for two-and-a-half years and the second-weakest since December 2012. Worryingly, new business volumes declined for the first time since July 2016 and at the sharpest rate since April 2009. Markit said "A number of service providers reported that Brexit-related concerns had dampened client demand and resulted in delayed decision making on new projects," which is very similar to what we saw on Monday with the construction sector. Sterling weakened further against the euro and dollar following the news, dropping below $1.30. The pound is certainly on a downward trend at present and some positive news will be required to halt the decline.
It will be hoped that the uncertainty which had plagued the UK for the past two years will come to an end soon, as Theresa May is set to visit Brussels on Thursday for talks with the European commission president, Jean-Claude Juncker. It was reported that the prime minister has told her Cabinet that Brexit will happen on 29 March 2019 and there will be no extension of article 50. Remarkably, Chris Grayling, the transport secretary, said that the EU will be to blame if there is a no-deal Brexit. He also said "I'm expecting the flow of trade in and out of the country in the event of a no-deal Brexit will carry on relatively normally."
The eurozone also continues to struggle at present, with PMI figures showing that private sector growth has hit its weakest level since mid-2013. The euro area's services PMI came in at 51.2 last month, unchanged from December's 49-month low. New business expanded at the weakest pace for 50 months and the rate of job creation eased to the lowest since the end of 2016. Worrying times for the UK and Europe.
Donald Trump belatedly delivered his State of the Union address to Congress last night and described Robert Mueller's investigations as 'ridiculous' and 'partisan'. He called for unity between Democrats and Republicans, but called for 'zero-tolerance' immigration policies. He stopped short of suggesting he will call a national emergency if he doesn't get funding for his wall, but that doesn't mean he won't. You never can tell with Trump.
Today we have the balance of trade figures from the US and construction PMI from Germany. In December, the reading came in at 53.3 so it will be interesting to see what last month's performance was. There have been more downloads of our forecasts this time around than any other quarter, so do grab hold of your free copy and see what the major banks are predicting for the coming year.
GBP: UK economy slumps following continued Brexit uncertainty
After Monday's disappointing construction data, attention turned to the services PMI reading for January. The latest figures showed a slump in the performance to 50.1 from 51.2 the previous month. It is the lowest reading for more than two years and serves as further evidence that Brexit uncertainty is having an adverse effect on the UK economy. It is remarkable that nobody knows what is going to happen, even with just 51 days until the UK is set to leave the EU.
Chris Grayling and Theresa May continue to insist that there will be no extension of article 50, which does seem to suggest that the UK will crash out of the EU without a deal. There just is not enough time to find a way of pleasing enough MPs to get an agreement through the Commons. Add in the fact that the EU has said it is not prepared to negotiate the existing agreement and you have a pretty dire situation. Still, May will fly out to Brussels on Thursday.
UK car sales suffered another decline in January, with registrations falling by 1.6% year-on-year. The release follows two years of falling sales and does not bode well for the coming year. There are no releases on the economic data schedule, but there will no doubt be more Brexit-related news to keep us occupied.
EUR: eurozone private sector growth hits weakest level since mid-2013
January wasn't a great year for the eurozone either, as private sector growth hit its weakest level since mid-2013. The latest figures came in at 51.0 last month and given that any reading above 50.0 shows growth, this reading is barely above stagnation. Markit – who conduct the survey – reported that France and Italy were particularly weak, as growth contracted in both countries.
Services PMI wasn't much better either, as the eurozone's reading came in at 51.2 – the same as December's 49-month low. While this was above the 50.8 the markets had been expecting, it will still cause some concern. In Germany, the composite PMI was as expected at 52.1 from 51.6 the previous month, with services PMI rising to 53 from 51.8 in December.
Retail sales in the eurozone dropped by a whopping 1.6% in December – the largest decline since May 2011 – following an upwardly revised 0.8% growth in November. It was in line with expectations. On an annual basis, retail trade grew by 0.8% following an upwardly revised growth of 1.8% in November and beating expectations of 0.5%. Still, the overall feeling will be one of disappointment.
Today we have German factory orders for December and construction PMI for January. There will also be a European Central Bank non-monetary policy meeting.
USD: Trump attacks Mueller in State of the Union address
After delaying his State of the Union address because of the longest government shutdown in history, yesterday Trump finally delivered it. In an 80-minute speech he confirmed he will meet with Kim Jong-un in Vietnam within weeks, decried 'ridiculous partisan investigations' and called for bipartisan unity. He said there will be no more endless wars and that American will never be a socialist country.
On yesterday's economic data schedule, January's services PMI reading came in as expected at 54.2 from 54.4 the previous month, which is the lowest reading for four months. Still, the reading is well above the 50.0 that denotes growth and is much better than the same data from the UK and eurozone. Composite PMI was slightly below expectations at 54.4 but remains unchanged from December's reading. Interestingly, this is below the 2018 average so is certainly something to keep your eyes on in the coming year. Non-manufacturing PMI fell to 56.7 in January from 58 in December and below the 57.2 the markets had expected.
We also learned that Donald Trump's inaugural committee has been ordered to hand over documents relating to the $107 million celebration that marked the start of his presidency in 2017. It is the latest in a long line of legal threats surrounding the former reality television star. More are expected now that Democrats have taken control of the House.
Today's highlight is the balance of trade figures for November, where the deficit is expected to have narrowed very slightly. We will also see non-farm productivity figures for the fourth quarter of 2018.
For more on currencies and currency risk management strategies, please get in touch with your Smart Currency Business trader on 020 7898 0500 or your Private Client trader on 020 7898 0541.