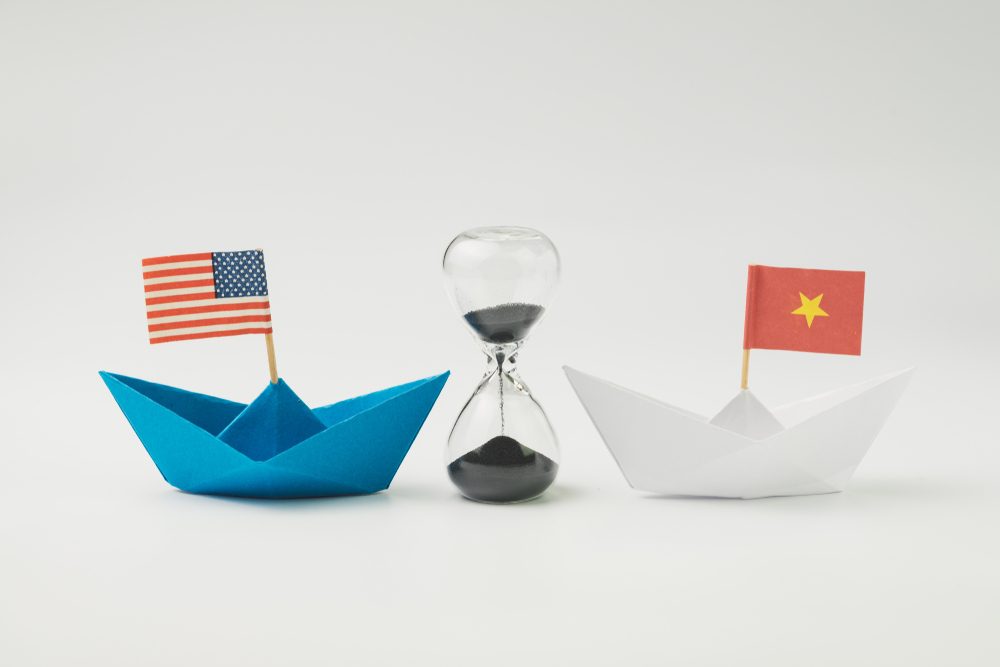 On a day when Donald Trump stepped foot on British soil for a four-day visit, stock markets around the world continued to be affected by trade tariff fears. Confirmation that the US will impose a fresh wave of tariffs on $200 billion of Chinese imports has worried investors who are unsure about what will happen next.
Trump's plane landed at Stansted airport via Brussels at 1:51pm, where he was greeted by Liam Fox. While this was happening, the markets were acting rather volatile, with global markets showing signs of recovery a day after they weakened sharply. The effects of Trump's tariffs have began to filter through to consumers, with core US inflation increasing from 2.2% to 2.3%. By way of one example, Trump imposed tariffs on imported washing machines at the start of this year, citing his desire to protect US jobs. However, since then, washing machine prices in the US have increased by more than 13%.
Protectionism sure can drive up the cost of living and it could yet become worse for consumers around the world. It's worth considering that the cost of tariffs will almost always be passed onto consumers and that now Trump has started the ball rolling, it will be difficult to stop the knock-on effects. US inflation hit a six-year high of 2.9% in June and we could see that increase further, as the tariffs outlined on Tuesday will push up the cost of food and consumer goods from China.
Meanwhile, the Brexit white paper was published and showed that the UK government is calling for the free movement of students and skilled workers from the EU to the UK and vice versa. The release of the white paper was not without controversy, as it was discovered that copies were not immediately available to MPs. They arrived a short time later, but MPs were disgruntled that the media had been given access from 9am, but they didn't see it until hours later.
Tory MP Jacob Rees-Mogg called the white paper "the greatest vassalage since King John paid homage to Philip II at Le Goulet in 1200," so I think that means he will be voting against it. The reception from right-wing Conservatives means that it is possible there could be a leadership challenge against Theresa May. Still, amidst yesterday's drama, the pound managed to hold firm against the euro and dollar.
With so much happening on a daily basis at the moment, we are having to repeatedly update our forecasts to keep abreast of the situation, but we expect them to be ready for you to download from next week. Until then, take a look at our business services which are designed to help UK SMEs realised their business growth ambitions. If you want to find out more, then contact our Finance and Business Services Specialist by emailing charlie.davis@smartcurrencybusiness.com.
GBP: Brexit white paper released
The much-anticipated Brexit white paper was released yesterday, with the main talking point being the UK's call for the free movement of students and skilled workers from the EU to the UK and vice versa. That is bound to divide opinion in the House of Commons, the Conservative party and the Great British public.
New Brexit secretary Dominic Raab said that the UK might not pay the £39 billion divorce bill if the trade talks stall, with EU chief negotiator Michel Barnier suggesting that the UK's latest Brexit plans are likely to cross EU red lines. The plot thickens and at times like this it would be great to have a crystal ball to see what will happen in the future.
There were no economic data releases from the UK yesterday, but Trump touched down in Essex where he was greeted by Liam Fox. Like Theresa May has been saying for some time, Trump spoke at a press conference just before departing for the UK, saying "I would say Brexit is Brexit." May responded by saying "What we are doing is delivering on the vote of the British people." However, as it stands, it appears as if Leave voters are unhappy with her Brexit plans and Remain voters are unhappy with the result.
EUR: industrial production comes in better than expected
Earlier this week we saw some extremely disappointing ZEW economic sentiment indices from Germany and the eurozone. Investor confidence has been significantly affected by ongoing trade tensions, but there was reason to be cheerful yesterday, with the release of the industrial production figures for May.
Year-on-year, production had been expected to increase from 1.7% to 2.1%, but the figure actually came in at 2.4%. Month-over-month, industrial production significantly recovered from a downwardly revised -0.8% to 1.3%. The euro gained a little bit of ground against the dollar, but the currency markets were fairly quiet throughout the day.
German inflation fell 0.1% to 2.1% which was in line with expectations. Importantly, it fell from the previous month's 15-month high of 2.2%.
USD: Trump lands in Essex and is met by Liam Fox
There are some sentences you just never think you're going to write and 'Trump lands in Essex and is met by Liam Fox' is definitely one of them. Still, that's what happened yesterday as Trump began a four-day visit to the UK. Over the course of the next few days, he will speak with Theresa May, meet The Queen and avoid mass protests in London.
The world's press will no doubt be hanging on his every word and it will be interesting to see whether he can provide any insights into what is happening in the UK at the moment. Quite what he will make of England's disappointing exit from the World Cup is currently anyone's guess, but he has already admitted to reading up on Brexit in the past few days.
Core inflation hit 2.3% in June, while headline inflation hit 2.9% in the same month. Both were in line with expectations, but show that prices have risen for consumers. The question is whether Trump's tariffs will continue to drive prices even further up and, if so, what the knock-on effects will be.
Initial jobless claims up to 7 July came in much better than expected. They decreased by 18,000 to 214,000 when a reading of 225,000 had been predicted by analysts. It is the lowest reading since the week ending 5 May, although it is worth noting that the period includes the Independence Day holiday so volatility was to be expected.
Today we will have the University of Michigan's consumer sentiment for July which is expected to hold steady at 98.2.
For more on currencies and currency risk management strategies, please get in touch with your Smart Currency Business trader on 020 7898 0500 or your Private Client trader on 020 7898 0541.