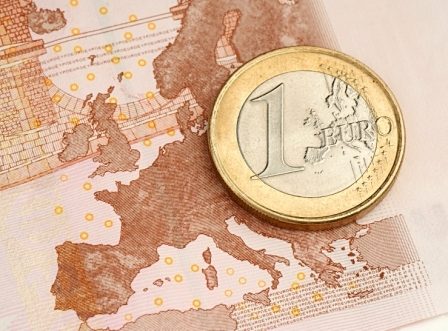 It was a positive day overall for the euro yesterday as it strengthened against sterling and the US dollar. However, rather than this being a result of major strengthening in the single currency, it was largely because of weakness in the pound and greenback.
Economic data from the eurozone came out as anticipated, with the flash Consumer Price Index (CPI) figures moving up slightly from -0.2% to -0.1%. In addition, the release of the unemployment figures showed that they had remained unchanged at 10.2%. Although this had very little effect on the euro, it was important that the figure didn't come in weaker than before as this could have caused some weakening of the euro.
Later today, we will have the release of the Manufacturing Purchasing Managers' Index. It is due to be released at 9am and is expected to fall slightly to 51.5 from 51.7 the month before. However, any figure over 50.0 signifies growth – it's more a case of gauging whether growth is slowing, improving, or staying as is. Indeed, any improvement on last month's data could lead to some further strengthening. It is fair to say that the main focus of the week is on the all-important eurozone interest rate decision from the European Central Bank's President Mario Draghi on Thursday.
If you want to get a handy newsletter in your inbox every Monday, Tuesday, Wednesday, Thursday and Friday, you can subscribe to our daily currency note and read through the archive. It is completely free to access and includes a summary of the previous day's events and the economic calendar for the day ahead. Importantly, we consciously strive to present currency movements in context so you not only understand what is happening, you can appreciate what this means and how it could affect your business's profit, margins and bottom line.
For more on currencies and currency risk management strategies, please get in touch with your Smart Currency Business trader on 020 7898 0500 or your Private Client trader on 020 7898 0541.