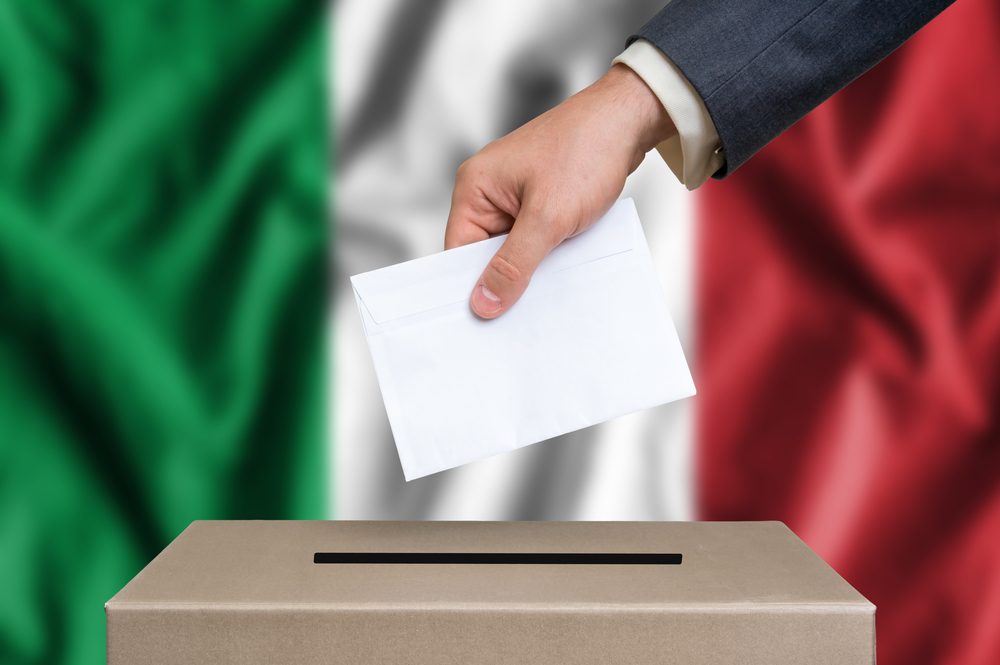 Yesterday, Italians took to voting booths to decide who would emerge victorious in the 2018 general election. Official results are yet to be finalised, but projections suggest that a hung parliament is the most likely result. The anti-establishment Five Star Movement party is predicted to secure the most votes, with around 32%. The coalition between Silvio Berlusconi's Forza Italia and other centre-right parties is expected to secure up to 36% of the vote.
It will take some time for the results to come in, but even when they do the establishment of the next government won't be all that straightforward. We could see some euro volatility in the coming days, but the rise of populism that swept across Europe last year looks as if it has not yet abated; more than 50% voted in support of populist parties.
There was some positive news from the UK on Friday as the construction purchasing managers' index figure came in higher than expected. It jumped to 51.4 in February from 50.2 the previous month and the 50.7 forecast. It is worth noting that the figure is still below the 2017 average of 52.3, but it is some welcome news, especially given the disappointing manufacturing PMI last week.
Meanwhile, Theresa May delivered her fourth major Brexit speech. It is fair to say that reaction was mixed. Michel Barnier welcomed what he described as 'clarity', while leading MEPs said that May is still refusing to compromise enough to make a Brexit deal possible. In essence, May accepted that the UK would have less access to the single market after Brexit and the UK would have to 'accept the need for binding commitments'. However, there were expressions of alarm over her reluctance to explain how some of what she was saying would be achieved. For instance, she firmly stated there would be no hard border in Ireland after Brexit, but offered no suggestions on how this will be made possible.
Donald Trump also announced he would be imposing tariffs on steel and aluminium imports. This caused consternation around the world and there are genuine fears it could lead to a trade war. The EU could retaliate and the World Trade Organisation Director General Roberto Azevedo expressed concern at the announcement. Never a dull day with Trump.
Many businesses have just had their year-end and we encourage you to consider whether you might qualify for R&D Tax Credits. We have helped several businesses recoup thousands of pounds with very little effort. Often, a ten-minute phone call is all it takes to determine whether you have legitimate grounds for a claim, so get in touch with us today and we will talk you through the process.
GBP: May delivers her fourth Brexit speech
Sterling lost some ground against the euro on Friday following Theresa May's speech. As further testament that May is stuck between a rock and a hard place, she received praise and criticism from remainers and Brexiters. Perception really is everything right now, but the important thing in the future will be what becomes reality in terms of the final Brexit deal. Overall, the pound lost almost two cents against the single currency throughout the week.
Construction PMI was encouraging and came in above forecast, while Bank of England Governor Mark Carney gave a speech in which he talked a bit about cryptocurrencies. He said that they should be regulated to prevent illegal activities and protect the financial system. He added that while cryptocurrencies do not yet pose a threat to financial stability, this could change if more people started investing in them.
Today we will see new car sales for February and you do have to wonder whether they will decline once more. 2017 was not a great year for UK car sales and they slipped by 6.3% last month. Could this trend be reversed this time around? We will also see the Markit services PMI which is expected to rise to 53.4 in February from 53 the month before.
EUR: Italian election 2018: over 50% vote for populist parties
It looks as if we could see a hung parliament from the Italian election 2018. The centre-left Democratic Party slumped to around 19% of the vote and more than 50% of Italian voters showed support for populist parties. There are a range of potential coalitions at the moment and we could see some euro volatility in the days ahead as a result.
Meanwhile, on Friday there was some highly surprising news, as German retail sales unexpectedly declined by 0.7% month-on-month in January, when a 0.9% rise had been expected. Year-on-year, sales increased by 2.3% which was quite a way below the 3.5% analysts had predicted. Still, the euro gained against the dollar and sterling as political events in the UK and US took centre stage.
Today we will see a raft of PMI data from Germany and the eurozone, with the services and composite readings. All are expected to have dipped a little in February so it will be interesting to see if this proves to be the case, especially given the fact that some recent releases from the eurozone have come in below forecast.
We will also see eurozone retail sales for January, but the big release of the week is the third estimate of the GDP growth rate for the fourth quarter of 2018. The figures are expected to be revised downwards; month-on-month from 0.7% to 0.6% and year-on-year from 2.8% to 2.7%.
USD: Trump's tariff talks and Tweets turn heads
The big talking point on Friday morning was Donald Trump's decision to impose tariffs on steel and aluminium imports. Several experts responded by suggesting that it could lead to a trade war which would be extremely bad news for all concerned. Quite what Trump is hoping to achieve by imposing the tariffs is still unclear, especially as he Tweeted that trade wars are good, and easy to win.
The dollar weakened after the Tweets and the stock market took a hit too. Let us hope that a meaningless trade war can be averted. The impact that Trump's Tweets can have on the markets is truly extraordinary and is a clear sign of the times. The markets are unpredictable as it is, but once you throw the most powerful man in the world's obsession with Twitter into the mix, almost anything can happen at any given moment.
The only real economic data release on Friday was the University of Michigan's final consumer sentiment reading which hit 99.7. This was above the 99.5 expected and a significant jump from January's figure of 95.7. It is the second strongest reading since 2004 and is yet more positive data for the US which is enjoying a good run.
Today we will have February's composite and services PMI from the US, as well as the non-manufacturing PMI.
For more on currencies and currency risk management strategies, please get in touch with your Smart Currency Business trader on 020 7898 0500 or your Private Client trader on 020 7898 0541.