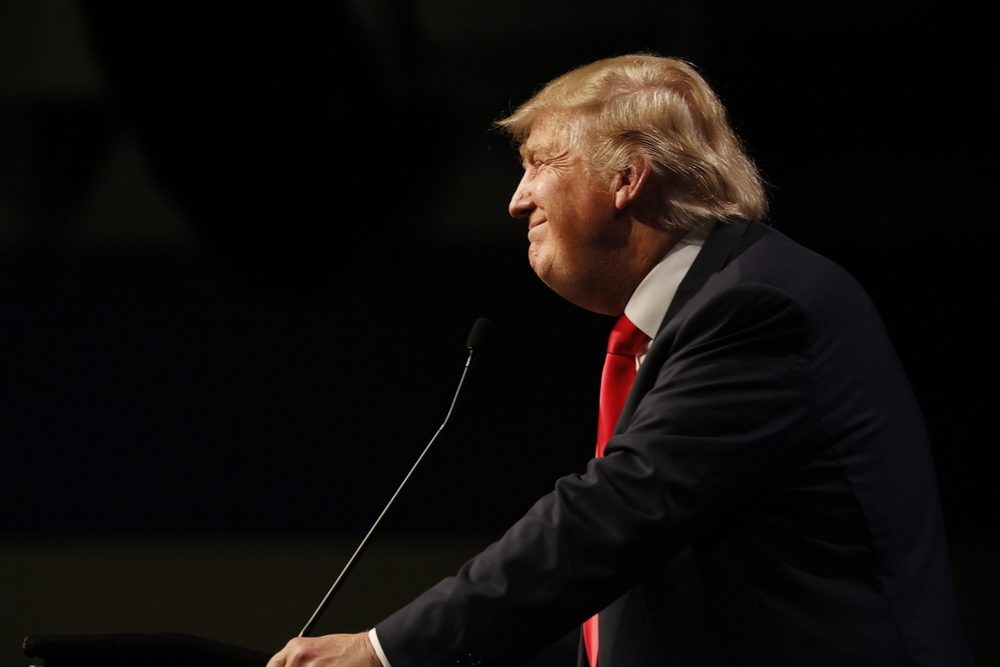 On Monday evening, Donald Trump spoke to reporters outside the White House and suggested that the UK might not be able to trade with the US. When asked about Theresa May's Brexit deal, the former reality television star said that it sounded like a 'great deal for the EU' and that he would have to look at whether or not the UK is allowed to trade with America. The UK government was understandably infuriated by the comments and moved quick to say that Trump is incorrect.
However, the comments certainly weakened May's hand in face of stiff opposition from both sides of the House and city traders clearly felt that Trump's intervention was significant, as sterling opened weaker against the dollar and continued moving south throughout the day. The pound lost some ground against the euro too, although these moves were more sedate.
Trump's tongue was off again, as he threatened to impose fresh tariffs on goods from China. He said that it was 'highly unlikely' that he would accept an offer from the Chinese president Xi Jinping to avert new levies that are scheduled to come into force next January. Speaking to the Wall Street Journal, Trump said that he would probably increase existing tariffs on $200 billion of Chinese imports in January, from 10% to 25%.
Apple's shares were hit following the comments, as the new tariffs would affect iPhones made in China. Earlier this year, Apple was celebrating becoming the first US company to be worth more than one trillion dollars, but it has since lost a large chunk of that. The Dutch financial services group, Rabobank, said that the global economy could suffer over the next decade if the trade war escalates; it estimates that a total of 0.7% could be wiped of growth by 2030 unless the two sides reach an agreement.
Today's headline release is the second estimate of the US GDP growth rate for the third quarter of 2018. Last quarter, growth surged to an impressive 4.2% but this time around it is expected to be more modest at 3.5%. Still, that is far better than the UK and EU GDP at the moment. We will also see October's new home sales in America.
Many of you will have received an email yesterday morning talking about the government's R&D tax credit scheme. We had a lot of responses and are now in conversations regarding putting forward some claims before their year end. If you want to see if you qualify for a significant tax rebate, then please do give us a call on 020 3170 6067 or email us at business@smartcurrencybusiness.com.
GBP: Donald Trump comments aren't helping matters
Theresa May is staring down the barrel of a metaphorical gun at the moment, as she tries to persuade MPs from all corners of the House of Commons to back her Brexit plan. That task has already proven to be extremely difficult, but comments from Donald Trump will certainly not have helped matters. One wonders what went through her head when she learned that the US president decided to weigh in on the debacle and suggested the UK might not be able to trade with the EU.
While her team has been quick to say that Trump's fears are unfounded, traders thought it was enough to sell the pound which lost further ground against the euro and dollar yesterday. The comments will serve to reinforce arguments from MPs that her Brexit proposals do not amount to a good deal and a difficult task has arguably become even harder.
Meanwhile, a second independent economic examination of the prime minister's deal found that it will cost up to £2,000 a year per person. While researchers conceded that the exact costs were highly uncertain, they said that the deal is likely to create 'new friction to trade with Europe', 'reduce the economic benefits of migration' and 'worsen the outlook for the public finances'. Hammond and May are both insistent that the UK will be better out of the EU, but their voices are becoming increasingly isolated.
With no real economic data releases from the UK, attention will be trained on any Brexit-related news, as well as US economic data. The next major release is on Friday, when we will see November's Gfk consumer confidence.
EUR: quiet day for the eurozone today but busier tomorrow
The euro made some slight gains against the pound yesterday, which had another bad day against the dollar. The single currency didn't fare too well against the greenback either and fell back below the $1.13 mark for the first time since 15 November 2018. There were no major economic data releases from the eurozone and today is not that much busier in truth.
However, things pick up on Thursday, when we will see Germany's unemployment rate in November. It is expected to hold steady at 5.1% this time around which is a touch high. We will also see business confidence in the eurozone, as well as industrial, services and economic sentiment. The German inflation figures will also be released, as will consumer inflation expectations from the eurozone.
So, today could well be the calm before the storm. European Central Bank president Mario Draghi will deliver his second speech of the week tomorrow and it will be interesting to see what the notoriously dovish president has to say about the current state of the eurozone's economy, as well as his opinion on Trump's trade wars.
USD: Donald Trump comments cause sterling and Apple volatility
On a day when the Apple CEO, Tim Cook, and Ivanka Trump, the president's daughter and advisor, visited schools in Idaho together, Donald Trump decided to ramp up trade war fears yet again and cause Apple's shares to slide. The president said he would probably increase existing tariffs of Chinese imports in January and was unlikely to accept a peace offering from China.
He also saw fit to peddle a theory concerning the UK's ability to trade with the US in light of Theresa May's Brexit proposals. Quite what his motives for doing so are is anybody's guess, but he certainly enjoys stoking fires. Sterling slid against the dollar as investors received the news and took it to mean bad things for the UK. It is currently unclear whether Trump has read all 585 pages of the withdrawal agreement.
Consumer confidence in the US slid in November to 135.7 from 137.9 the previous month and below the 135.9 the markets had expected. Today we will see the second estimate of the GDP growth rate for the third quarter of 2018, as well as new home sales for October.
For more on currencies and currency risk management strategies, please get in touch with your Smart Currency Business trader on 020 7898 0500 or your Private Client trader on 020 7898 0541.