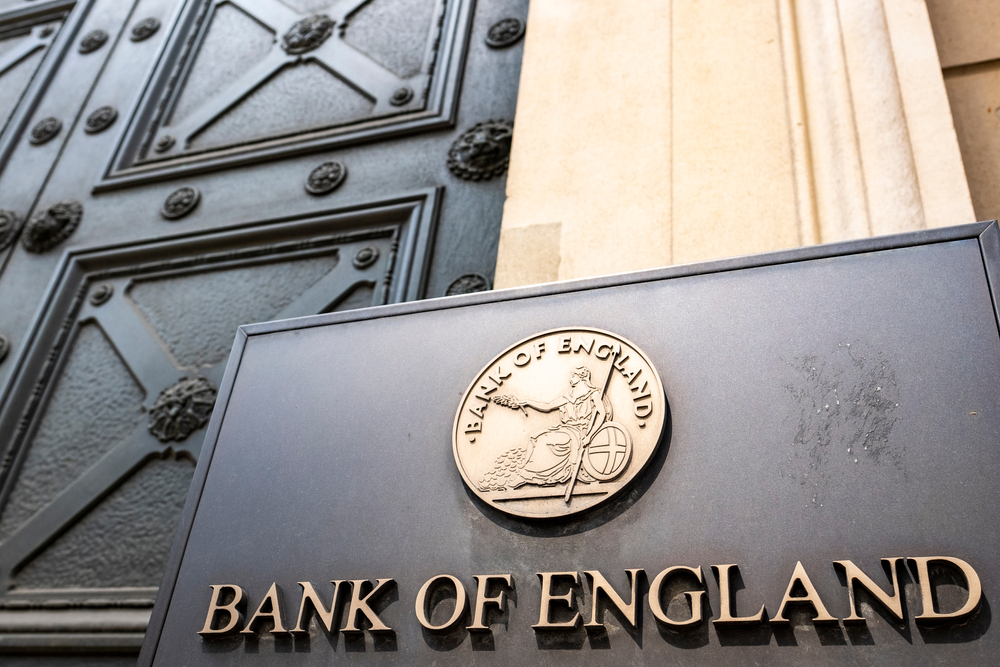 The Bank of England (William Barton / Shutterstock.com)
Over the course of Friday, sterling lost half a cent against the euro and the US dollar. This took GBP/USD to a 1% loss over the week and a new three-month low, and GBP/EUR close to its lowest for a month.
This will be a busy week for central bankers, with interest rate decisions in the UK and US and the European Central Bank's (ECB's) rate setters explaining their thinking. The Bank of England (BoE), on Thursday, is believed more likely to raise interest rates to 5.5%, in what would be the 15th rise in a row. However, there are plenty of analysts and businesspeople who believe rates are high enough already. The US Federal Reserve seems likely to keep theirs on hold at 5.5%.
As far as data is concerned, there is nothing much from the UK until Wednesday's inflation data, but this could well move the market, depending on whether it suggests the BoE has got inflation under control or not. It will be followed on Friday with retail sales.
In domestic news, a report today finds that rents have increased by 12% in the past year in the UK, at the fastest rate since estate agency Hamptons began its rental report in 2014. It blamed pressure on landlords from rising mortgage rates.
Also in the UK, the Confederation of British Industry (CBI) is reported to be trying to rase £3million to stay afloat after members left the lobbying group following a sex scandal.
Likewise in trouble, the writers' strike in Hollywood could lead to a loss of 40% of jobs in the UK film industry, said another report at the weekend.
Labour Party leader and, according to the polls, likely next prime minister, Sir Keir Starmer has been outlining hopes for a closer relationship with the EU if he is elected. While on a tour of North America which included meetings with Barak Obama and Justin Trudeau, Starmer told the FT that he was looking for a major rewrite of the Brexit deal: "As we go into 2025 we will attempt to get a much better deal for the UK," he said.
Make sure any upcoming transactions are protected against the risks of sudden market movements. Secure a fixed exchange rate now with a forward contract; call your Business Trader on 020 3918 7255 to get started.
GBP: Pound's downward trajectory
The pound ended last week moving down, and while that has not continued so far this morning It could be a volatile week.
The big event will of course be the inflation data on Wednesday, followed by the interest rate decision the day after.
However, there is plenty more happening beyond interest rates, including retail sales on Friday.
GBP/USD past year
EUR: ECB rate setters to speak
The euro gained slightly on the pound last week, but lost around 0.5% against the US dollar.
Several members of the European Central Bank's (ECB's) interest rate committee will be speaking early this week, in the wake of the ECB raising rates for the 10th consecutive time last week but suggesting that this will be the last for a while.
Then tomorrow morning there will be a final inflation rate report for August for the eurozone, which is expected to confirm a monthly rise of 0.6%.
USD: Dollar holds on to gains
After gaining over 1% against sterling last week and 0.6% against the euro, there has been little movement so far this morning for the US dollar.
Ahead of the interest rate decision from the Fed this week, there will be data on new building permits tomorrow.
However, other than it will be a fairly quiet week for data.
For more on currencies and currency risk management strategies, please get in touch with your Smart Currency Business trader on 020 3918 7255 or your Private Client trader on 020 7898 0541