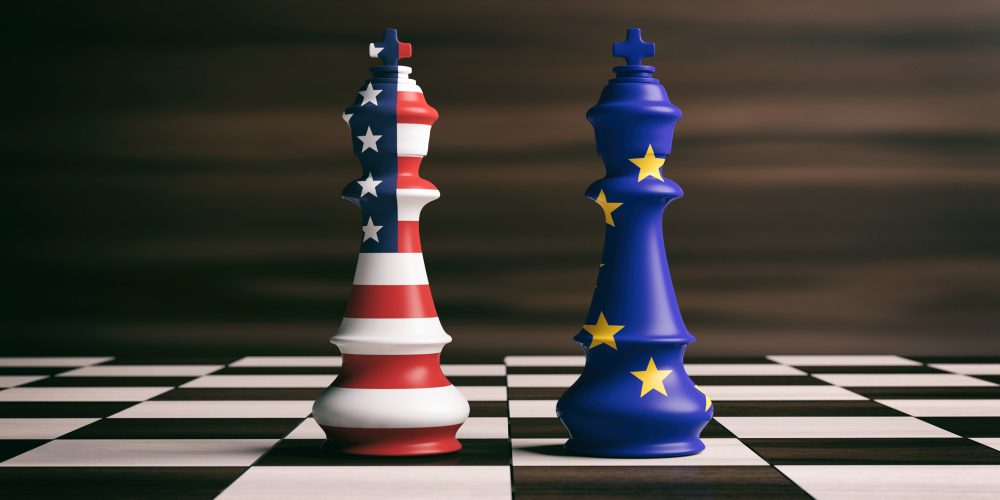 It has been a busy four-day week with lots of movement in currency rates. The difference between this week's highs and lows for sterling, the euro and the US dollar has been close to two cents. If you extrapolate that over the course of a quarter – or even a month – it helps show why our main focus is on risk mitigation and protecting budgets. Currency movements are often very difficult to understand – there has been a lot of negative European news this week, but the euro has strengthened!
The eurozone's worst fears were realised yesterday, as the US Commerce Secretary, Wilbur Ross, confirmed that at midnight, the US would impose steel and aluminium tariffs on the EU, Canada and Mexico. The tariffs will be 25% on steel imports and 10% on aluminium imports and the European markets didn't take kindly to the news and dropped following the announcement.
And it had all started so brightly for the EU, with optimism over a possible resolution to the political crisis engulfing Italy. Investors are still hopeful that a new Italian government can be formed without the need for fresh elections later this autumn, but all of this faded into the background when everyone realised a trade war could be on the horizon. It is worth noting that Ross said talks with the EU had made progress – just not enough to extend the exemption from tariffs that was in place up to 11:59:59pm last night.
He also said that if there were any retaliatory measures, this did not necessarily mean an end to further negotiations, but then with Trump at the helm, anything is possible. He certainly drives a hard bargain and it is possible that if a retaliation is forthcoming, Trump will impose further tariffs and…well, then we really are on the brink of a trade war. Interestingly, Europe, Mexico and Canada all signalled they would be imposing retaliatory measures, so we will have to wait and see exactly what these are.
The currency markets were surprisingly calm amidst all of this hubbub, but this could be the calm before the storm, as investors wait to see what happens next. With that in mind, this could be the perfect time to give our team a call and talk through the currency risk management options available to you. Our forward contract widget on the Smart Currency Business website can help show you the currency risks you could have exposed your business to by using spot contracts rather than locking in a rate.
Today's focus will clearly be on the trade tariffs situation, but there will also be attention on the Spanish government and Italy's attempts to form one. We will see non-farm payrolls releases in the US, as well as the unemployment rate and manufacturing purchasing managers' index for May. It appears it is going to be a pretty hectic end to the week.
Finally, Harry and the rest of our trading team will be participating in the Wolf Run this Sunday to raise money for Children with Cancer UK. On 9 February 2018, Harry's daughter, Sienna, was diagnosed with Acute Lymphoblastic Leukemia so it's a charity close to all of our hearts. The initial target was £10,000, but everyone has dug deep and helped him break through that, so let's try and help him raise even more for this wonderful cause.
GBP: Nationwide's house price index shows weaker growth
There were a few minor economic data releases yesterday, including the Nationwide house price index. In May, growth was weaker than expected, with prices up by 2.4% from 2.6% the month before. This was some way below the 3% the markets had anticipated and could be a symptom of a lethargic UK economy.
Gfk consumer confidence came in better than expected, by moving up two points to -7. It had been expected to come in at -8, but obviously the fact there is a minus sign next to the figure means it's nothing to scream from the rooftops. Still, we'll take any positive we can at the moment.
Today's main release is the Markit manufacturing PMI for May. It is expected to dip a little from 53.9 in April to 53.5 in May. However, any figure over 50.0 shows growth so if the reading meets expectations there is little less to worry about. If, on the other hand, it comes in way below forecast, we could see some sterling movement, as it would be further indication that the UK economy is struggling.
EUR: US imposes tariffs; how will Europe respond?
Oh dear. The eurozone is going through the (trade) wars at the moment. The political turmoil that has engulfed Spain and Italy hasn't been ideal for Europe, and there have been persistent fears that the eurozone crisis is rearing its head once more. However, yesterday investors began the morning in high spirits, as there is now a chance that Italy could form a government without the need for fresh elections.
News that the leader of the Italian far-right party the League, Matteo Salvini, has cancelled political rallies led many to believe that a political impasse could be coming to an end. The news was received warmly by the markets and they moved up. However, Trump soon put paid to any ideas of optimism, by slapping trade tariffs on steel and aluminium imports from the EU, Canada and Mexico.
It now remains to be seen what happens next, but we can expect retaliatory measures to be forthcoming. The real question is how will Trump respond to those retaliations. As it stands, that's the focus, because if we become embroiled in a tit-for-tat spat, then a full-blown trade war could be just around the corner. And despite Trump's claims to the contrary, trade wars are not easy to win, mainly because there are no winners.
Unemployment in the eurozone for April came in at 8.5% against an expectation of 8.4%, while inflation hit a whopping 1.9% in May from 1.2% the month before. That really is quite a rise and far exceeded the 1.6% analysts had predicted. Quite what this will do to influence monetary policy is currently unknown, but it will be received positively by hawks hoping that the European Central Bank starts withdrawing fiscal stimuli sooner rather than later.
Today we'll see manufacturing PMI for Germany and the eurozone, but attention will be on trade tariff retaliations and the situation in Italy and Spain.
USD: Trump presses ahead with proposed tariffs
After a couple of extensions to the period of exemption, at midnight, the US imposed tariffs on steel and aluminium imports from the EU, Canada and Mexico. All three responded by saying they would impose retaliatory measures, although the specific details are currently unknown.
Both initial jobless claims and consumer spending in the US came in better than expected. Weekly jobless claims fell by more than expected, with a 13,000 drop to 221,000. Analysts had forecast a fall to 228,000 and the current jobless rate of 3.9% is almost at a seventeen-and-a-half-year low. Consumer spending climbed by 0.6% against an expectation of 0.4%, and is the biggest jump for five months.
Today we will see non-farm payrolls for May, as well as manufacturing PMI for the same month. But what will Trump Tweet over the weekend once the EU, Canada and Mexico announce their retaliatory measures?
For more on currencies and currency risk management strategies, please get in touch with your Smart Currency Business trader on 020 7898 0500 or your Private Client trader on 020 7898 0541.