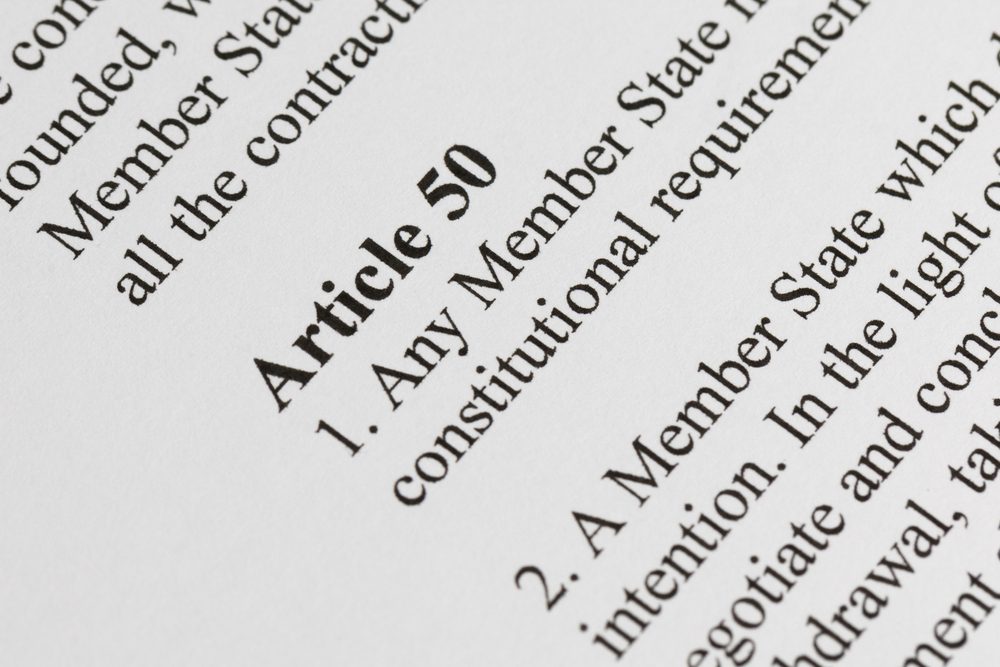 Theresa May came under more pressure to extend article 50 yesterday, as the leaders of the UK's two biggest unions told her to delay Brexit. Both Unite's Len McCluskey and Unison's Dave Prentis, had separate meetings with the prime minister, explaining how catastrophic a no-deal Brexit would be, but Theresa May has failed to offer any guarantees. It all makes for a fascinating vote next week, when we could see some real surprises in terms of which amendments Parliament supports.
Airbus, which employs 14,000 people in the UK, said it could close factories if there is a no-deal Brexit. Chief executive, Tom Enders, said "Please don't listen to the Brexiteers' madness which asserts that 'because we have huge plants here we will not move and we will always be here'. They are wrong." He went on to brand the UK government's handling of Brexit 'a disgrace'. Later, leading Tory Brexiter, David Jones, told BBC Radio 4's Today programme that he didn't think it likely that Airbus would close its plant in north Wales.
MPs who back the People's Vote campaign have dropped their plan to table an amendment to the Brexit motion calling for a second referendum. Conservative MP Sarah Wollaston and Labour MPs Chuka Umunna and Luciana Berger, announced that they did not want to call a vote until they have the support needed to win it. That is not to say the issue is impossible, but it is off the table for now.
The European Central Bank kept interest rates on hold again, but president Mario Draghi suggested there could be a rate hike this year. Of course, that doesn't mean there will be an increase in 2019, but the comments were relatively surprising given the eurozone economy's recent performance. It is currently suffering its biggest slowdown in five years, which Draghi acknowledged when he said "The risks surrounding the euro area growth outlook have moved to the downside on account of the persistence of uncertainties related to the geopolitical factors and the threat of protectionism, vulnerabilities in emerging markets and financial market volatility."
Sterling movements were a bit mixed yesterday, as the pound climbed above €1.15, but lost some ground against the dollar. Still, it has been a pretty decent week so far. There could well be come significant moves next week as we have the Parliamentary vote on the Brexit deal. Before then, why not download your free copy of our latest forecasts and see what some of the major banks are predicting for the next 12 months. Some believe the pound could soar as high $1.59 this time next year, with others predicting a drop to $1.22.
From which it is easy to glean this important fact: nobody knows what is going to happen with Brexit or the pound, so we heartily recommend contacting us to see how best to navigate this uncertainty through tailored risk management solutions. Our team is passionate about helping each and every one of our clients and prides itself on delivering exceptional customer service from beginning to end. Email the team directly on corptraders@smartcurrencybusiness.com or give us a call on 0207 898 0500.
GBP: will there by an article 50 extension soon?
There are increased calls for an article 50 extension which would delay Brexit, albeit temporarily. With only 63 days until the UK is scheduled to leave the EU, Parliament is still undecided on what type of deal to try and agree with the EU. The Parliamentary vote will take place next Tuesday, which could well give us some clarification but amidst all this noise it is easy to forget these facts:
A deal has already been agreed between the UK and EU
That deal was negotiated without the government consulting Parliament
Parliament subsequently voted against it by a huge majority
Any Parliamentary vote now has to be accepted by the government
If/when accepted by the government, there is no guarantee the EU will accept it
We repeat: there are 63 days left until Brexit and there will only be 59 days left when Parliament votes on the bill/any amendments to the bill. Theresa May seems determined to win support for plan B (which is virtually the same as the already roundly rejected plan A). Her best hope of achieving this is by presenting MPs with the choice of her deal or no deal. By extending article 50, MPs will have the choice of voting against plan B without fear of crashing out of the EU without a deal.
There were no economic data releases from the UK yesterday, but today we will see the CBI distributive trades for January, as well as UK finance mortgage approvals for December. The former is expected to have done an about-turn, from -13 to +3. Let's hope that proves to be somewhere near the mark.
EUR: German manufacturing activity contracts in January
Things are going from bad to worse for the eurozone's economy at present, with the German manufacturing PMI reading dropping to 49.9 in January from 51.5 in December. The markets had been expecting a more modest dip to 51.3. The news is extremely disconcerting as any figure below 50.0 shows that the sector is contracting. It is the first contraction since November 2014.
The services sector saved the day as it so often does, rising to 53.1 in January from 51.8 the previous month and above expectations of 52.1. In the eurozone, manufacturing PMI dropped to 50.5 from 51.1, while services PMI dropped to 50.8 from 51.2. The ECB kept rates on hold, and Draghi used the press conference to say that the risks surrounding eurozone growth have moved to the downside. He acknowledged that significant monetary policy stimulus remains essential.
Late in the afternoon, Germany cut its GDP growth rate projections for 2019 from 1.8% to 1% – a massive reduction. It serves to remind us that the eurozone economy really is struggling at the moment, with no clear solution in sight.
Today we will have the German Ifo business climate reading for January which is expected to dip a little to 100.6 from 101 the previous month.
USD: Trump delays his State of the Union address
On Wednesday, House speaker Nancy Pelosi told Trump that she would block him from delivering his State of the Union address in the House of Representatives chamber in Congress until the government has reopened. After insisting he would still deliver the address on 29 January, yesterday Trump confirmed he will wait until the government shutdown is over. He said the reason was that nowhere could compete with the 'history and tradition' of the House chamber.
The current government shutdown is easily the longest in history and an Associated Press-NORC poll has revealed that Trump's approval rating is now just 34% from 42% a month earlier. However, 80% of Republicans still have a positive view of his performance, which shows the US is as divided as the UK currently appears to be. 800,000 government workers are still not being paid.
Manufacturing and services PMI both beat expectations by coming in at 54.9 and 54.2 respectively from 53.8 and 54.4 the previous month. This is a sharp contrast between Germany's readings. Initial jobless claims came in at 199,000 which is much better than the 220,000 expected and represents the lowest reading since 15 November 1969. However, the figures cannot be totally relied upon because of the aforementioned government shutdown.
For more on currencies and currency risk management strategies, please get in touch with your Smart Currency Business trader on 020 7898 0500 or your Private Client trader on 020 7898 0541.