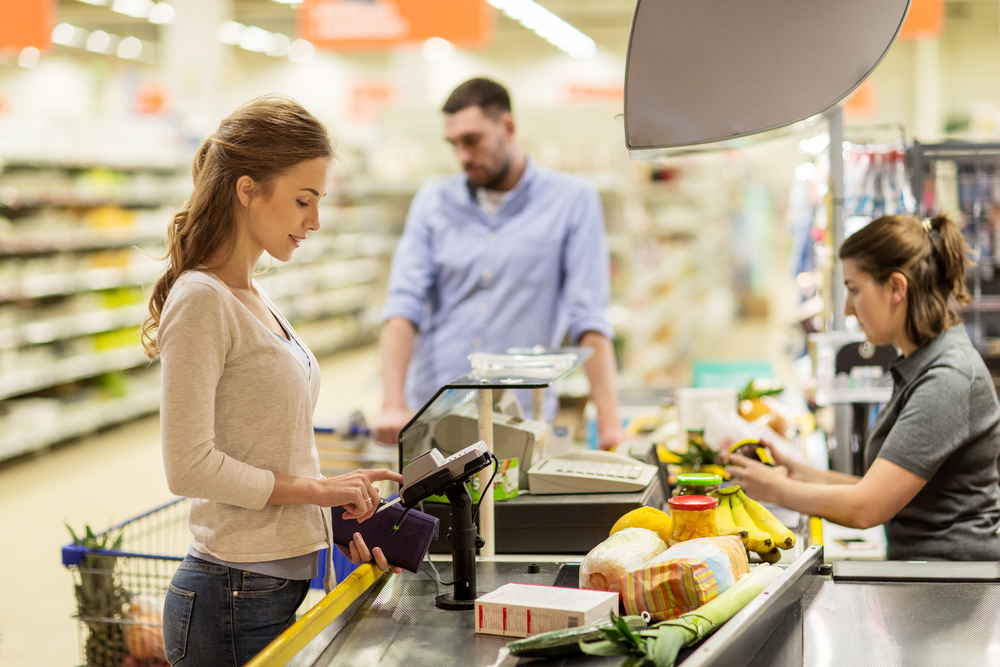 Tills rang more slowly in the UK and USA in December
A lively week in the currency markets ends with sterling currently some 1% stronger than the start of the week against both the euro and US dollar. It was more, but two disappointing data sets this morning have slightly taken the shine off sterling.
While some large financial institutions now say they are looking more positively at sterling, you can see the overall picture in our new Quarterly Forecast, free to download here.
This morning's disappointing data started with GfK Consumer Confidence overnight, which fell to -45. This was close to September's record low and reversed three months of improvements.
Also on the high street, we've just seen a reading for UK retail sales for December, showing a decline of 1%, a steeper fall that last month's -0.4%. This had been expected to rise sharply, given positive results from some retail chains. However, it was in line with the USA's 1.1% fall, announced on Wednesday.
That's it for high-level data this week.
In economic news, the Chancellor Jeremy Hunt has surprised no-one when saying yesterday that there would be no big tax giveaways in the Budget scheduled for 15 March. They will be kept for the following, election year, analysts suggest.
The Labour Party team of Sir Keir Starmer and shadow chancellor Rachel Reeves have been speaking to business leaders at Davos this week.
In the US there are rising fears of another debt-ceiling crisis approaching this year, but hopes on inflation rapidly declining, according to Lael Brainard, the vice chair of the Federal Reserve, in a speech yesterday. There will now be little information coming out of the FOMC ahead of the interest rate decision on 1 February.
Make sure any upcoming transactions are protected against the risks of sudden market movements. Secure a fixed exchange rate now with a forward contract; call your Business Trader on 020 3918 7255 to get started.
GBP: Falling sales take shine off sterling
The pound has suffered a slight reversal following three days of strong gains as retail sales and consumer confidence readings undid the positive news on jobs and inflation earlier in the week.
Retail sales are now 1.7% down on pre-Covid levels, with non-food stores feeling the brunt of the loss last month.
Even so, sterling remains over 1% stronger than the start of the week against the US dollar and euro.
Next week starts quietly for data, but on Tuesday there will a flash reading for S&P Global/CIPS PMI, as well as the CBI Business Optimism Index. Will managers and bosses be any more optimistic than consumers?
GBP/USD past year
EUR: Markets look for clues from ECB
It's been a mixed week for the single currency, with gains against the US dollar, yen and yuan, but losses against sterling and the Swiss franc.
Losses against sterling were caused by reports of the ECB likely taking a more dovish stance on inflation at its next interest rate meeting in February. We may hear more of that from ECB President Christine Lagarde who will be speaking at 10am. Get the dates of major central bank and other potentially market-moving data in our new Quarterly Forecast.
Monday will kick off with a euro-area consumer confidence reading. The markets expect an improvement from last month.
USD: Slowing signs on economy leave dollar weaker
A mixed week for the US dollar too, falling against sterling and the Swiss franc but neutral against the euro.
The dollar has also been hit by expectations that the central bank will slacken off its interest rate rises amidst signs of economic downturn. Investors have been buying riskier assets, including bitcoin, which has surged to a two-month high (although it remains at half the value of 2022's highs).
Lael Brainard, the vice chair of the Federal Reserve, said yesterday that she was hopeful on inflation, citing non-wage causes as driving inflation and that these are likely to fade fast in 2023.
It's been a little quiet for US data this week, although yesterday we saw a drop in the number of building permits, 1.33 million compared to last month's 1.35 million, and well below market expectations. Retail sales fell in a similar fashion to the UK's in December.
Next week starts exceptionally quiet for data, until Thursday's GDP reading.
For more on currencies and currency risk management strategies, please get in touch with your Smart Currency Business trader on 020 3918 7255 or your Private Client trader on 020 7898 0541.