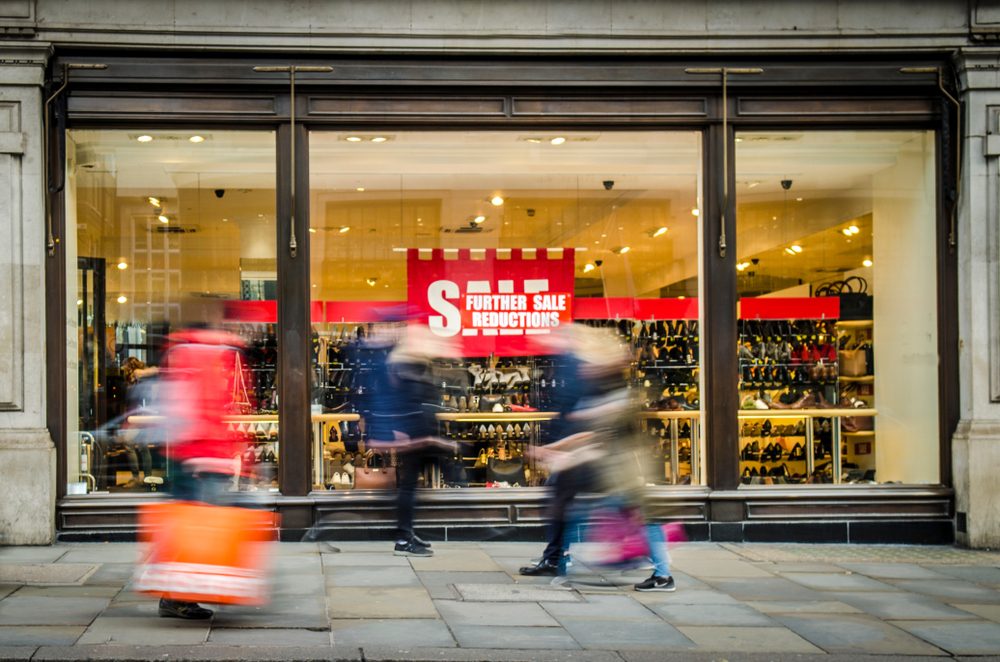 The day after Theresa May suffered another Brexit defeat to further weaken the chances of the European Union offering concessions, we received some much-needed good news. Figures released showed that UK retail sales rose in January as shoppers took advantage of the sales that traditionally occur after the festive period. The markets had been expecting a 0.2% increase, but they actually increased by 1% last month.
The figures for December were also revised up, from a 0.9% drop to 0.7%. On an annual basis, sales jumped by 4.2% which is the biggest increase since December 2016. The release followed an upwardly revised 3.1% annual growth in December and came in much better than the 3.4% the markets had been expecting. Interestingly, it is worth considering that average store prices slowed to 0.4% – the lowest price increase since November 2016.
Sterling had been suffering in early trading and dropped below the $1.28 mark as the markets digested the previous evening's Brexit vote. However, after the UK retail sales rebound, it retraced the early losses to climb higher against the dollar and back above $1.28. The pound also made some gains against the euro, although in truth the day's range was fairly narrow.
In the early afternoon, we learned that US manufacturing output surprisingly fell by 0.9% in January, which was much worse than the 0.1% increase the markets had anticipated. The figure for December was also revised down to show a 0.8% rise, when a figure of 1.1% had previously been estimated. Industrial production was also disappointing in January, as it fell by 0.6% when an increase of 0.1% had been forecast.
Donald Trump also decided to declare a national emergency to bypass Congress over funding for his beloved border wall. It was one of his main campaign pledges, although he insisted that Mexico would pay for the wall. As it is, if he gets his way, the American public will pay for it. It looks as if he will face legal proceedings which would then be tied up in court for months. This situation looks set to run and run.
For perhaps the first time that I can remember, there is so little on today's schedule that there isn't even a showing. So, the quietest start to the week ever then. However, things pick up on Tuesday, when we will see unemployment figures, average earnings and labour productivity in the UK. In Europe, we will see the all-important ZEW economic sentiment indices from Germany and the eurozone, as well as December's construction output from the eurozone.
On Friday, we published a brand new case study which looks at the budget, risk, solution approach we have taken with Offshore Stainless Supplies over the years. They have their own dedicated trader, as well as access to our entire team of experts as and when required. Take a look at what they had to say about working with us, then get in touch with us and become part of the family.
GBP: UK retail sales rebound as shoppers visit January sales
There was some positive news from the UK on Friday, as we saw retail sales rebound in January as shoppers took to the high street to take advantage of some bargains. Figures released showed that sales increased by 1% month-over-month when a more modest 0.2% had been expected. Year-on-year, sales jumped by 4.2% against an expectation of 3.4%.
The news helped boost sterling, which had been struggling against the dollar until that point. It is thought that price discounts lured shoppers into the high street and convinced them to buy plenty of clothing. The annual figures were the strongest in more than three years and are rather encouraging, even as the economy struggles with ongoing Brexit-related uncertainty.
Today there is absolutely nothing on the schedule, but tomorrow we will see the unemployment change figures, as well as average earnings for December. We will also see the labour productivity reading for the fourth quarter of 2018.
EUR: eurozone's trade surplus narrows in December 2018
Trade balance figures from the eurozone showed that the surplus narrowed to €17 billion in December from the previous month's upwardly revised €19.7 billion. That compares with a surplus of €24.5 billion in the same month the previous year, with exports falling by 2.5% and imports rising by 1.9%.
As with everywhere else, there is nothing on the schedule today, but tomorrow we will see the ZEW economic sentiment indices from Germany and the eurozone. They will give us a real insight into how people view the future prospects for the respective economies. Both readings have been in negative territory for some time and that looks set to continue tomorrow, although some slight improvement is expected in Germany.
We will also see the eurozone's construction output figures for December. Last time around, the reading showed an increase of 0.9% and it will be hoped that this trend can continue. On Wednesday, we will see the eurozone's flash consumer confidence reading for February which is expected to hold steady at -7.9.
USD: Trump declares a national emergency to bypass Congress
On Friday afternoon, Donald Trump declared a national emergency to secure funding for his border wall. His attempt to bypass Congress was met with disdain from Democrats, who vowed to use 'every remedy available' to block him. The president lied several times during the course of his announcement, such as when he claimed drugs and human trafficking occurs at areas where there is no border wall. It is known that the majority of these incidents actually occur at the legal point of entry.
When Jim Acosta asked Trump why he decided to declare a national emergency at a time when statistics show undocumented immigration has dropped to its lowest level in ten years, Trump said "You don't really believe that stat do you?" despite the fact that the statistics come from his own government. When asked which statistics he had seen to contradict those quoted by his own government, Trump said "I use many stats." Welcome to 2019.
Manufacturing output surprisingly fell by 0.9% in January, which was much worse than the 0.1% growth the markets had expected. Industrial output also decline by 0.6% last month when, again, an increase of 0.1% had been expected. The University of Michigan's consumer sentiment increased to 95.5 in February from 91.2 in January.
For more on currencies and currency risk management strategies, please get in touch with your Smart Currency Business trader on 020 7898 0500 or your Private Client trader on 020 7898 0541.