UK inflation remains stubborn, all eyes now on the US Federal Reserve 
By Christopher Nye June 21st, 2023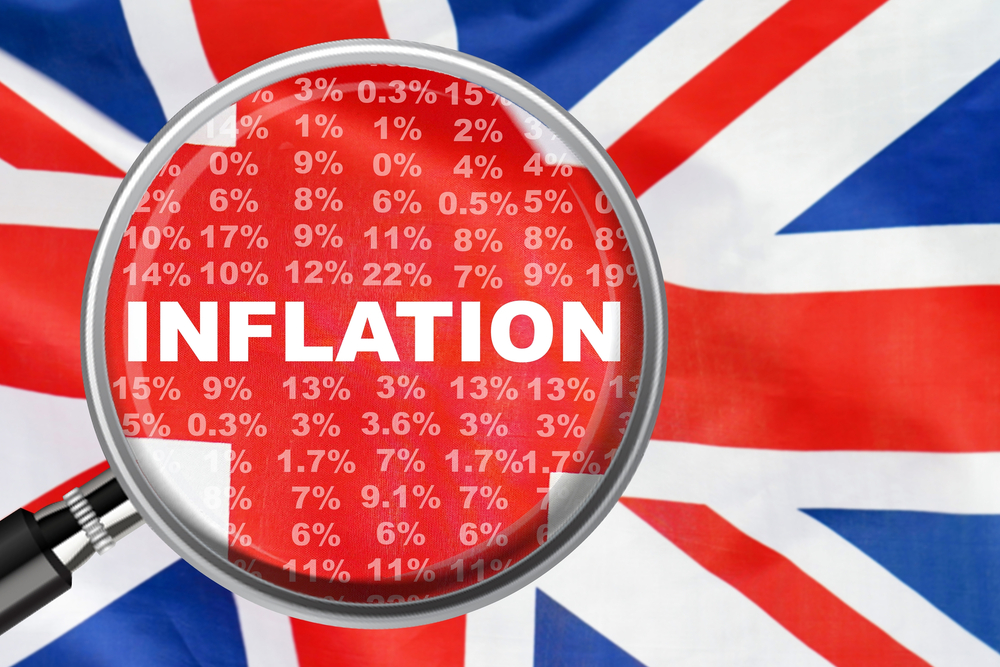 We've just seen yearly, monthly and core inflation rates for the UK. All were expected to fall however, economists' predictions have been shattered this morning, with yearly inflation holding steady at 8.7% in May, unchanged from last month's 13-month low.
The rate was also above expectations of 8.4%, signalling inflation in the UK remains stubborn and over four times the Bank of England's (BoE's) 2% target. Monthly and core inflation both rose, to 0.7% and 7.1%, respectively.
Up next for the UK is the BoE's interest rate decision on Thursday at lunchtime. Economists forecast the rate to rise by 25bps to 4.75%. Many will be watching closely to see if this morning's inflation rate will further impact the Bank's decision.
On the topic of inflation, the UK government has ruled out mortgage relief schemes, with chancellor Jeremy Hunt warning that it would make the issue of high inflation "worse, not better".
Producer price inflation in the UK however, fell to its lowest rate in over two years to 2.9% year-on-year in May. The dip was largely due to the widespread fall in prices of petroleum products.
European equities fell on Tuesday, with Germany's DAX and Stoxx 600 both losing 0.6% respectively.
French stock, the CAC 40 index lost approximately 0.3% as economists continued to assess the outlook for interest rates and the global economy. This was ahead of the three testimonies and two speeches from members of the US Federal Reserve (Fed) scheduled in over the course of this afternoon.
One of those will be a Testimony from the Fed's chair, Jerome Powell, who is scheduled to speak at 3pm today UK time. In his last testimony, Powell gave comments on the economic situation and outlook in the US, and monetary policy.
With the Fed recently pausing its rate hikes, many will be listening closely for any hawkish comments or signals on future policy.
Make sure any upcoming transactions are protected against the risks of sudden market movements. Secure a fixed exchange rate now with a forward contract; call your Business Trader on 020 7898 0500 to get started.
GBP: Pound still strong
As we progress through the penultimate week of the month, sterling boasts gains of around 1.66% on a monthly footing against the euro as investors chow down on the latest inflation data and anticipate the BoE's big interest rate decision.
Against the dollar, the pound is approximately 2.73% stronger compared to this time last month.
GBP/USD over the past year
EUR: Markets await consumer confidence (flash)
Today is pretty quiet on the eurozone data front however, investors can look forward to the latest consumer confidence (flash reading) tomorrow. The previous reading showed consumer sentiment in the European Union rose to -17.4 in May, hitting highs not seen since February last year. Markets are expecting the reading to edge up to -17 tomorrow.
USD: Building permits on the rise
Preliminary estimates for United States building permits were released by the U.S. Census Bureau yesterday. The data revealed US building permits rose by 5.2% to a seasonally adjusted rate of 1.491 million in May. The rise follows two consecutive months of falling rates and beats market expectations of 1.42 million.
For more on currencies and currency risk management strategies, please get in touch with your Smart Currency Business trader on 020 7898 0500 or your Private Client trader on 020 7898 0541.