UK economy returns to growth as lockdown end in sight
By Christopher Nye April 13th, 2021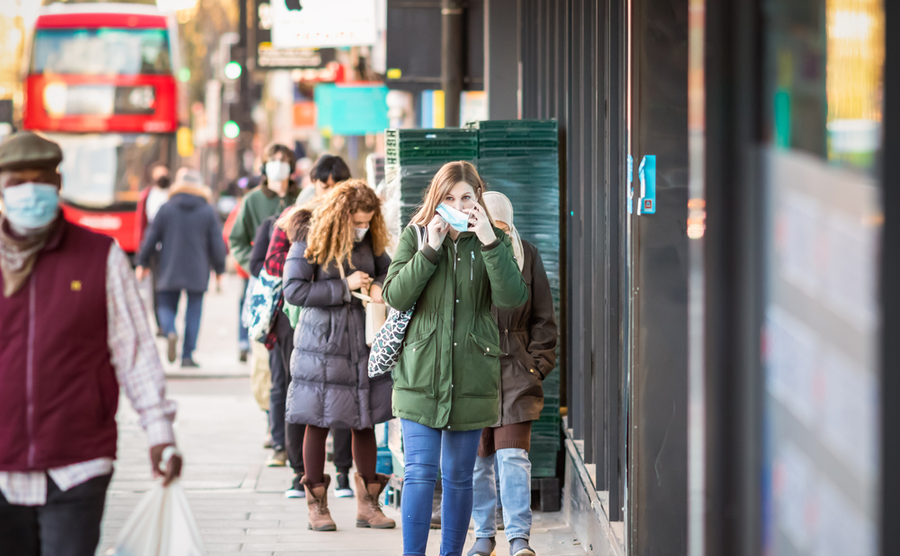 Shoppers queue in London (I Wei Huang / Shutterstock.com)
Despite some early gains yesterday sterling failed to rediscover its bounce from earlier in April and approaches the mid-point of the month almost 2% down against the euro and 1% down against USD compared to the start of the month.
Early trading this morning shows fresh impetus, however.
This morning's data releases show that UK GDP rose 0.4% in February, having shrunk in January. It is still 7.8% down on last February but growth through the lockdown is encouraging nevertheless. Leading the recovery is production and construction
Shops, hairdressers and other services were allowed to open again yesterday in most of Britain after three and a half months closed, alongside pubs and hospitality for outdoor service, as Covid-19 cases continued to fall rapidly.
All those aged over 50 who want it have now received a first vaccination, with the new Moderna vaccine beginning to be used from today.
According to a poll by Reuters yesterday, the UK economy will recover to pre-Covid rates by mid-2022, with unemployment predicted to peak at 6.2% at the end of 2021.
Make sure any upcoming transactions are protected against the risks of sudden market movements. Secure a fixed exchange rate now with a forward contract; call your Business Trader on 020 7898 0500 to get started.
GBP: Sterling finds fresh impetus as economy grows
Sterling attempted to stage a recovery early yesterday, strengthening by 0.5% against the euro, which dwindled by around half of that over the rest of the day.
The pattern was repeated against the US dollar, but sterling managed to hold on to most of its gains.
This morning sterling has rallied again. Alongside GDP growing by 0.4% in February, Balance of Trade figures showed a £7.1bn deficit – more than double last month – but industrial, manufacturing and construction output, while down year on year, was better than expected.
EUR: Choppy day for Euro
The single currency chopped and changed against USD yesterday, ultimately strengthening fractionally, boosted by better than expected shopping data.
Retail sales in the Eurozone were significantly ahead of expectations, growing at 3% month on month – double expectations – and the losses compared to last year being half of the consensus prediction – and last month's figures – at 2.9% lower.
This morning we have had wholesale prices for Germany which came in well ahead of last month at 4.4% year on year and 1.7% for the month.
At 10am we will hear about economic sentiment in both the Eurozone as a whole and its largest economy, Germany.
USD: Dollar drifts
The dollar was the loser among major currencies yesterday, weakening slightly against both euro and pound during the day. It continues to move in and out against EUR with no clear direction.
Later today we have an interesting selection of data releases around inflation, then a procession of speeches by Federal Reserve members this afternoon and tomorrow afternoon.
For more on currencies and currency risk management strategies, please get in touch with your Smart Currency Business trader on 020 7898 0500 or your Private Client trader on 020 7898 0541.