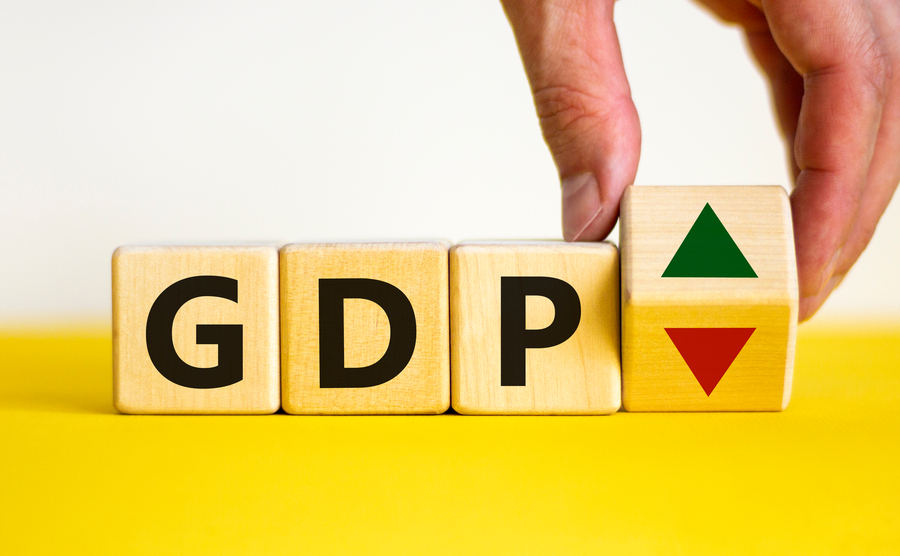 The UK economy fell sharply in July
The British economy grew by 0.5% in June, taking the quarterly figure for April to June to 0.2%. The pound responded immediately, but only strengthening by around 0.1% to 0.2% against the euro and US dollar and it remains down on the week overall, for now.
GDP (gross domestic product) data released by the UK's Office for National Statistics this morning showed that the 0.5% monthly rise was mainly due to a 1.6% growth in manufacturing, plus strong growth in household and government consumption. However, the UK economy remains the only advanced economy still weaker than pre-pandemic.
You will have the chance to boost UK GDP, with Smart Currency Business's new referral prize of a meal for you and four guests at a Michelin-starred restaurant in the UK of your choice. See further detais of how you can enter to win this meal-of-a-lifetime prize here.
The other big news of the past 24 hours has been US inflation, which rose to an annual rate of 3.2% in July 2023, from 3% a month earlier. However, although a rise, the first increase following 12 consecutive months of declines, it was smaller than the 3.3% the markets were expecting.
Following US CPI data, the euro edged higher against the US dollar yesterday, taking its weekly gains to 0.5%.
US core consumer prices, which exclude volatile items such as food and energy, rose by 0.2% in July, matching June's advance and market expectations. The shelter index was the largest contributing factor which grew 0.4%.
Markets were dominated by US data yesterday as the jobless rate increased by 21,000 people, a surprising 19,000 more than expected. This marks a one-month high and suggests the labour market is starting to soften.
In business news, British retailer Wilko became the latest high-street store to fall into administration yesterday, as owners failed to find new funding, putting 12,000 jobs at risk.
The British government is reported to be considering tighter rules on investment in China, following new measures put in place by the US government. A spokesperson for the British government said yesterday, "The UK will consider these new measures closely as we continue to assess potential national security risks attached to some investments."
In housing, figures released yesterday by the Ministry of Justice showed that UK court proceedings for no-fault evictions have soared to a six-year high, ahead of new rules being passed to ban the practice.
Following Elon Musk's rebrand of Twitter, now X, the tech entrepreneur plans to auction off Twitter memorabilia from its San Francisco headquarters. This comes after Musk said cashflow was still in the red following a 50% drop in ad revenue and a heavy debt load. He also announced plans for a video calling service for the platform.
Make sure any upcoming transactions are protected against the risks of sudden market movements. Secure a fixed exchange rate now with a forward contract; call your Business Trader on 020 3918 7255 to get started.
GBP: GDP perks up pound
The pound has bounced a little higher this morning following better-than-expected GDP data. However, it is still 0.5% down on the week compared to the US dollar and around half that amount down against the euro.
Anyone buying Norwegian krone or Japanese yen, on the other hand, will be getting well over 1% more than last Friday.
GDP data released this morning has relieved fears of 'stagflation' – inflation + stagnation – and will please prime minister Rishi Sunak for whom "growing the economy" is one of his five pledges for 2023.
Next week is very busy for data. It all starts on Tuesday with unemployment and earnings. Will earnings now exceed inflation? We'll hear inflation on Wednesday and then retail sales on Friday.
GBP/USD past year
EUR: Modest gains on quiet day
The single currency gained against all but the US dollar yesterday, in a relatively quiet day for data. Yesterday and this morning we have seen final results for July's inflation from several major economies. There have been no great surprises, although France's has ticked up slightly.
Next week there will be the ZEW Economic Sentiment Index for Germany on Tuesday, and eurozone GDP on Wednesday, but it is a week for EUR/GBP where UK data is likely to dominate.
USD: Dollar reacts positively to inflation data
The dollar strengthened by around 0.5% across the board yesterday, with inflation taking the headlines. While CPI inflation is at 3.2%, accelerating from June's 3%, core inflation fell to 4.7%. Moderating underlying price pressures are positive signs, and included a sharp fall in air fares.
This afternoon, there will be July's US producer prices, which are expected to rise 0.2% from a 0.1% increase in June 2023. There will also be the Michigan consumer sentiment index, which is expected to decrease to 71 in July from 71.6 in June.
The first data of note next week will be retail sales on Tuesday, then building permits and the minutes of the Federal Reserve's interest-rate setting committee the FOMC on Wednesday.
For more on currencies and currency risk management strategies, please get in touch with your Smart Currency Business trader on 020 3918 7255 or your Private Client trader on 020 7898 0541.