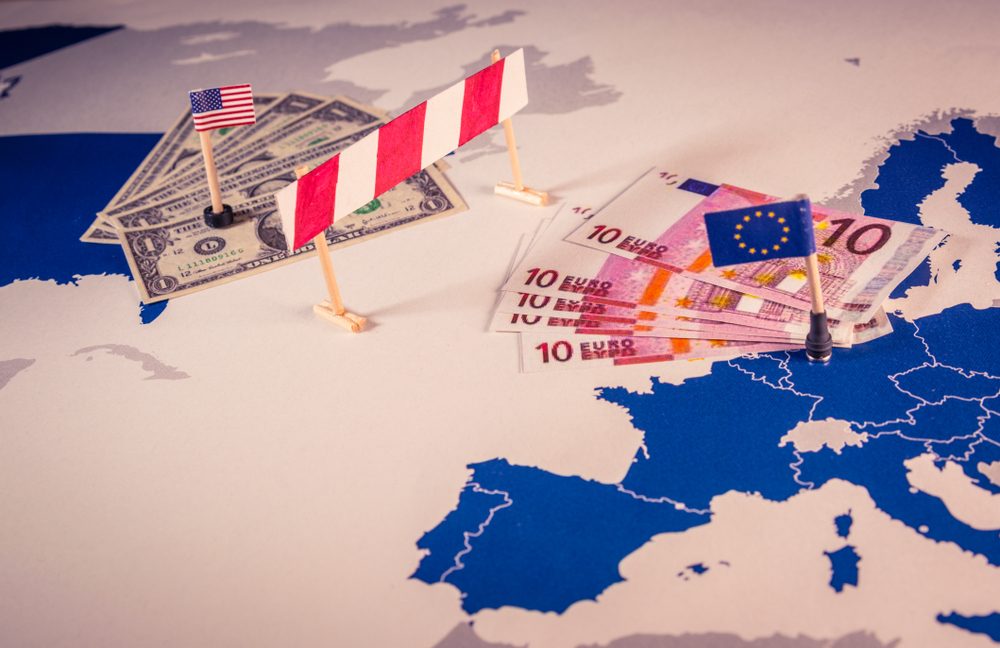 On Sunday evening, Trump spoke on Fox News, where he attacked the European Union, saying it treated the US very badly and was 'possibly as bad as China, just smaller'. Trump's comments have – once more – ramped up fears that the US might impose further tariffs on EU imports. However, the EU responded strongly, threatening to impose tariffs on $300 billion of US products.
Whenever the US, EU and China trade blows, the stock markets tumble and yesterday was no exception. The price of copper hit its lowest level since late March and all of the main European indices were in the red throughout yesterday. The markets have also been affected by the news that Canada has imposed tariffs on US imports in response to Trump's earlier tariffs. Somewhat ironically, traders sought safe havens and piled into the dollar, which left many currencies weakening throughout the day. The Indian rupee hit its lowest level against the dollar in five years, which serves to show the extraordinary reach the president's actions can have.
Eurozone factory growth hit an 18-month low in further signs that trade war fears are affecting Europe's economy. Manufacturing PMI dropped to 54.9 in June from 55.5 the month before, which is the slowest growth since December 2016. The pace of expansion has been weakening every month since January. The UK's manufacturing PMI exceeded expectations by climbing to 54.4 from 54 the month before, while the US's reading was revised upwards to 55.4 from an initial estimate of 54.6. However, it is still the slowest growth for four months.
Senior EU officials have dismissed the UK government's latest Brexit plan according to reports. EU sources have seen drafts of the British white paper which outlines the terms of the UK's future relationship with the EU, but have said there is no chance that the European Union will change its founding principles. Theresa May is set to meet with ministers at Chequers on Friday with time running out on agreeing the terms of withdrawal. The closer we get to the deadline, the greater the chance of a no-deal.
Meanwhile, UBS Global Wealth Management have advised clients to buy the euro against the pound. They predict that the pound will slide in the weeks ahead, especially if negotiations fail to make progress. If nothing else, that should encourage you to take steps to protect your budget, margins and profits. Mitigating the inherent risks of currency exposure is something any sensible business should do, so get in touch with our team today to see how best to proceed.
GBP: business optimism hits a seven-month low
The only release of note yesterday was the manufacturing PMI which came in above expectations at 54.4 in June. New business growth hit a three-month high, following an increase in export sales to mainland Europe, China, South America and Australia. However, output growth dipped from the previous month and business optimism hit a seven-month low. Future trade tariffs, the exchange rate and Brexit uncertainty were all cited as reasons.
Theresa May faces another headache, as EU officials have rejected the UK government's latest Brexit plan, despite only being privy to draft documents. May is set to meet with ministers at Chequers on Friday, where they hope to thrash out a deal that will progress talks. Let us hope something is agreed sooner rather than later.
Sterling tumbled against the dollar, but then, so did many currencies around the world. Investors looked to safe havens amid concerns over a trade war and movements against the euro were fairly muted. Today we will see construction PMI for June, while tomorrow sees the services PMI for the same month. Good luck to England who play Columbia tonight.
EUR: Merkel's coalition government could be brought down
It was a busy day for the eurozone yesterday, as we saw manufacturing PMI from Germany and the eurozone. In June, the Germany manufacturing PMI dropped to 55.9 from 56.9 the month before, which was in line with expectations and the weakest pace of expansion since December 2016. Across the eurozone, it fell to 54.9 from 55.5 and was slightly below expectations of 55.0.
The unemployment rate in May for the eurozone came in at 8.4% which was better than the 8.5% expected and is the lowest level since December 2008. The euro had a tough time against the dollar, as did a basket of currencies around the world.
There is a genuine chance that Angela Merkel's coalition government could be brought down if she cannot agree a compromise on migration policy with her interior minister, Horst Seehofer. The coalition has barely been in office for 100 days but tensions are already surfacing, with Horst said to have rejected the arrangements Merkel made with other EU leaders last week. The two have agreed to meet once again in a bid to save the centre-right alliance, but there is no guarantee they will be able to find an arrangement they are both happy with.
Today we will see retail sales for May with tomorrow bringing composite and services PMI from Germany and the eurozone.
USD: ISM manufacturing PMI beats forecast
While Markit's manufacturing PMI reading for June pointed to the slowest growth in factory activity for four months, the Institute for Supply Management's Manufacturing PMI rose to 60.2 in june from 58.7 the month before. It is the strongest expansion in the manufacturing sector for four months. Still, Trump's trade tariffs continue to affect markets around the world, as Wall Street dropped in early trading, while the dollar rallied against a basket of currencies as investors looked for a safe haven.
The US Commerce Secretary, Wilbur Ross, spoke to CNBC and said that market volatility won't stop Trump shaking up the global trade system. There are widespread fears over Trump's threat to put tariffs in car imports from Europe. The EU's threat to retaliate could hurt consumers, businesses and economic growth. It is difficult to see who could possibly benefit from the tariffs, but it is impossible to predict what Trump will do next.
Today we will see factory orders for May, as well as car sales for June. Wednesday is quiet, but on Thursday we will see the employment change figures for June, as well as composite, services and non-manufacturing PMI for the same month. We will also see the minutes from the Federal Open Market Committee meeting, before Friday's non-farm payrolls and balance of trade figures.
For more on currencies and currency risk management strategies, please get in touch with your Smart Currency Business trader on 020 7898 0500 or your Private Client trader on 020 7898 0541.