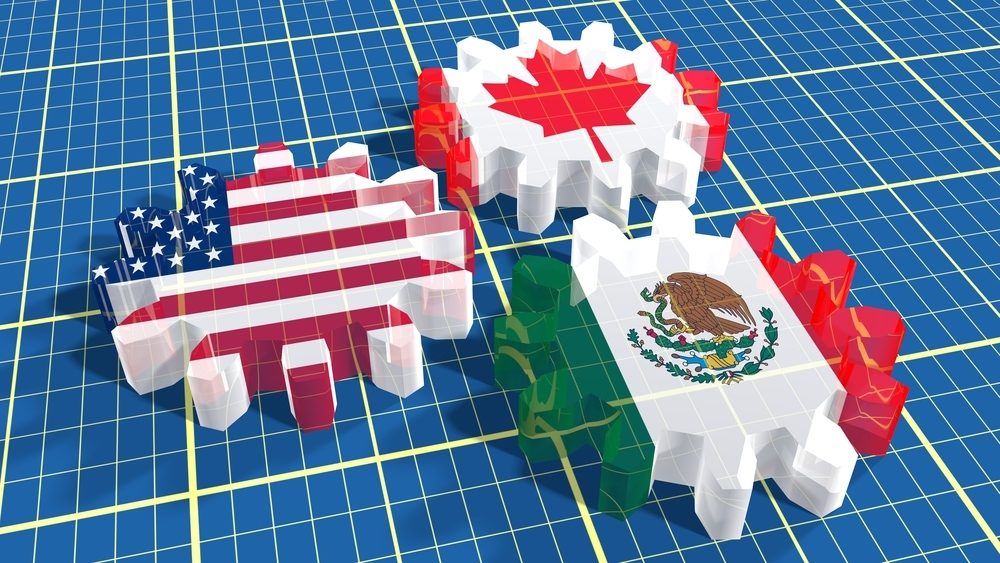 Donald Trump is not one to mince his words and he certainly goes in for hyperbole, so although it was quite a surprise that the President of the United States managed to agree a trade deal with Canada and Mexico, it wasn't a surprise to see him hail it as the 'biggest ever trade deal'. In a 90-minute press conference held in the Rose Garden of the White House, Trump repeatedly told reporters he didn't drink alcohol, proudly used the word 'loco' (then explained that was an allusion to Mexico), and told a female reporter that she never thinks.
Still, the markets were buoyant following the news. The new deal is said to replace the North American Free Trade Agreement (NAFTA), which Trump has heavily criticised as being the worst deal in history. It now remains to be seen whether the agreement can get through Congress, but there have been reports that many states rely on trade with Canada, so there are unlikely to be too many hiccups.
Meanwhile, the Conservative Party conference kicked off, with chancellor Philip Hammond launching a scathing attack on Boris Johnson. He claimed the former foreign secretary's legacy is Boris Bikes. For his own part, Johnson was filmed running through what appeared to be a field of wheat (although it actually turned out to be dried grass). Hammond promised to continue with Tory austerity and there appears to be a clear divided at the conference, with many hard Brexiters delivering their own, separate speeches.
The main economic data release from the UK was manufacturing PMI, which came in at 53.8 – better than the 52.5 economists had predicted. Some analysts attributed the faster growth to a weaker pound, as British manufacturers increased outputs to sell products overseas. Today we will see Nationwide housing prices for September, but the main focus will be on the Conservative party conference.
GBP: manufacturing PMI beats expectations
The headline economic data release from the UK yesterday was manufacturing PMI for September. From 53 in August, economists had expected a dip to 52.5, but it actually climbed to 53.8. Output and new orders grew strongly which is being at least partly attributed to a weaker pound.
The only major economic data release today is Nationwide housing prices for September. Prices are expected to fall a little from the month before, but the truth is that the headlines will be dominated by what is said at the Tory conference. The government appear to be divided at the moment and what could have proved an opportunity to find some common ground might actually prove to be the opposite.
EUR: unemployment holds steady at 8.1%
It was quite a busy start to the week for the eurozone, with manufacturing PMI for Germany and the eurozone on the schedule. In the eurozone, the figure for September was 53.2 (against an expectation of of 53.3), while in Germany the figure came in as expected at 53.7.
Retail sales in Germany for August also came in and on a monthly basis, surprisingly fell by 0.1% when an increase of 0.4% had been expected. Still, year-on-year, the figure came in at 1.6% from 0.9% the previous period and better than the 1.5% economists had predicted. The euro weakened against the dollar yesterday to continue what has been a miserable few days for the single currency against the greenback. Movements against sterling were fairly muted.
The unemployment rate in the eurozone for August came in at 8.1% which was in line with expectations and represented a drop from 8.2% the month before. There are no major economic data releases on the schedule for the eurozone, but tomorrow we will see a raft of other PMI data from Germany and the eurozone.
USD: biggest ever trade deal agreed apparently
The biggest ever trade deal was agreed between the US, Canada and Mexico yesterday. At least, that's what Trump would have us believe. The markets reacted positively and the dollar made some gains against the euro. The trade deal still needs to go through several stages before it is official, but it is widely expected to pass.
Ism manufacturing PMI in September came in at 59.8 against an expectation of 60.1 which was quite a drop from 61.3 the previous month. However, the sector has been showing consistent strength for some time now and, given that any figure over 50.0 shows growth, the release is rather positive.
Today we can expect further reaction to Trump's press conference yesterday (in which he inexplicably accused a female reporter of never thinking), while tomorrow we will see the unemployment change figures.
For more on currencies and currency risk management strategies, please get in touch with your Smart Currency Business trader on 020 7898 0500 or your Private Client trader on 020 7898 0541.