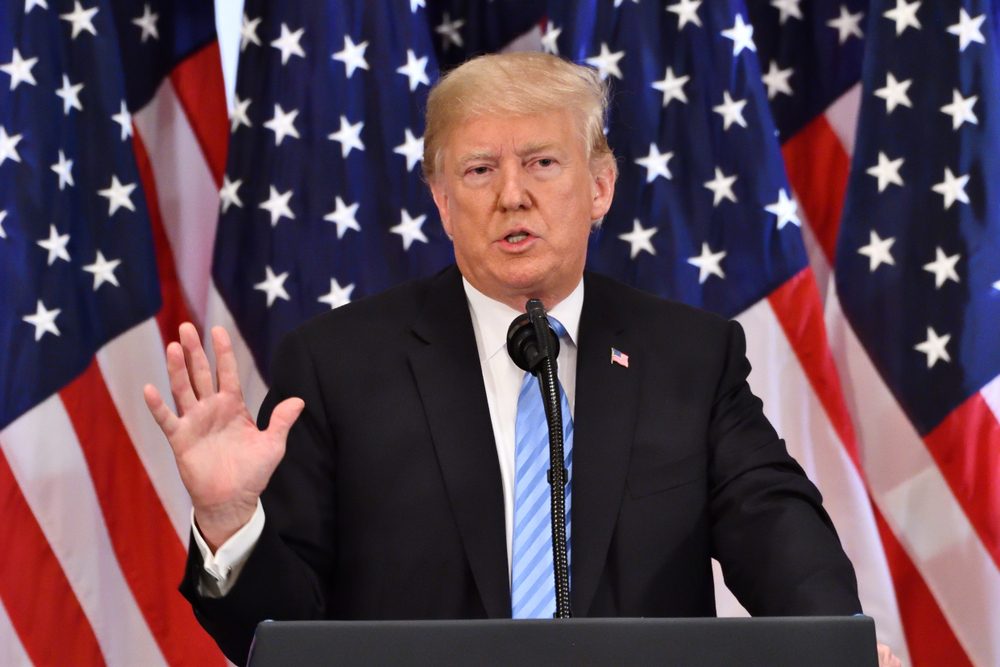 Late on Wednesday night, Donald Trump gave a telephone interview to Fox News during which he laid the blame for the stock market plunge at the door of the Federal Reserve. The former reality television star said that the fall had nothing to do with his trade conflict with China and was actually because "The Fed is going wild. They're raising interest rates and it's ridiculous." He added, "The Fed is going loco."
Then yesterday, he renewed his attack. Speaking once more to Fox News, he repeated the claim that the Fed has been too aggressive with its rate hikes and that they are making a big mistake. His comments came after the New York stock exchange suffered its biggest loss in eight months. In fact, markets around the world tumbled on Wednesday, but it is nothing to worry about too much at the moment, especially when we consider that the Dow only suffered its 284th worst day.
US inflation came in below expectations by falling to 2.3% year-on-year from 2.7% the previous period. Economists had expected it to dip to 2.4%. Core inflation didn't rise as fast as expected either, only increasing by 0.1% in September against a forecast 0.2% rise. Ultimately, this means that annual core inflation remains unchanged at 2.2%. If prices are not rising as fast as previously thought, the Fed might well be reluctant to hike rates quite as aggressively. That should please Trump.
Sterling benefited from the news, as well as continued hopes of a Brexit deal and almost hit a three-month high against the dollar. However, mid-afternoon, there were reports that Theresa May is facing a cabinet revolt over her new backstop plan. There are concerns that it will keep Britain in a customs union with the EU indefinitely. The Telegraph reported that the plan does not include a time limit or end date. The plan could cause further Cabinet resignations and the pound tumbled shortly after. And it was all going so well. Oh well.
Today we will see the inflation rate from Germany and industrial production figures from the eurozone. The University of Michigan's preliminary consumer sentiment reading is also on the schedule and is expected to have crept up a little in October. However, it would not be a surprise to see Brexit dominate the headlines and the currency markets, especially given yesterday's revelations.
GBP: Theresa May faces new Cabinet revolt
The pound began the day in a position of strength and approached its highest mark against the dollar for some time. Alas, the run could not continue and when The Telegraph reported that Theresa May faces a new Cabinet revolt because her customs union backstop for Brexit doesn't have a time limit, the pound fell back. There could well be further resignations in the coming days and it looks increasingly unlikely that May will be able to get her plans through parliament.
As time goes on, it is becoming more and more likely that there will be no deal. It seems there are just too many different camps to please and all of them have different opinions on the best way forward. So many issues still need to be ironed out and time is running out. The next couple of months could prove critical. Those demanding further concessions from the EU appear to be forgetting the fact that nobody from the UK can agree what those concessions should be. May is in an impossible position and has been for some time, but so too are the EU leaders. In the words of Blackadder, this is the stickiest situation since sticky the stick insect got stuck on a sticky bun.
The chart below shows the pound's movements against the dollar over the past month. As you can see, it has been a topsy turvy ride and there is nothing to suggest this will end any time soon. So much hinges on Brexit, whether a deal can be agreed and, if so, what kind of deal. Some major sterling moves could be on the horizon in the few weeks and months and in which direction is almost entirely dependent on Brexit progress. Get in touch with a member of our team today to see how best to protect your business from the inherent risks of foreign currency exposure.
EUR: euro enjoys a solid day against sterling and the dollar
After a disappointing time against sterling and the dollar of late, the euro bounced back a little yesterday by making some healthy gains against both currencies. The single currency jumped against the greenback following the release of the consumer price index figures from America and didn't do too bad against the pound either. It remains to be seen whether the trend can continue, especially given the moves were largely brought about from news elsewhere.
The European Central Bank's monetary policy meeting accounts were released yesterday and were relatively uneventful. No changes have been made to its monetary policy stance and it expects interest rates to remain at their present levels throughout summer 2019 and possibly beyond that. Of course, a lot can happen between now and then, but it has been so long since rates were hiked that nobody can expect another increase anytime soon.
The main releases from the eurozone today are the German inflation rate for September and eurozone industrial production for August. Year-on-year, the former is expected to rise to 2.3% from 2% in the previous period, while the latter is forecast to drop to -0.2% from -0.1%. Neither release is likely to fuel major currency moves, but it will be interesting to get an idea of the eurozone's productivity.
USD: Trump attacks Fed and calls them 'loco'
Donald Trump appears to be a big fan of using the word 'loco' at present. He first rolled it out during a press conference which hailed the trade agreement with the US, Canada and Mexico and even explained it was a reference to Mexico for those who weren't already aware. Then yesterday he used it again, except this time it was in reference to the Fed. It is currently unclear how it related to Mexico this time around.
The president was blaming Wednesday's drop in the stock markets on the Fed who, he claims, is being too aggressive. So inflation data which came in below expectations should put a smile on his face. Having said that, the markets are still 98% certain that there will be a rate hike in December, but it could alter their stance throughout 2019. There have been three rate hikes in 2018 so far and it is almost certain there will be four before the year is out.
We also saw initial jobless claims up to 6 October 2018 which showed claims rose by 7,000 to 214,000. The markets had been expecting a drop to 206,000. At least some of these claims can be attributed to the lasting effects of Hurricane Florence, but the employment market in the US is still extremely strong.
Today is quiet in contrast, but we will see the University of Michigan's preliminary consumer sentiment reading. We might even see another attack on the Fed from Trump – he has criticised the central bank three times now in as many days.
For more on currencies and currency risk management strategies, please get in touch with your Smart Currency Business trader on 020 7898 0500 or your Private Client trader on 020 7898 0541.