Triple interest week: BoE, ECB and Fed all to decide on rates
By Sharyh Murray-Francis December 12th, 2022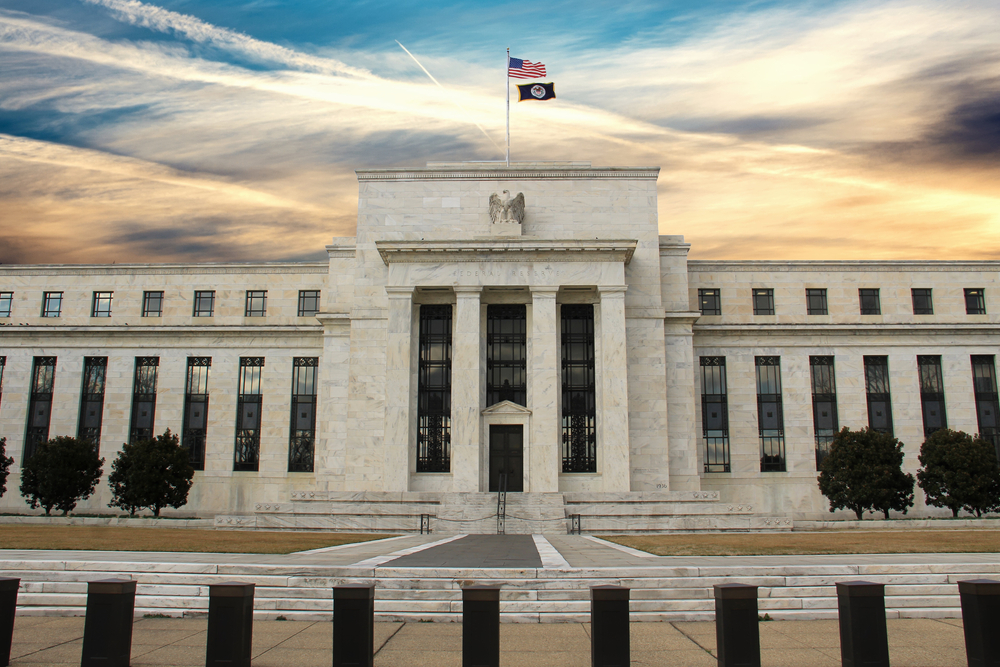 US Federal Reserve Building. The Bank of England (BoE), European Central Bank (ECB) and US Federal Reserve (Fed) will all be deciding on their rates over the course of this week.
Markets are poised for this week's interest rate decisions from central banks across all three of our major currency zones. The Bank of England (BoE), European Central Bank (ECB) and US Federal Reserve (Fed) will all be deciding on their rates over the course of this week.
Michael Hewson, the chief market analyst at CMC Markets said that with the Fed, ECB and BoE all set to raise their rates by 50 basis points, attention in the US "is now shifting to what comes next against a backdrop of slowing growth, and doubts about the sticky nature of inflation, as yields edged back higher after US PPI came in higher than expected for November."
Cabinet office minister Oliver Dowden will finalise contingency plans for the wave of strikes set to disrupt the UK over the Christmas period. It has been reported that those plans include sending in the British army to drive ambulances and staff borders at airports.
Following recent bribery allegations involving Qatar and European parliament officials, Belgian police arrested and charged four people with money laundering, corruption and participating in a criminal organisation on Sunday. Multiple items were seized in several searches across Brussels, including €600,000 in cash.
A recount of votes in a political race in Massachusetts has seen a state house of representatives flip from Republican to Democrat by a single vote. Kristin Kassner, Democrat, won against Lenny Mirra, Republican and five-term incumbent after a recount which took place earlier this week.
While last week was fairly a fairly quiet one for key data releases, the momentum picks back up and market watchers will see a variety of key releases across the board. In addition to the highly anticipated rate hikes from central banks this week, we're also set to hear the UK's inflation rate for November.
The US Bureau of Labor Statistics will also release its inflation rate for November this week, while over in the eurozone, the Centre for European Economic Research will release Germany's latest economic sentiment index.
Make sure any upcoming transactions are protected against the risks of sudden market movements. Secure a fixed exchange rate now with a forward contract; call your Business Trader on 020 3918 7255 to get started.

GBP: UK Interest expected to rise this week
Despite this morning's better than expected GDP data, sterling nervously awaits a busy week of key data releases ahead. The pound's nervousness is reflected in markets as it begins the day marginally weaker than both the euro and the US dollar compared to this time last Monday. This comes ahead of the BoE's interest rate decision, and the UK's latest inflation data which are both scheduled to be released this week.
In its last monetary policy meeting, The BoE voted by a majority of 7-2 to raise interest rates by 75 basis points to 3%. This was the largest rate hike in over three decades, pushing UK borrowing costs to their highest levels since late 2008. This was against a backdrop of inflation hitting a 40-year high in September plus a weakening economic outlook.
On Thursday, the Bank is expected to raise interest even higher as markets price in a 3.5% rate.
GBP/USD over the past year
EUR: Euro takes confident stride into interest week
The euro enters interest rate week in a much better position against sterling and the dollar compared to last Monday.
Like Britain, the eurozone will find out its latest interest rate on Thursday afternoon. The ECB is scheduled to announce its decision shortly after the BoE. Likewise, the eurozone's the rate is also expected to increase.
This follows the Bank's October meeting which saw key interest raised by 75 basis points, bringing borrowing costs in the euro area to their highest levels in over a decade.
USD: Jerome Powell says Fed will ease its rate hikes
Compared to this time last week, the dollar begins the week marginally up on sterling, the euro and several of its major competitors including the Canadian dollar and Japanese Yen.
All eyes turn to the Fed this week as policymakers will vote on the country's interest rate. In a speech at the Brookings Institution on Wednesday, the Fed's Chair Jerome Powell said the Bank may scale back the pace of its interest rate hikes already in December. Powell also said, "It makes sense to moderate the pace of our rate increases as we approach the level of restraint that will be sufficient to bring inflation down. The time for moderating the pace of rate increases may come as soon as the December meeting".
Markets are pricing in a 50-basis point rate hike to 4.5% in this Wednesday's decision.
For more on currencies and currency risk management strategies, please get in touch with your Smart Currency Business trader on 020 3918 7255 or your Private Client trader on 020 7898 0541.