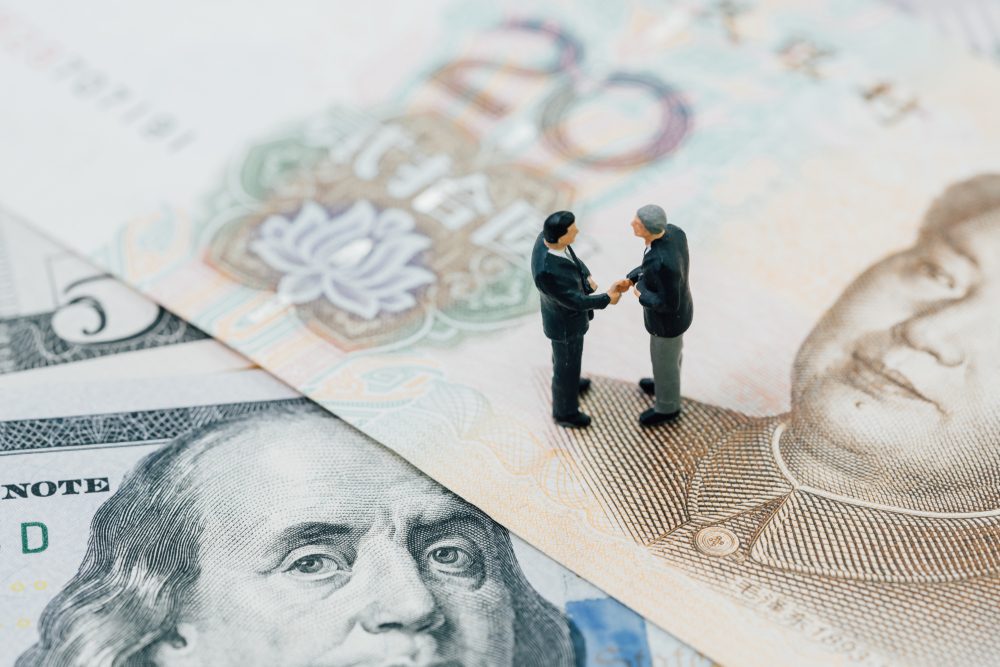 News that the US and China will hold high-level trade talks next week, as well as the fact that Democrats supported and successfully passed a bill aimed at funding the Government, calmed nerves yesterday. Trump has vowed to veto the bill as it is missing the $5 billion he is demanding to build the border wall, while the new speaker of the House, Nancy Pelosi, has described it as an immorality between countries. This game of brinkmanship still continues to be 'who blinks first' and it will be interesting to see whether the President will be willing to continue to watch rubbish pile up as 800,000 federal workers are affected.
The talks between the world's two largest powers, aimed at resolving issues and tension over trade, come at a moment when evidence is mounting that the effects of tariffs, already felt in China, are also being felt in the US. The manufacturing PMI slipped from 59.3 last month to 54.1 – a steep decline and a strong signal of the weakening in confidence within US industry. By the end of the day, the futures for US interest rates actually had a very slight rate cut priced in for the middle of this year, quite a turnaround from the three rate hikes so many people had been forecasting only a month ago.
In the UK, we await the services PMI today but moreover the return of Parliament next week. Stories yesterday suggested that Number 10 is now coming to accept that the withdrawal bill stands virtually no chance of being passed, but for the time being has no plan B. The meaningful vote is expected on either 15 or 16 January, with The Times reporting this morning that Europe is hinting at a 'backstop vow to get May's Brexit Deal through a Commons vote'. This positive news is offset somewhat by the DUP's Wilson saying that this is just a con trick and there is no way he could support the deal, mind you he also said 'we should be relaxed about a no-deal Brexit' – not a philosophy we agree with.
Universities have also warned that a no-deal Brexit would dramatically affect their ability to conduct scientific research, threatening the £21 billion they contribute annually to the UK economy.
GBP: services PMI due to be released this morning
We have the services PMI today, expected at 50.7, only just in positive territory, so any shortfall will be negative in any and all senses. Sterling recovered well following the 'flash crash' and we find ourselves back in familiar territory. The driving forces are more likely to be reaction to US Non Farm Payrolls (see below) and 'guesstimations' about the fate of the Brexit Bill. It seems as though Europe are still ready to try and do what they can to help, yet it will need a huge effort and pressure from the British PM to succeed.
EUR: interest rates to remain low for a long time
The quiet currency over the last couple of days, ECB's Couere reiterated this morning that interest rates are to remain low as long as necessary. Given the move in US rates futures that might be even longer than we thought. Whether this becomes a problem further down the road if the economy slows down badly we , and they, will have to wait and see. More PMI's from across the zone this morning are expected to continue to show growth slowing.
USD: Jerome Powell set to deliver a speech this afternoon
Later today we have the Non Farm Payrolls, expected at 179k but arguably the more important series in the release is the average earnings data, expected at 0.3% month on month. Inflation has been subdued, despite unemployment at some of the lowest levels in years, and is likely to stay capped given that the drop in the oil price has not filtered through to CPI yet. Arguably even more important is a speech from Fed Chair Jerome Powell. With so much focus on interest rate forecasts for the US and how much they have changed in just a few weeks, his views on the economy and upcoming data are critically important now.
For more on currencies and currency risk management strategies, please get in touch with your Smart Currency Business trader on 020 7898 0500 or your Private Client trader on 020 7898 0541.