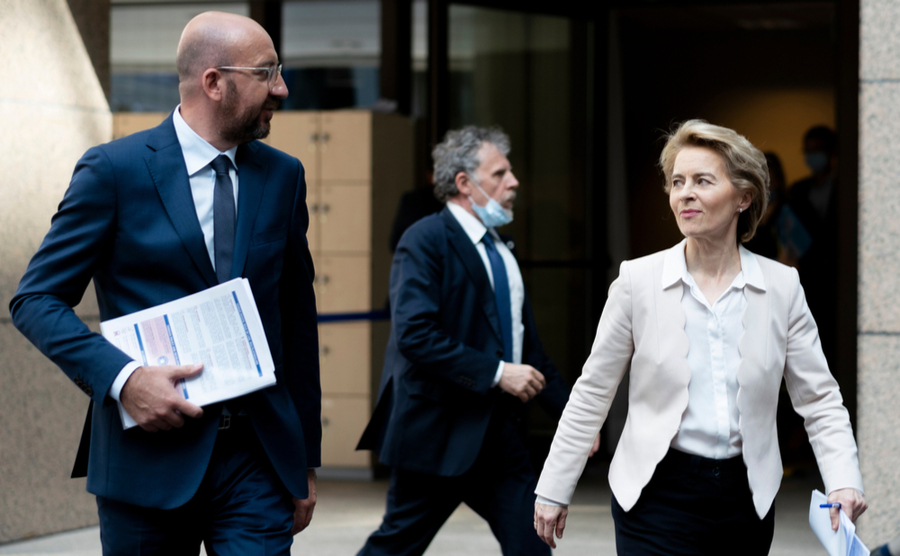 EU Council President Charles Michel and EU Commission President Ursula von der Leyen (Alexandros Michailidis / Shutterstock.com)
All eyes are on Brussels today as EU leaders continue to discuss a united approach to helping those countries most stricken by the pandemic.
In the UK, the FCA is starting an investigation into insurance companies who are refusing to pay out on some 370,000 potential business interruption claims, even those which cover for infectious diseases.
UK-Sino relations will continue to dominate political and economic news, as the UK faces up to years of delay and billions of pounds extra cost following the banning of Huawei from the UK's 5G system.
As anyone home educating during the past four months can tell you, the video-sharing app TikTok is huge among the nation's children. Now, the Chinese company's plans to open a 3,000-employee base in the UK is under threat.
There is little top-level data this week, but GBP/EUR volatility will surround the EU meeting on the Common Recovery Plan early this week and GfK Consumer Confidence readings towards the end of the week.
Friday sees retail sales data for June, which will be crucial, as more of the British high street's famous names are expected to announce job cuts this week, including Marks & Spencer.
Make sure any upcoming transactions are protected against the risks of sudden market movements. Secure a fixed exchange rate now with a forward contract; call your Business Trader on 020 7898 0500 to get started.
GBP: Early losses could continue this week
The pound has weakened further this morning and is currently around 2% weaker than last Monday against the euro, although only very marginally down against USD.
That is mainly down to the increasing chance of an EU recovery deal, but suspicions are also rising that the British economy is recovering more slowly than the rest of Europe, and data releases this week could confirm this, negatively affecting the pound.
The other big data releases will be services and manufacturing PMI, which should bounce back to around 52 or 53 as the hospitality sector in particular reopens.
Analysts have been looking at alternative sources of data to suggest how fast the return to normality is happening, including transport, and it looks like the UK is still in the slow lane compared to most of Europe, according to data from Google.
Combined with the normal Brexit uncertainty, this does not bode well for sterling, which has often dipped in recent years in late July even without the current problems.
EUR: All eyes on Common Recovery Plan
The single currency has strengthened this morning on the back of progress expected today as EU leaders continue to meet in Brussels and plan a response and rescue package for the countries worst affected by the Covid pandemic.
Haggling and disunity among EU states had been reported over the size and repayment – or not – of the package, but a figure of €390billion in grants is being supported by European Council President Charles Michel.
Dutch Prime Minister Mark Rutte, leader of the more parsimonious northern European states, has said: "nothing is guaranteed yet, but we now have a very good text on which consensus is slowly emerging."
Spanish tourist resorts are filling up, but mainly with cars as European tourists opt to drive to the costas.
USD: USA faces double-dip recession
The dollar is struggling against a resurgent euro this morning – at its lowest level for three months – while maintaining stability against GBP.
The US is continuing to battle Covid, with Florida alone seeing 12,000 new cases in one day last week and intensive care beds at "127% capacity" in Miami.
A double-dip recession now appears more likely.
It's a relatively quiet week for data, but with home sales data for June on Wednesday, the usual weekly jobless claims data on Thursday and Markit PMI for July on Friday.
For more on currencies and currency risk management strategies, please get in touch with your Smart Currency Business trader on 020 7898 0500 or your Private Client trader on 020 7898 0541.