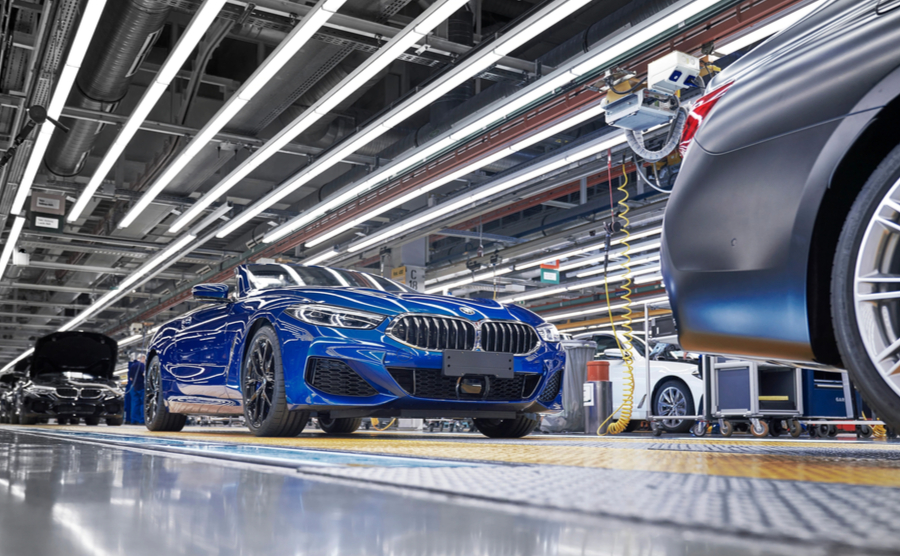 Germany's BMW factory in Munich (classic topcar / Shutterstock.com)
Yesterday the pound strengthened by around 0.25% against the euro and a little more against the US dollar, and that has continued so far this morning.
The euro has weakened marginally, largely based on the threat to European gas supplies this winter arising from the war in Ukraine, and the risk of Germany going into recession.
The US dollar has continued its poor run, ahead of the Fed's interest rate decision tomorrow. Against the euro, however, there is no clear direction for USD and it remains close to where it spent the latter part of last week.
In the business news, Ryanair showed a small profit this quarter for the first time in over two years. Their chief financial officer was highly critical of airports which he said had one job to do and had failed at it: "to make sure they have sufficient handlers and security staff."
The port of Dover continued to have long delays for holidaymakers and business, while a report from the government, leaked to the FT, found that the UK's own post-Brexit red tape was costing the UK chemicals sector £2bn.
Research from Asda supermarket yesterday found that disposable income in the UK has fallen by a record £44 for an average household in June, the eighth fall on record.
In politics, the Conservative leadership contest still looks evenly balanced after last night's TV debate between Rishi Sunak and Liz Truss.
Make sure any upcoming transactions are protected against the risks of sudden market movements. Secure a fixed exchange rate now with a forward contract; call your Business Trader on 020 3918 7255 to get started.
GBP: Mixed economic data fails to hinder sterling
Sterling strengthened against most major currencies yesterday, except for the Norwegian krone and Australian dollar.
Economic news was mixed, with the CBI measuring order books at a reading of 8 against an expectation of 15, but on the plus side, manufacturers were much more optimistic with CBI Business optimism at -21 against a prediction of -45.
Today, we have CBI Distributive Trades at 11am, but with much more data coming out of the eurozone this week market-moving data could come from any direction.
GBP/USD past year
EUR: German economic fears drag on euro
The euro traded sideways with the US dollar yesterday while losing ground to sterling.
In the eurozone yesterday the talk was all of a potential recession in Germany, with yesterday's disappointing result for German Ifo Business Optimism, which slipped from 18 last month to 8, this month, against an expectation of 15.
All eyes will be on Gfk Consumer Confidence tomorrow to see if that is repeated for Germany, along with France and Italy.
The week will finish with a bang for the eurozone, with quarterly GDP figures from across the main economies of the region.
USD: Markets prepare for interest rate decision
The US dollar has had a poor fortnight against most currencies, and that has continued (albeit at a slower rate of decline) over the past two days against both the pound and euro.
A big week for the US economy started quietly on the data front yesterday, but revs up today with some housing data. Will the astonishing 21% annual rise in property prices continue? There will also be new home sales for June, which have been relatively sluggish due to rising prices and mortgage rates.
Tomorrow is the all-important interest rate decision from the US Federal Reserve, but you'll need to wait until 7pm UK time for that. Then on Thursday there is GDP for Q2 (April to June)
For more on currencies and currency risk management strategies, please get in touch with your Smart Currency Business trader on 020 3918 7255 or your Private Client trader on 020 7898 0541.