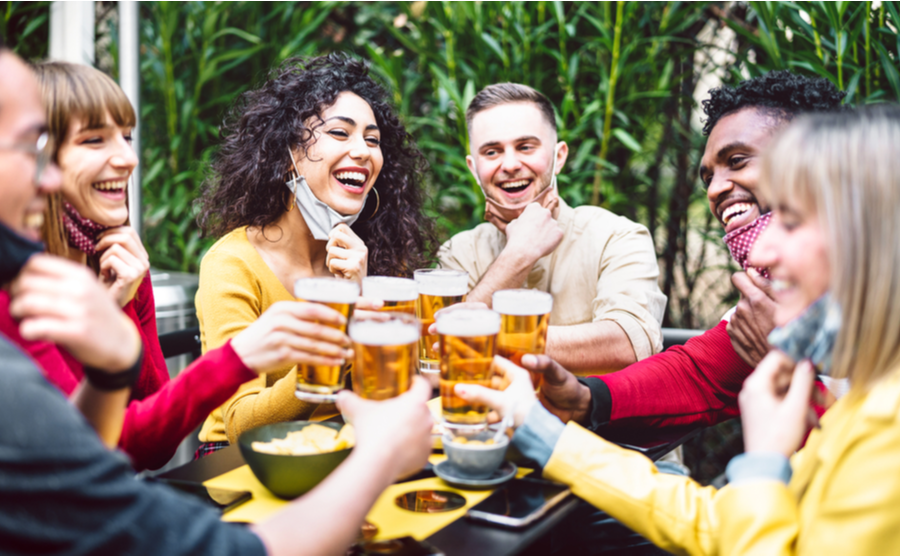 Pub gardens can open from Monday in the UK
Sterling hit a new 13-month high overnight against EUR as the UK's slow easing of lockdown will continue as planned. Prime Minister Boris Johnson said yesterday that some limited overseas travel could start in mid-May, while shops and outdoor hospitality will open next Monday.
American share prices hit record highs yesterday as the US economy shows signs of powering ahead, with record numbers of jobs being created (916,000 against an expectation of 675,000).
In the UK, a report from accountancy firm BDO found that three-quarters of medium sized businesses are planning to invest this year and 86% will be looking for new staff over the next six months. However, in a sign of problems for UK manufacturers, the bicycle maker Brompton warned of rising production costs and material shortages.
Make sure any upcoming transactions are protected against the risks of sudden market movements. Secure a fixed exchange rate now with a forward contract; call your Business Trader on 020 7898 0500 to get started.
GBP: Pound strengthens further
Sterling momentarily breached €1.18 earlier this morning, a rate it has rarely surpassed in the past five years, while also strengthening to a two-week high against the US dollar.
GBP/EUR has since fallen back but is still 0.5% ahead of this time last week. GBP/USD is nearly 2% below its late-February highs but around 15% higher than last spring.
For data, it's a fairly quiet week, but we'll be seeing Markit services PMI tomorrow, which although expected to be below 50 is nevertheless predicted to be well above that of the Eurozone and significantly ahead of Germany and France.
EUR: Single currency slips further against GBP
The single currency appears to have arrested its declines against USD, strengthening by 0.5% over the last few days. It continues to flatline against sterling.
On the data front, the week's biggest item on the docket will be Germany's balance of trade on Friday. Last time round, exports within Europe had dropped by around 6% and to China by 10%.
Before that, today we will be seeing unemployment data for much of Europe, where little is expected to have changed from last month's 8.1%. Tomorrow is all about Markit services PMI, all expected to be firmly below 50 – a sign of a contracting economy – but with Europe's biggest economies around 45.7.
USD: Economy bounds ahead
The dollar's long decline against GBP over the past year bottomed out over the course of the past five weeks, but now there is evidence of further weakening. The picture against the euro remains mixed, as over the past week the greenback has fallen away from a four-month high.
However the picture is growing of a US economy moving ahead while the EU languishes. Yesterday's data on Markit services and composite PMI was slightly above expectations, but the biggest news is that ISM non-manufacturing PMI was well above, at 63.7 against a forecast of around 60. This sent Wall Street into a frenzy and the S&P 500 and Dow Jones industrial average both closed at record highs.
The rest of the week is fairly quiet for data, although we have US balance of trade for February tomorrow. The US trade gap has been widening and US imports hit their highest since August 2019 last month – although a large component of that was pharmaceuticals. We also have minutes from the latest FOMC meeting in March, where we will hear more on the Fed's plans to support the economy.
For more on currencies and currency risk management strategies, please get in touch with your Smart Currency Business trader on 020 7898 0500 or your Private Client trader on 020 7898 0541.