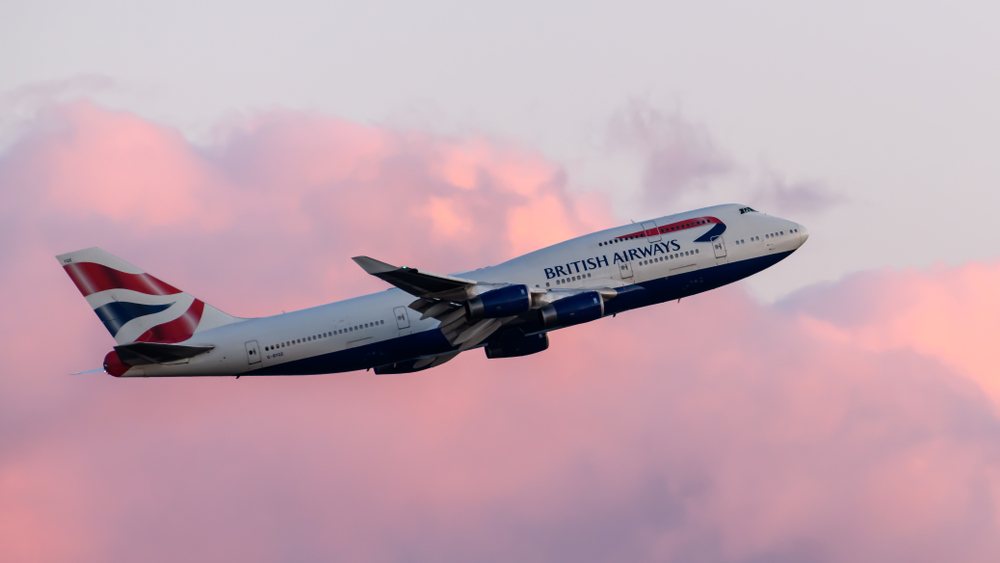 British Airways on Cloud 9 over profits (A Periam Photography / Shutterstock.com)
Sterling's position drifted yesterday against some currencies as the excitement of Tuesday's excellent services PMI reading dissipated. However, GBP/EUR has stayed strong and there was more positivity for British business with the CBI Distributive Trades Survey surging 25 points to +2, as retail sales recovered even if retail jobs continue to be lost.
It's been a busy morning for data so far. We have heard the GfK Consumer Confidence survey result for the UK, which showed the biggest improvement in two years, rising to -38, and for Germany, which was -30.5. The difference was that less had been expected of the UK and more of Germany. Spanish producer prices have fallen sharply and French consumer confidence is up.
Yesterday one of the Bank of England's policymakers Catherine Mann was speaking, repeating her hawkish stance – "We have an inflation problem. That's the bottom line" – and pointing out that inflation is still way above 2%, the BoE's target rate. She is still for raising interest rates "sooner rather than later".
However, City of London economists at Pantheon Macroeconomics and Citigroup forecast inflation to be at 2% by the end of the year, far below the BoE's own prediction of 4% by Christmas.
In business news, British Airway's owner IAG has posted a profit of £1.3bn, recovering from losses of more than twice that amount in 2021, while Heathrow Airport's losses halved to £684m. Passenger numbers in 2022 remained 25% down on 2019, however.
Speaking of fast-moving transport, don't miss out on your chance to be trackside at the British Grand Prix with your account manager in July with our new business referral incentive. More details here.
In strike news, London Tube drivers are striking for more pay on 15th March and RMT workers on 16th, 18th and 30th March.
Well publicised food shortages continued in the high street, with salad items failing to arrive from overseas due to poor harvests, exacerbated by problems with UK greenhouse crops. The UK secretary of state responsible, Thérèse Coffey, suggested it was time that British shoppers cherished locally grown seasonal crops such as turnips. (Several farmers pointed out that they had no-one to harvest the turnips since Brexit).
Make sure any upcoming transactions are protected against the risks of sudden market movements. Secure a fixed exchange rate now with a forward contract; call your Business Trader on 020 3918 7255 to get started.
GBP: Positivity remains for sterling
Sterling lost fractionally to the euro yesterday but has largely held onto its gains from positive PMI and government debt data on Tuesday. It is currently well up on most of its nearest 10 rivals compared to last Friday.
It has been least impressive against the US dollar, a little down on the week and close to 3% weaker than at the start of February.
This morning we've heard positive news on GfK consumer confidence, which has risen 7 points to -38 (better than the markets hoped for), but disappointing news on car production, which slipped down (against market expectations which were for it to rise).
Monday starts slowly for the data this side of the Channel next week. We have to wait until Wednesday for lending and mortgage information, plus manufacturing PMI (which is likely to be less influential than this week's services PMI).
However, Bank of England governor Andrew Bailey will be talking on Wednesday, and markets will be listening closely to his words.
GBP/USD past year
EUR: Single currency the loser in quiet week
It's been a disappointing week for the single currency, losing out to the majority of other currencies, most notably the Brazilian real (-2.25%) and sterling (almost -1%).
The US dollar's strong performance has helped damage the euro's prospects, but that could be reversed by industrial and economic data today.
This morning there has been some positive data on consumer confidence for both Germany and France.
Next week starts with some interesting and potentially market-moving data, including eurozone economic sentiment and consumer confidence on Monday, then French and Spanish inflation on Tuesday.
USD: Dollar up as Fed ponders more rate rises
The dollar has enjoyed a strong week against most major rivals over the past week, although it remains slightly down on GBP overall. This was despite quarterly GDP dropping to 2.7%, marginally below expectations.
There is some data of note this afternoon, with income and prices for January. The dollar's strength has been driven by hopes of further interest rate rises from the Fed, so today's Core PCE Price Index will be closely monitored. A rise of 0.3% is expected, bur as we've see from the UK recently, such predictions can be very wide of the mark. Will prices be rising faster than personal income? We'll see this afternoon.
Next week starts with Durable Goods Orders.
For more on currencies and currency risk management strategies, please get in touch with your Smart Currency Business trader on 020 3918 7255 or your Private Client trader on 020 7898 0541.