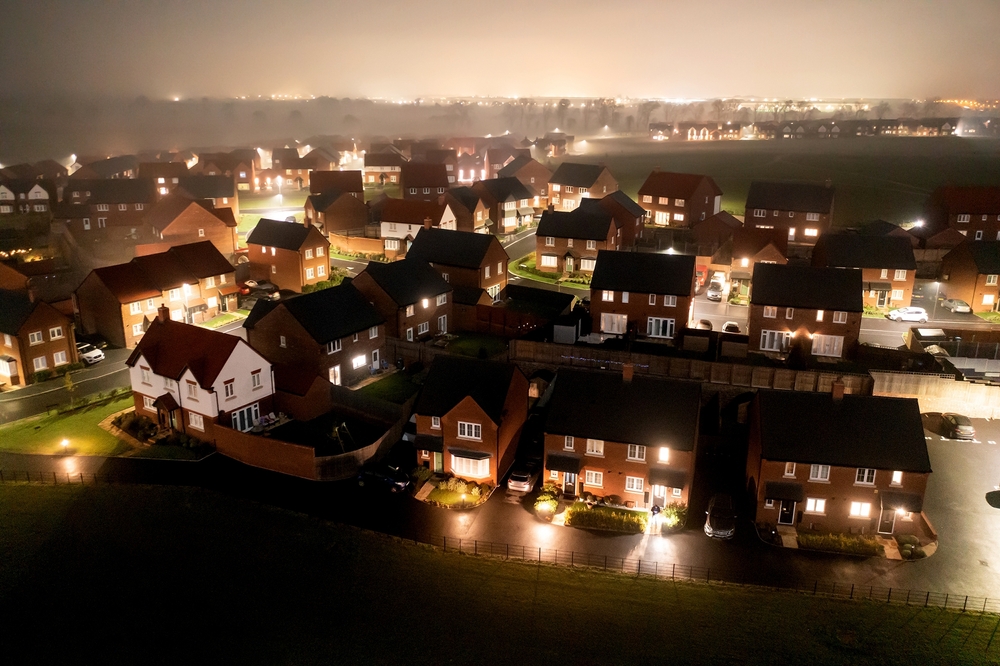 House prices in Britain are in an uncertain period this winter
In the absence of any serious data releases or political events this week, sterling, largely on the backfoot since the interest rate decisions in mid-December, has been left to swing in the wind. The Christmas period saw some rapid rises and falls against both the euro and US dollar but the year ends with sterling down but not out.
House prices in the UK are also falling, but not catastrophically. This morning the Nationwide Building Society noted that UK house prices fell by 0.1% in December. This is the fourth seasonally adjusted fall in prices – the worst run since 2008 – but is significantly less of a fall than expected.
That's not the only price falling – the cost of gas in Europe fell to below pre-Ukraine war levels yesterday. This helped to support the euro yesterday, but the gains against the pound and dollar were minor.
The last significant data release of the year on the European side is Spanish inflation, below expectations in December at 5.8% year on year. That's a nice bonus for UK retirees in Spain, who will get a pension rise in line with UK inflation of nearly double that.
This is not the picture everywhere in Europe. The Baltic states are seeing inflation in excess of 20%. That's putting pressure on European Central Bank interest-rate setters to maintain a hawkish approach on interest rates.
Elsewhere in the business news, several countries including the US, Japan and India are imposing Covid testing on arrivals from China. The UK and parts of the EU may follow.
Profits for US corporations have dropped as they suck up rising costs without passing higher prices on to consumers, according to data from Wall Street. Net profits this quarter look likely to have dropped from 11.9% in Q3 to 11.6% in Q4.
Make sure any upcoming transactions are protected against the risks of sudden market movements. Secure a fixed exchange rate now with a forward contract; call your Business Trader on 020 3918 7255 to get started.
GBP: Pound limps into 2023
Sterling ends the year against the euro around 5% down on where it started 2022, but still sticking close to its post-referendum average. It's some 10% down on the US dollar compared to 1st January 2022 in what has been a turbulent and difficult year for the UK economy and politics by any measure.
Sterling regained some of its losses over the past 24 hours but remains weaker against most currencies compared to last Friday.
That is most noticeable against the Australian and New Zealand dollars, which benefited from China's likely economic boost as Covid restrictions ease.
News this morning of the declining angle of descent in house prices will be a source of comfort for those selling UK properties (including many buy-to-let landlords whose business model has been wrecked by mortgage rate rises) and also for an economy that relies on that property-value feel-good factor.
Next week starts on Tuesday with manufacturing PMI.
GBP/USD past year
EUR: Euro ends year strongly as gas falls below pre-Ukraine price
The single currency ends the year around 6% down on the US dollar but ahead of most other currencies compared to the start of 2022.
Its losses can be attributed to war breaking out on its eastern border, but it has been saved by hawkish noises coming from the ECB on inflation.
This week EUR has gained on sterling and the US dollar, powered by some positive data, such as Spanish retail sales shooting up by 3.8% against an expectation of a 0.4% fall, and French unemployment claims falling by 65,000 against an expectation of a rise.
Next week sees a mass of data, including PMI on Monday and German employment data on Tuesday.
USD: Dollar ends spectacular year
The US dollar ends the year some 5 to 15% ahead of where it started 2022 against most of its major rivals, powered in this appalling year for global peace and climate disasters by a strong safe-haven appeal.
The past week has been less positive, with decisive falls against most commodity-based currencies and no movement against sterling.
There has been a raft of lower level data, including house prices either static or falling, depending on which set of data you read, but manufacturing on the rise according to the Richmond Fed Manufacturing Index.
Things start slowly next week, with little of note until Wednesday, with JOLTs job openings, ISM Manufacturing PMI and the minutes of the last FOMC meeting.
For more on currencies and currency risk management strategies, please get in touch with your Smart Currency Business trader on 020 3918 7255 or your Private Client trader on 020 7898 0541.