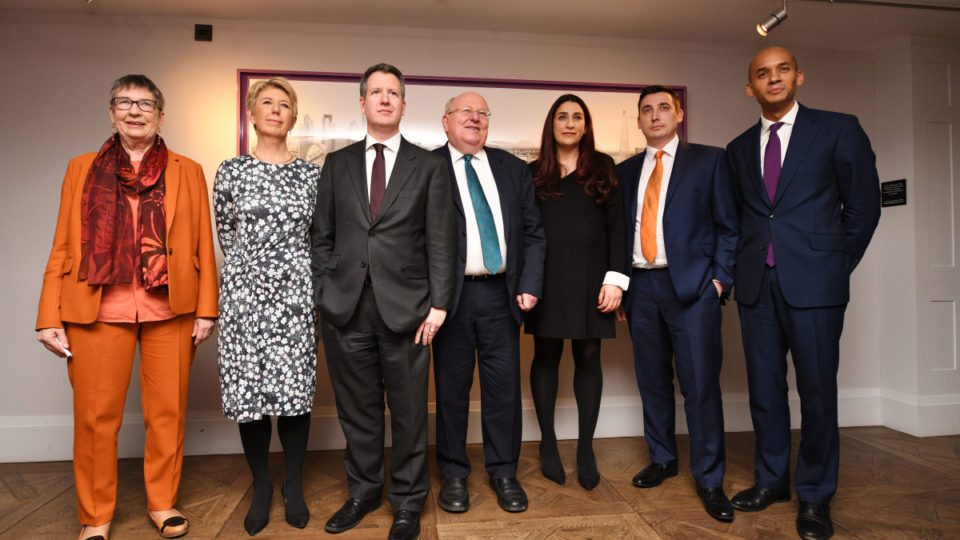 It was a very quiet start to the week, with no major economic data releases from the UK, US and Europe. There were the usual political rumblings, as seven MPs resigned from the Labour party. However, all of them have decided to keep their seats in Parliament and will now sit as an independent group of MPs. Perhaps the timing could have been better, what with the continued Brexit uncertainty, but they say they can no longer support Labour's Brexit stance and the allegations of antisemitism.
Speaking of party splits, Theresa May is facing a new confrontation with the European Research Group over the Irish backstop. The Brexit-supporting ERG members are annoyed that the prime minister might put her Brexit deal to Parliament again without having secured any changes to the withdrawal text. Eurosceptic Tory MPs have repeatedly made it clear that they will not vote for a deal that does not remove an indefinite Northern Ireland backstop.
Concerns that the Tories will eventually split over May's strategy have led to Tory donor, Jeremy Hosking, registering a new party that will champion a hard Brexit in the event of a snap election. Hosking, who financed several pro-Brexit Tory candidates at the last election, says that a no-deal Brexit is the only way of securing the right deal with the EU in the long term.
The pound strengthened against the dollar as the UK cabinet office minister, David Lidington, indicated that the government might yet be able to renegotiate the Brexit deal, or possibly delay the withdrawal from the EU. The news came following reports that a cross-party alliance is planning to mobilise the public and politicians in the final six days before 29 March in a bid to highlight public anxiety about the two options May is offering. The ultimate aim is to seek a public vote on the type of Brexit the UK gets and if the options are rejected, the UK would probably remain in the EU on its current terms.
World stock markets hit their highest level of 2019 yesterday, as optimism is increasing that the US and China will come to an agreement that will end the trade war. Talks appear to be making good progress at the moment which is obviously good news. However, Trump had to go and spoil things again, as there are worries he will impose new tariffs on Europe's car industry. The US department of Commerce has filed a report outlining whether the EU auto industry is a national security threat.
Today we will see average earnings and unemployment figures from the UK, as well as labour productivity figures for the fourth quarter of 2018. In Europe, we will see the ZEW economic sentiment indices from Germany and the eurozone, and December's construction output figures. Before then, why not treat yourselves to a free copy of our latest currency forecasts? They help highlight how disparate the rate predictions for the coming year are and why managing your currency risk is the wise choice.
GBP: seven MPs resign over Jeremy Corbyn's leadership
After a few days of speculation, seven MPs announced they had resigned from the Labour party yesterday morning. All have said they could no longer support the party's Brexit stance and accused the party of being 'institutionally racist'. Rather than resign their seats, all have decided to hold onto their seats in Parliament, despite having not mandate to do so. Let us remember that all were voted in as Labour MPs, but there has been no mention of them putting their seats up in a by-election.
Corbyn said that he is "disappointed that these MPs have felt unable to continue to work together for the Labour policies that inspired millions at the last election and saw us increase our vote by the largest share since 1945". Many other Labour MPs have expressed dismay at the decision, with some calling for them to stand down and call by-elections.
Today we have a hectic schedule of economic data, beginning with average earnings for December. The figures – including and excluding bonuses – are expected to nudge up by 0.1%. We will also see the unemployment rate for December and the labour productivity figures for the fourth quarter of 2018.
EUR: EU car industry fears new US tariffs
On a day where global stock markets climbed to their highest level in 2019, there was some potentially bad news for Europe, as there are real fears Trump could impose new tariffs on the EU's car industry. The US Department of Commerce has filed a report outlining whether the EU auto industry is a national security threat. Donald Trump now has 90 days to read the report (or have it read to him), and decide whether to impose levies of up to 25%.
The all-important ZEW economic sentiment indices from Germany and the eurozone will be released today and will give us an idea of future expectations for their economies. Both readings are expected to improve slightly, although firmly remain in negative territory. We will also see the eurozone's construction output figures for December. The markets are expecting an increase of 2.1% from 0.9% in November.
USD: world stock markets hit 2019 high
Stock markets around the world climbed to their highest mark in 2019 yesterday, as optimism that a breakthrough in trade talks is forthcoming. Talks between the US and China appear to be going well, as Trump tweeted that big progress had been made on 'soooo many different fronts'. Nothing concrete has been agreed yet, but the news will be welcomed by investors across the globe.
It is another quiet day for the US today, but tomorrow we will see mortgage applications up to 15 February 2019. We will also see the latest minutes from the Federal Open Market Committee meeting. It will be interesting to see whether there are any comments regarding future interest rate hikes this year, although it is likely policymakers will stay on 'data watch' which will inform future decisions throughout 2019.
For more on currencies and currency risk management strategies, please get in touch with your Smart Currency Business trader on 020 7898 0500 or your Private Client trader on 020 7898 0541.