Retail sales keeps the good news flowing for sterling
By Christopher Nye May 26th, 2023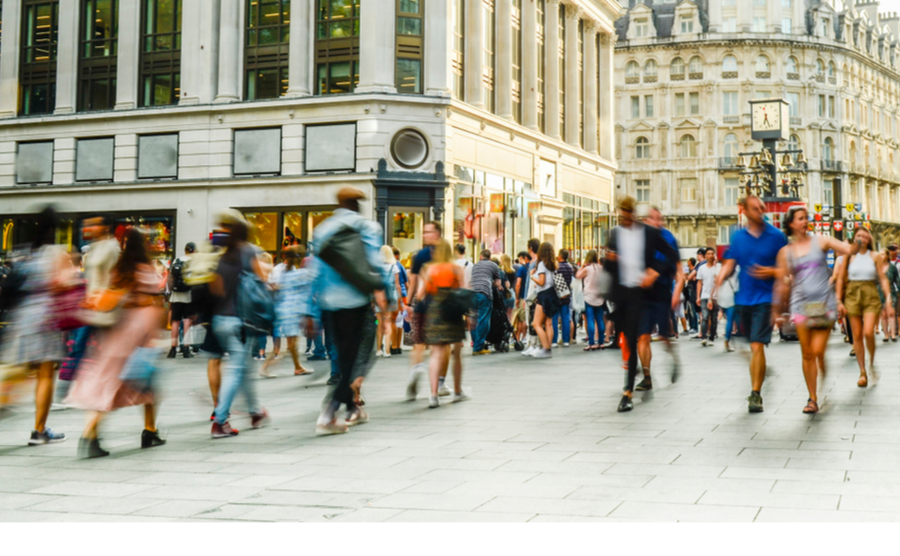 Good news for the high street as better weather encouraged shoppers in April
Sterling hit the high notes again yesterday morning – although without breaking any new ground after Wednesday's six-month high – before declining against the euro in the afternoon session. This morning it sits around 0.3% off its strongest point of the week, but still 1.6% up on last month, boosted by better than expected retail sales.
Against most other currencies yesterday sterling managed to hold onto its gains, but ends up slightly down on both the week and month against the US dollar.
Driving sterling has been a daily dose of economic data this week, which for the UK at least has shown a more positive economic picture in terms of the economy and consumer confidence, but inflation that is proving hard to beat.
Working through some of that data, on Tuesday we had the Purchasing Managers' Index (PMI) depicting UK services still growing fast but manufacturing in the doldrums. On Wednesday, UK the headline rate of inflation fell from 10.1% to 8.7%, but delving deeper into the numbers it was obvious that this was not enough and interest rates rises may have to continue. The IMF tore up its old forecasts and accepted that the UK economy is still growing.
And this morning we have had retail sales showing that sales especially of non-food items rose in April, with items like sports goods, jewellery and watches rising fast.
Over in Germany the picture is very different. The German economy was confirmed as being in recession, with a second quarter of shrinking GDP, but with Gfk Consumer Confidence improving for an eight consecutive month, although still negative.
However, the main event going into next week will be the debt ceiling talks in the US. Without agreement between Republicans and Democrats by Thursday (1st June) the US government will be unable to pay its bills with potentially large impacts overflowing into the currency markets.
Make sure any upcoming transactions are protected against the risks of sudden market movements. Secure a fixed exchange rate now with a forward contract; call your Business Trader on 020 3918 7255 to get started.
GBP: Pound stable after positive week for economy
The pound has been dancing around close to its highest point against the euro in 2023 but without breaking any new ground yesterday, despite the upbeat assessment of the IMF for the UK economy and with inflation data strongly suggestive of more interest rate rises.
After the Bank Holiday on Monday the next week is very light on data and with no interest rate decision due until 22nd June GBP/EUR is more likely to be reacting to the slew of data from the EU and US side of the equations.
GBP/USD past year
EUR: Germany in recession but euro stays strong
The single currency strengthened across the board yesterday, although only marginally, by less than 0.2%. Over the week, it has recorded a small loss against the US dollar (down around 0.6%) but is 0.3% stronger against the pound.
The news of Germany's recession was shrugged off by the markets, along with a dip in French business optimism.
Later this morning we will hear Italian consumer and business confidence, and on Tuesday next week there will be a mass of European data for the markets to chew on, including Spanish inflation.
USD: Dollar still up as debt ceiling talks go to wire
It's been a strong week for the US dollar, powered by hopes of a breakthrough in ongoing debt-ceiling talks that have seen it strengthen by over 2% against the Australian and New Zealand dollars and 0.5% to 1.5% against its other main currency rivals.
Those debt ceiling talks need to be concluded by 1st June (Thursday) to avoid a US debt default.
Data so far this week has been a little on the quiet side, but this afternoon we'll hear about personal spending in the US and the Core PCE price index. Next week, being the first of the month, is a busy one for data but we'll need to wait for Wednesday and Friday for the big news on jobs, with JOLTS job openings and Non-Farm Payrolls respectively.
For more on currencies and currency risk management strategies, please get in touch with your Smart Currency Business trader on 020 3918 7255 or your Private Client trader on 020 7898 0541.