Pound weakens marginally on EUR and majorly against dollar
By Christopher Nye August 19th, 2022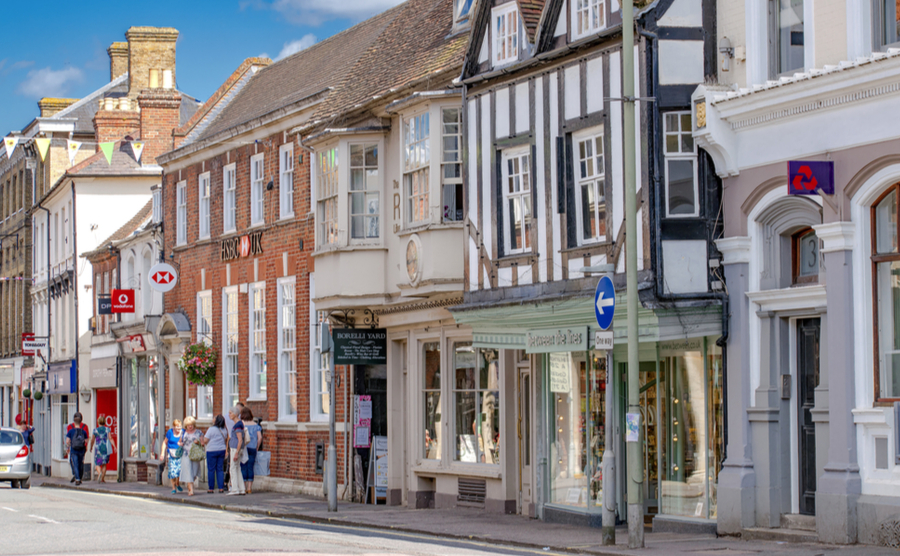 Hot weather in July kept the high streets empty, while online tills were busy (Sterling Images/Shutterstock)
Sterling has weakened this morning against the euro and US dollar, despite broadly positive news from the British high street.
Against most of its currency competitors, sterling has dropped by around 1% since early on Wednesday.
A busy week for high level data releases ended today with GfK Consumer Confidence at -44, its lowest since the survey began in 1974. GfK's chief strategy director said: "These findings point to a sense of capitulation and financial events moving far beyond the control of ordinary people."
If you know of someone who may require Smart's services, this summer sees our largest ever referral bonus. As well as the usual £25 per successful referral (£50 for a business), you'll be entered into a prize draw for £2,000 in flight vouchers. Make your referral here.
However, retail sales in the UK rose unexpectedly by 0.3%  in July, against an expectation of a 0.2% fall. Petrol sales fell, while online retail rose by 4.8%.
That brings a busy week of data to an end. One in which we saw inflation remain steady at 3.8%, average earnings rising at 4.7% but prices rising by 10.1% (indeed, over 12% for retail prices), causing the biggest squeeze on real incomes on record.
Elsewhere in the business news, transport strikes continue in the UK. Yesterday it was the rail network almost countrywide, and today it's London buses, trains and the underground. Transport Secretary Grant Shapps has warned he may impose anti-strike regulations.
Also in politics, Tory leadership candidates have continued to clash over tax policy, while the Institute for Fiscal Studies has warned that both candidates' tax-cutting pledges are "unrealistic unless they're going to set out detailed, deliverable spending cuts on a comparable scale."
Make sure any upcoming transactions are protected against the risks of sudden market movements. Secure a fixed exchange rate now with a forward contract; call your Business Trader on 020 3918 7255 to get started.
GBP: Sterling weakens along with consumer confidence
Sterling has returned whence it started the week against the euro, having strengthened by around 1% midweek. That still places GBP/EUR well above where it started the summer.
Against the dollar the picture is considerably worse, with the pound very close to breaching even the lows of mid-July, when it was at its weakest since the early days of Covid-19 and beyond that, for several decades.
Two big data releases led the morning round, with GfK consumer confidence lower than expectations at -44, its lowest since records began in 1974. On the other hand, retail sales were surprisingly resilient in July, despite the sweltering temperatures keeping shoppers off the high street. Online sales rose by 4.8%.
Next week is relatively quiet for data, with the first of note being PMI on Tuesday.
GBP/USD past year
EUR: Euro recovers losses against sterling
The euro has struggled against the US dollar all week, dropping by close to 3%. Against sterling, the single currency has recovered the losses it made midweek to come out even.
There has been little economic data this week, it being mid-August. However, the ZEW Economic Sentiment Index was broadly in line with expectations for both Germany and the eurozone, and unemployment was lower than expected. Europe's overall inflation rate is 8.9%.
Next week there will be more indicators to the health of the German economy with PMI, Ifo Business Climate and GfK Consumer confidence.
However, it is likely to be worries over winter gas supplies that keep the euro depressed.
USD: Dollar surges as hawkish view dominates at FOMC
The US dollar has been all-conquering this week, strengthening by between 1.7% and 3.6% against all of its next nine rivals.
With interest rates rising sharply in the US but economic data suggesting a recession may be avoided, the dollar has looked like the place to hold one's wealth. Several members of the US interest rate setting committee, the FOMC, have been speaking this week, which along with the minutes of the last FOMC meeting show that getting inflation down via interest rate rises continues to be the prevailing hawkish mood.
The dollar is also profiting from a mildly 'risk-on' mood, as the threat to both the European and Chinese economies continues.
Next week is a little quiet in the data calendar but there will be GDP for the April to June period. It is also the start of the Jackson Hole Economic Symposium, at which US Federal Reserve Chair Jerome Powell will be talking.
For more on currencies and currency risk management strategies, please get in touch with your Smart Currency Business trader on 020 3918 7255 or your Private Client trader on 020 7898 0541.