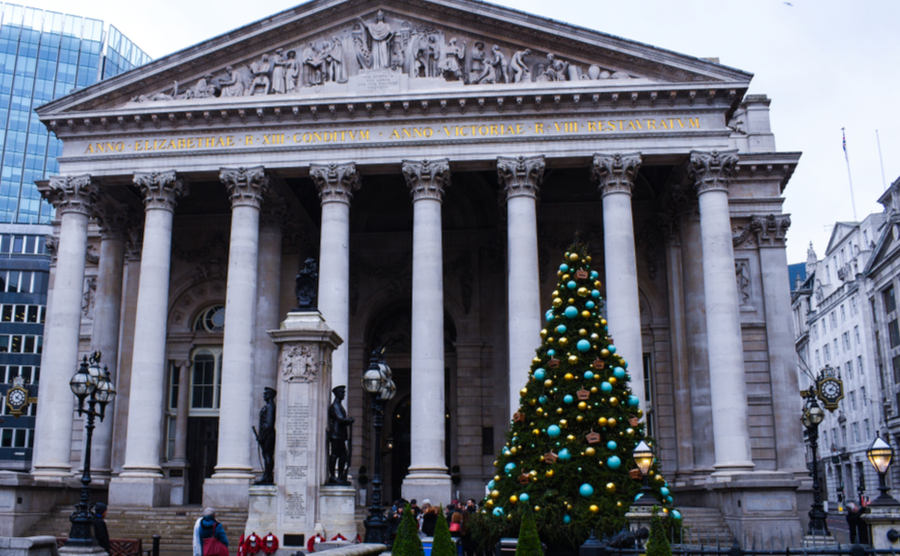 A festive Bank of England but interest rate rises are depressing consumers (RDK2001 / Shutterstock.com)
Yesterday, interest rate decisions from both the Bank of England (BoE) and European Central Bank (ECB) caused something of a bloodbath for sterling, which lost between 1.5 and 2% against the euro and US dollar.
No recovery for the pound this morning either, just a less steep angle of decline. It's worth bearing in mind, however, that this returns GBP/USD to early December's levels, but it remains well up on mid-November and a little stronger against the euro.
There has been some debate as to whether this was a hawkish or dovish interest rate rise from the BoE's Monetary Policy Committee (MPC), but a split decision like yesterday's, with six of the nine member panel voting for a 50 basis point rise to 3.50%, but two voting for no rise at all and one for a 75 basis point rise, is generally regarded unfavourably by the currency markets which reward unanimity.
Either way, UK interest rates are at their highest level for 14 years, in a week where we also had inflation recorded slightly lower at 10.7%, unemployment slightly higher at 3.7% and GDP better than expected with a rise of 0.5% in October.
This morning a hectic week for the Office for National Statistics, central bankers and currency traders continued with disappointment for retailers in the final run up to Christmas. GfK Consumer Confidence was still at near-historic lows of -42 (not as low as in the autumn, but the lowest sustained level for 50 years) and retail sales unexpectedly dropped by 0.4% in November (a similar pattern to the USA), despite Black Friday.
Elsewhere in the news, as widely predicted, ending China's 'zero-Covid' policy has resulted in a wave of new cases through an under-vaccinated Beijing.
Make sure any upcoming transactions are protected against the risks of sudden market movements. Secure a fixed exchange rate now with a forward contract; call your Business Trader on 020 3918 7255 to get started.
GBP: Sterling feels the chill
Sterling lost between 1.5 and 2% yesterday against the euro, US dollar and Swiss franc in the wake of the two interest rate decisions yesterday.
Governor of the Bank of England Andrew Bailey said there was the "first glimmer" of inflation easing, noting November's drop to 10.7%: "That's obviously very good news, but there's a long way to go," he told Sky news. He warned that while the Bank expects inflation to fall rapidly after the spring, that couldn't be guaranteed "because of the UK's tight labour market."
This morning the data continues with a flash reading for S&P Global/CIPS PMI at 9.30. Next week is considerably quieter for data from the UK.
GBP/USD past year
EUR: A more hawkish ECB boosts euro
The single currency blossomed in the wake of a relatively modest rate rise of 50 basis points yesterday, following the last two 75 basis point rises. However, what led to the boom in EUR were the hawkish warnings from the ECB that interest rates must continue to rise, given inflation rates still being revised higher. The deposit rate at the ECB is now 2%.
A final number for Europe's inflation rate in November will be announced later this morning, with the year-on-year figure expected to be 10%, but core inflation, without energy and food, at 5%. Any major deviation from those levels could see volatility continue.
Also in the news, continued repercussions from the EU-Qatar bribery scandal, exposing as the New York Times puts it, "how vulnerable Brussels is to foreign influence".
USD: Dollar rises (but shoppers keep it in their wallets)
The US dollar's recovery has outpaced even the euro's this week, with a gain of 2% against the pound, almost that much against the Japanese yen and 0.5% against the euro.
However, against sterling, that simply returns us to the levels of last week, and the greenback remains over 2% down over the course of the past month.
Data out yesterday including a significant fall in retail sales between October and November, despite the Black Friday (and Cyber Monday) promotions. Electronics and hobby/sporting goods were among the big losers.
Later today there will be PMI data.
For more on currencies and currency risk management strategies, please get in touch with your Smart Currency Business trader on 020 3918 7255 or your Private Client trader on 020 7898 0541.