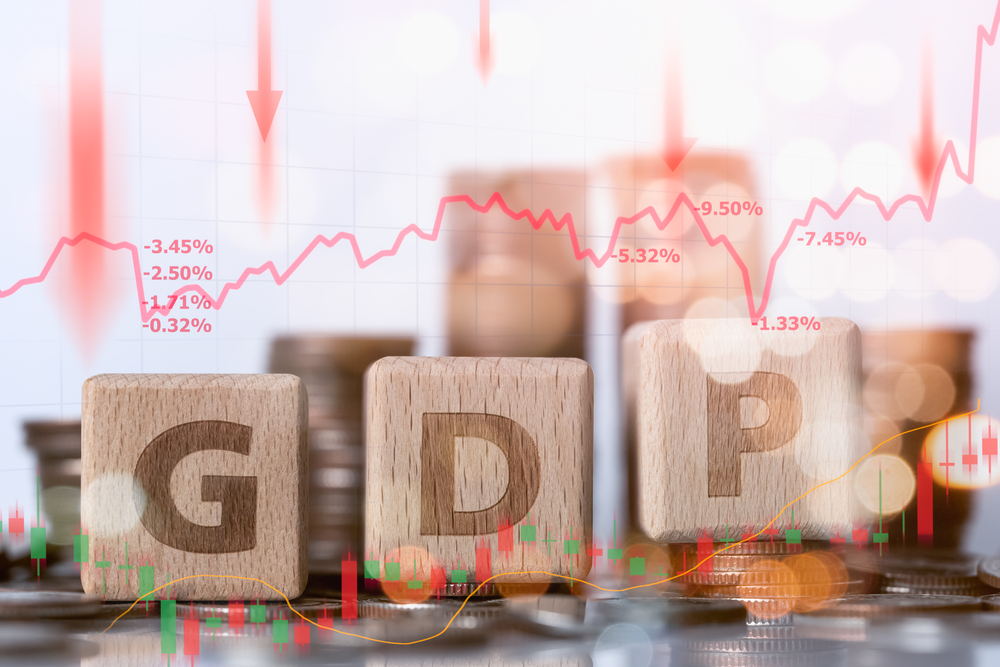 Sterling recovered some of Wednesday's losses against the euro yesterday, while drifting further against most other currencies. This morning so far it appears to be tracking upwards again, with the confirmation that the UK economy avoided a recession during the winter, unlike Germany. However, both economies are smaller than pre-pandemic, while news from the US yesterday showed its economy leaping ahead.
So, the pound ends the week and month close to where it started both against the euro. It is around 1.6% stronger against the US dollar compared to the start of June, but some way off the 15-month high it reached mid-month.
Yesterday the US economy was shown to be growing faster than expected, at 2% rather than the predicted 1.4% annually. Jobless claims were also down, although we will get much more employment and earnings data next week, which will be of interest after US Federal Reserve chair Jerome Powell highlighted the tightness of the US labour market.
There was good news in Europe too, with inflation falling faster than expected. The preliminary numbers this week show Spanish inflation down to 1.9%, Germany's and Italy's at 6.4% and France's at 4.5%, all but Germany's having fallen.
Meanwhile, in the UK, the Bank of England reports that £4.6bn has been removed from savings accounts so people can weather the cost of living crisis – the largest level of withdrawal since records began.
In the business news, the UK faces another period of rail strike disruption next week, with drivers refusal to work overtime potentially affecting the network.
In the southern USA, during a heatwave with temperatures close to 40°C, Bud Light is being sold at prices cheaper than water, the New York Times reports. It follows complaints of an overly 'woke' marketing campaign that has upset its traditional market.
Make sure any upcoming transactions are protected against the risks of sudden market movements. Secure a fixed exchange rate now with a forward contract; call your Business Trader on 020 3918 7255 to get started.
GBP: Sterling reacts positively to early data
A busy week for sterling appears so far to be ending on a rising note, with GDP data confirming that the UK avoided recession at the start of the year and the pound tracking higher.
House prices showed a modicum of recovery in June, according to the Nationwide. Although around 3.5% lower than last year, the average price of a UK home rose by £1,500 to £262,239 last month.
There is very little data coming down the wires next week, although the markets may take an interest in house prices and a final reading for S&P Global PMI.
GBP/USD past year
EUR: Euro weakens as inflation takes a beating
The single currency weakened marginally across the board yesterday, by up to 0.5%.
A mixed pattern is emerging for the eurozone economy, with inflation continuing to fall (even below the ECB's 2% target in Spain). We will very shortly hear both the unemployment rates and inflation rates across Europe, which are expected to be around 6.5% and 6.1% respectively. This would give a so-called 'misery index' (unemployment + inflation) of 12.6%, compared to the UK's 12.2% and the US's 7.7%.
Next week's data includes final PMI results on Monday to Wednesday, but overall it's a quiet week.
USD: Economic growth boosts dollar
Another mixed day for the dollar, strengthening well against the euro and a little against the yen and yuan, but sliding against the pound and other dollars.
This came against the backdrop of a stronger than expected US economy, with GDP at 2% rather than the expected 1.4%. A further interest rate rise next month now looks highly likely.
The start of the month tends to be busy for US data, and so we'll be seeing plenty of employment data next week, including the all-important non-farm payrolls that gives an indication of the strength of the economy.
However, Tuesday is Independence Day with a public holiday.
For more on currencies and currency risk management strategies, please get in touch with your Smart Currency Business trader on 020 3918 7255 or your Private Client trader on 020 7898 0541.