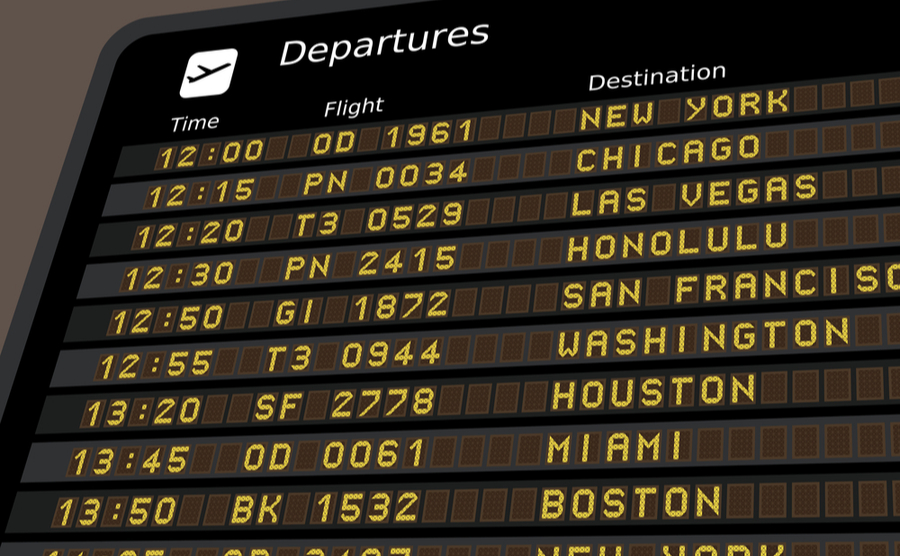 Flights to the USA will restart from November
Sterling weakened yesterday against the euro and US dollar as a numbers of factors – some new and some bubbling under for a while – persuaded the currency markets to sell sterling.
The first factor is the "energy crisis", a trebling of gas wholesale prices that is going to see smaller power suppliers go out of business and much larger bills for customers.
Another sort of gas is also causing problems for UK business, with stocks of CO2 so low they are threatening the meat industry which relies on CO2 for packaging, as well as being essential for some alcoholic and fizzy drinks.
While some business are facing uncertainty, others are preparing for a resurgence. The reopening of flights to the US for vaccinated passengers from November supported the US dollar and travel stocks.
In the news this morning, UK government borrowing fell in August to £20.5bn – the second-highest figure ever for August but still more than £5bn down on last year.
Make sure any upcoming transactions are protected against the risks of sudden market movements. Secure a fixed exchange rate now with a forward contract; call your Business Trader on 020 3918 7255 to get started.
GBP: Sterling falls, but not far
Multiple pressures weighed on sterling yesterday, seeing the pound fall against almost all major currencies.
Although it has started to recover this morning, sterling fell close to two-month lows yesterday against the euro and reached its lowest point against USD for a month.
On the data front this morning there was encouraging news on public sector borrowing, which fell, although not as far as expected.
Apart from CBI industrial trends at 11am that's all there will be on the data front today, and tomorrow, but on Thursday we'll have Markit PMI for services and manufacturing first thing, and then the all-important interest rate decision at midday.
GBP/USD past year
EUR: Mixed day for euro
The single currency strengthened by just over half a cent against sterling yesterday, and while it has fallen back slightly this morning it is holding onto the majority of those gains for now.
Against the US dollar the euro continued to bed in close to its lowest point for a year. There was little movement and no real sign of recapturing the briefly-held heights of early September.
There was little to trouble the markets on the data front yesterday for the single currency, or today, but we will see eurozone consumer confidence readings tomorrow and a large set of data on Thursday including PMI across all major economies.
The bigger influence on EUR midweek, however, is likely to be other countries' interest rate decisions.
USD: Dollar takes offensive
The dollar strode ahead of most major currencies yesterday, strengthening to a three-week high against the euro and a month-long high against the pound.
This was despite US stock markets slipping by around 2%, its biggest fall for months, due to troubles in the Chinese property market, rising Covid cases and yet a potential start to tapering of financial stimulus from the Federal Reserve tomorrow.
On the plus side, travel across the Atlantic is set to restart within a month or two with the ending of the US travel ban in time for Thanksgiving.
Later today (and tomorrow) we'll see housing data, but the big event of the week is of course the interest rate decision tomorrow, including the FOMC's economic projections.
For more on currencies and currency risk management strategies, please get in touch with your Smart Currency Business trader on 020 3918 7255 or your Private Client trader on 020 7898 0541.