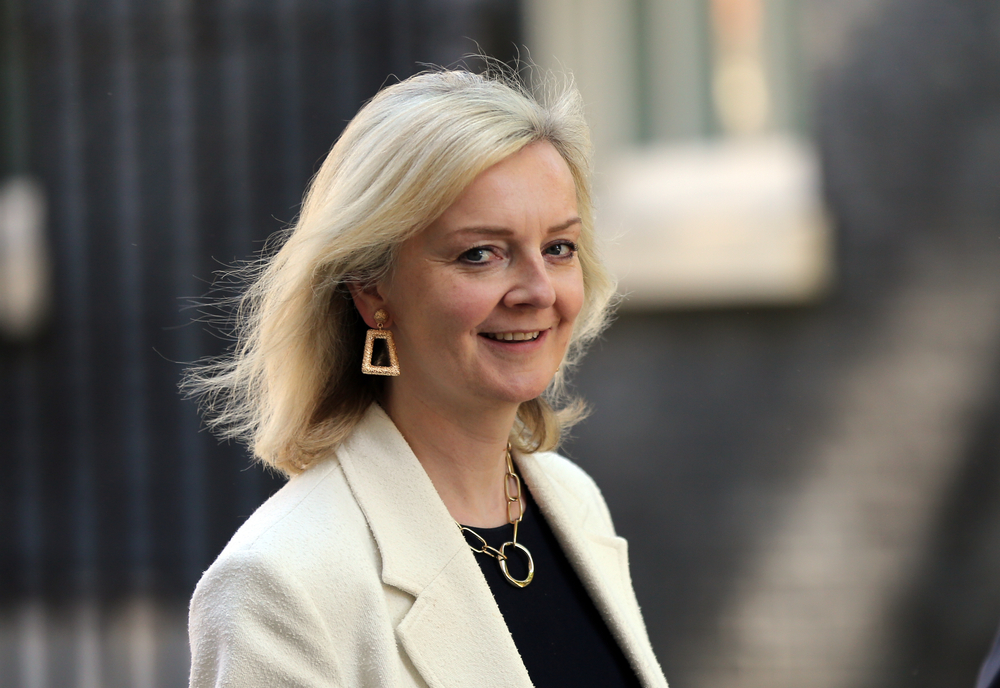 Liz Truss is the new Prime Minister (I T S / Shutterstock.com)
Sterling strengthened against all major currencies yesterday and this morning, following the announcement that Liz Truss will be the new Prime Minister of the UK from later today.
However, the past 24 hours' rise in sterling of over 1% against the US dollar and 0.35% against the euro followed a drop against the dollar early yesterday to its lowest level for around 35 years. Against the euro it remains close to the levels of early summer.
Liz Truss gave no major policy announcements, other than saying that her government would be focused on "delivery" and economic growth, and saying there will be an energy rescue package for households and possibly small businesses too.
We are yet to hear the make-up of the cabinet, although there are rumours that Kwasi Kwarteng will be chancellor, with a brief toward "fiscal loosening", including borrowing, tax cuts and spending increases. This may be what has boosted the pound. However the markets will be looking for evidence of fiscal responsibility too.
The surprise data announcement of yesterday was a readjustment for the final reading of Services PMI in the UK to 50.9, after the flash reading had been 52.5. S&P Global Composite PMI was at 49.6, with anything under 50 indicating overall pessimism.
There are various lower level data releases in the coming days, but next week has more top-level data plus a new interest rate decision from the Bank of England.
Thursday sees the interest rate decision from the European Central Bank (ECB), which could well affect GBP/EUR.
Make sure any upcoming transactions are protected against the risks of sudden market movements. Secure a fixed exchange rate now with a forward contract; call your Business Trader on 020 3918 7255 to get started.
GBP: Pound edges up on Truss win
Sterling has rebounded over the past 24 hours. However, for GBP/USD this had all the hallmarks of a 'dead cat bounce' following a sustained collapse which briefly took it below even the early-Covid dip of March 2020 to its weakest since the mid-1980s.
Yesterday we heard that new car sales rose by 1.2% year-on-year in August, reversing five months of declines. However, PMI fell below expectations at 50.9 for services and 49.6 for composite. Construction PMI will be released shortly.
A key member of the Bank of England's Monetary Policy Committee (MPC), Catherine Mann, spoke yesterday and called for "forceful action" on rates to control inflation. She will have her chance to vote on that on Thursday week, when a 0.5% increase in interest rates is widely expected.
This morning we have heard that retail sales in the UK were 0.5% higher than in August 2021. However, clothing sales were very disappointing. Helen Dickinson, chief executive at the British Retail Consortium, said: "For the first time in recent months, clothing sales were sluggish as summer events ended, and parents held back on back-to-school spending."
Tomorrow and Thursday there will be house price data, but potentially of more interest will be further signs of the Truss government's economic and fiscal policy.
GBP/USD past year
EUR: Euro gains on all but the pound
The single currency had a mixed day, weakening against sterling but gaining by around 0.5% on the US dollar.
The big event of the week is the interest rate decision from the ECB on Thursday, and the single currency has strengthened in expectation of a hike in rates. However, much will be made of any data before that. S&P Global PMI has just come out at 42.6 for Germany and 44.2 for the eurozone. This is well down on expectations of 44.5 and 46.1 respectively.
Tomorrow we will hear eurozone GDP and employment.
USD: Dollar hits record-breaking heights
The dollar strengthened to its highest point against the pound since the mid-1980s early yesterday, overtaking the early-Covid low of March 2020, before slipping back by around 1%
Against the euro it moved to its strongest for almost 20 years, but those gains have also been pared back this morning.
It being Labor Day there were no data releases, but today there will ISM Non-manufacturing PMI, which is expected to be strongly positive at around 55, and tomorrow it's Balance of Trade.
For more on currencies and currency risk management strategies, please get in touch with your Smart Currency Business trader on 020 3918 7255 or your Private Client trader on 020 7898 0541.