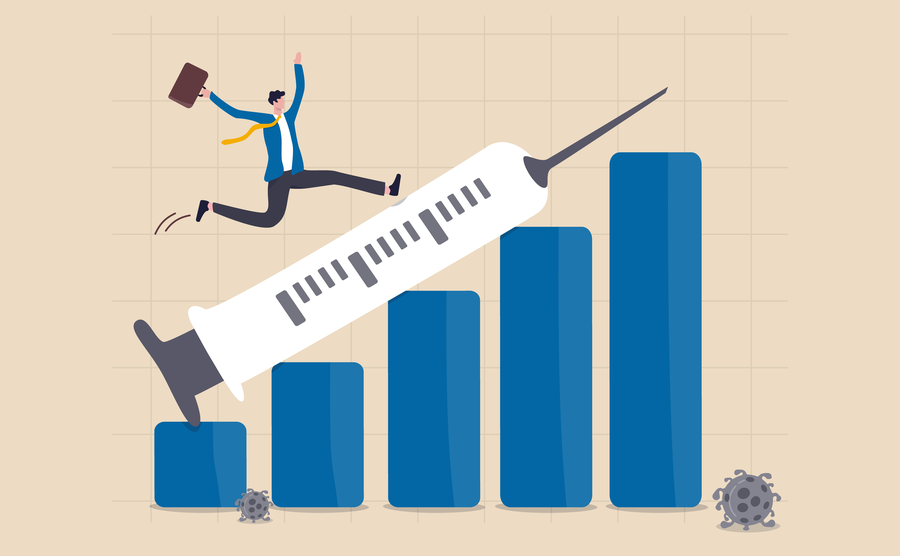 Sterling reached a new high against the US dollar this morning, while apart from a brief slip at lunchtime yesterday sterling has remained strong against the euro too.
It continues to be powered by optimism over a rapid economic rebound as the UK approached 20% of the population being vaccinated, with the tailwind of the Brexit deal agreed six weeks ago and rising stock markets.
The British government ruled out an official form of vaccine passport, despite leaders in tourist hotspots such as Greece calling for it. However, as the vaccine minister Nadhim Zahawi pointed out, you could show evidence from your GP.
The UK's system of enforced quarantine for arriving travellers will be up and running from next week.
The US is preparing for the impeachment trial of Donald Trump. Parts of the country are preparing for an easing of lockdown, with cases falling by a third in two weeks and nearly 10% having their first vaccine. Restaurants in New York City will open on Friday.
Make sure any upcoming transactions are protected against the risks of sudden market movements. Secure a fixed exchange rate now with a forward contract; call your Business Trader on 020 7898 0500 to get started.
GBP: Pound remains strong with little to move market
Despite a brief wobble around midday yesterday the pound has remained at near 8-month against the euro, while accelerating its wins against the USA dollar.
With a dearth of economic data this week – there is nothing significant until Friday – the catalyst for any change will be vaccines and the hope of economic recovery.
There will be a speech from Bank of England Governor Andrew Bailey tomorrow evening at 5pm. Bailey has come under fire for his handling of the personal finance scandal when he was head of the UK's regulator the FCA, but it is likely to be his attitude to negative interest rates that the markets will be listening to.
EUR: German data disappoints
Disappointing industrial data from the EU's largest economy held the euro back yesterday, but already this morning we have seen better results coming out of Germany.
The vaccine rollout continues to worry the markets, with the numbers evenly distributed around the eurozone and every country on around 3 to 4% vaccinated.
There will be plenty of data for the markets to chew on this week, including German inflation rates and French industrial output tomorrow.
USD: Dollar slips further
It was a choppy start to the week for USD/EUR, and the two remain precisely where they were this time last week. The dollar slipped yet further against the pound, to another 2¾ year low.
The US is moving towards and end to the pandemic faster than the Eurozone however, and this could start to have an impact. Tomorrow sees some important data releases, including inflation for January, as well as a speech by Federal Reserve Chair Jerome Powell.
For more on currencies and currency risk management strategies, please get in touch with your Smart Currency Business trader on 020 7898 0500 or your Private Client trader on 020 7898 0541.