PM and President of EU commission deliver NI Brexit deal
By Christopher Nye February 27th, 2023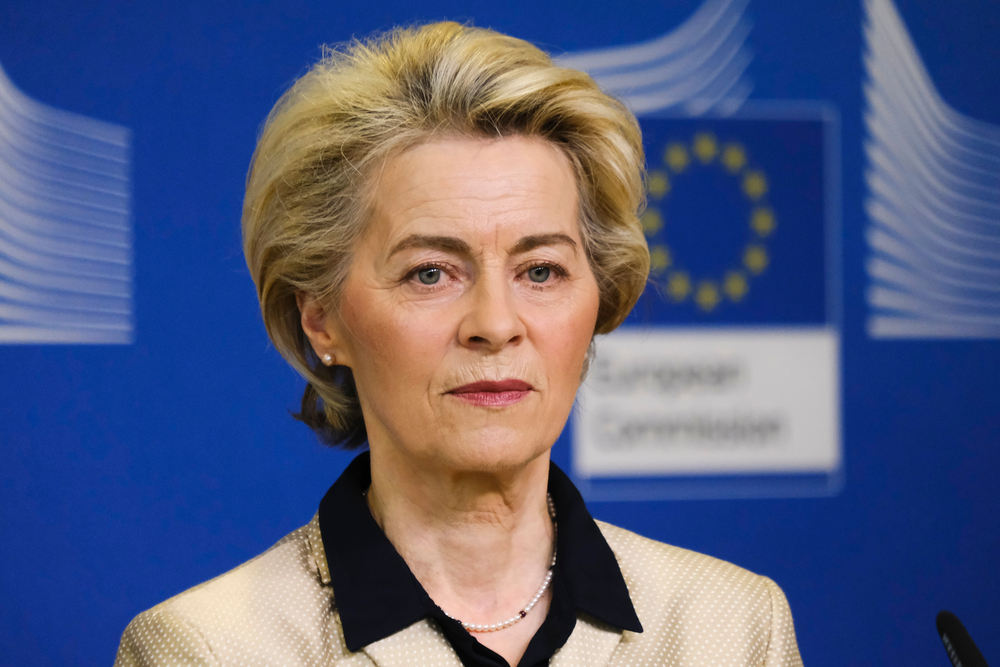 (Pictured above) Ursula von der Leyen, President of the European Commission.
On Monday UK and EU leaders met to discuss Brexit protocol, which resulted in an 'extraordinary' deal on the Northern Ireland protocol. In Rishi Sunak's words, the deal " delivers smooth-flowing trade within the whole United Kingdom, protects Northern Ireland's place in our union and safeguards sovereignty for the people of Northern Ireland."
The PM said that he and Von der Leyen will now be announcing the "Windsor framework", marking what the prime minister described as a "new chapter".
On the data front, investors will gain an insight into the UK's housing market with the latest mortgage lending and BoE consumer credit set to be released tomorrow.
Speeches from the Bank of England's MPC members continue. At lunchtime today, BoE Chief Economist Huw Pil will deliver a closing statement at the Bank of England Agenda for Research Conference, in London.
There will also be several speeches from other central banks over the coming days, so market-watchers will have lots to digest.
In the eurozone, Germany's 10-year bond yield rose to the highest levels since July 2011, to 2.57%,  amid increasing bets the European Central Bank will remain hawkish to deal with inflation, well beyond 2023.
We've just seen the latest annual inflation rate for France, which has crept up to 6.2% from 6.1% the year before.
The preliminary annual inflation rate for Spain has also been released, which showed a 1% increase compared to the month before.
Yesterday's highly anticipated data from the U.S. Census Bureau revealed that durable goods orders in the US, sank 4.5% month-over-month in January. This marked the largest fall markets have seen since April 2020.
Later today, Federal Reserve Bank of Chicago president, Austan Goolsbee will speak.
Make sure any upcoming transactions are protected against the risks of sudden market movements. Secure a fixed exchange rate now with a forward contract; call your Business Trader on 020 7898 0500 to get started.
GBP: Housing data dominates
Key releases for the first half of this week have been dominated by various sectors of Britain's housing market. In addition to mortgage lending and BoE consumer credit data, mortgage approvals and Nationwide housing prices data will be released tomorrow.
The annual Nationwide House Price Index in the UK rose by 1.1% January , well below market forecasts of and market forecasts of 1.9% and a 2.8% rise. This pointed to a fifth consecutive decline, and longest losing streak in over a decade. Markets are expecting Wednesday's data release to reveal a sixth consecutive decline.
GBP/USD over the past year
EUR: Markets poised for Germany's Preliminary inflation
Germany's annual inflation rate was confirmed at 8.7% in January, higher than a downwardly revised 8.1% in December. This was largely pushed by a rise in energy prices.
Tomorrow, market-watchers look to Germany again, as the preliminary estimates for the country's yearly inflation will be released at 1pm.
USD: All eyes on CB Consumer Confidence
On Monday, Federal Reserve Governor Philip Jefferson delivered a speech on ways to measure and characterize recent inflation in the US, as well as the dual mandate yesterday at an online event hosted by Harvard University. Jefferson's speech did not seem to trigger any extreme volatility for the dollar however, dollar-watchers will look to today's CB consumer confidence data, which is more likely to influence movement.
For more on currencies and currency risk management strategies, please get in touch with your Smart Currency Business trader on 020 7898 0500 or your Private Client trader on 020 7898 0541.