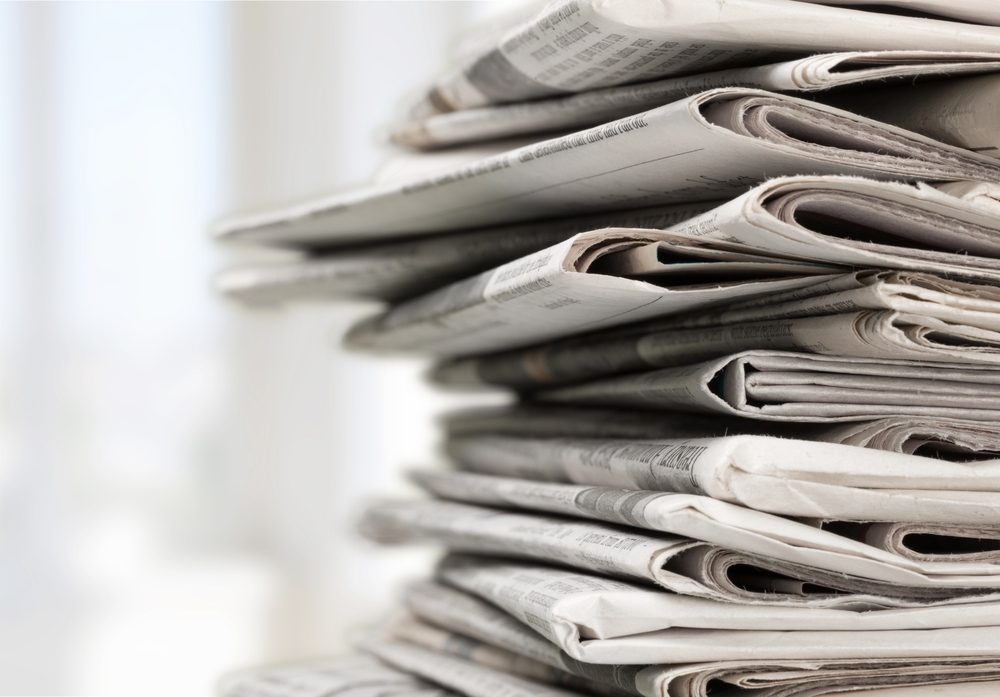 Yesterday, we woke to the news that Trump is amoral and anti-democratic – according to an unidentified senior official. In an anonymous New York Times op-ed, a current Trump administration official claimed there is an internal White House resistance working to 'frustrate parts of his agenda and his worst inclinations' until he leaves – or can be removed from – office. Trump responded in typical fashion by Tweeting a filmed attack on the press.
He also wrote TREASON? on his Twitter account and later, said 'If the GUTLESS anonymous person does indeed exist, the Times must, for National Security purposes, turn him/her over to government at once!' It is worth pointing out that writing an op-ed in the New York Times does not constitute a violation of any statute in America's legal code. Mike Pence and Mike Pompeo have since denied writing the op-ed and speculation over the identify of the mystery writer will continue for some time yet.
Initial jobless claims in the US hit their lowest mark since December 1969, while China warned the US it will retaliate if fresh tariffs on its goods are imposed. In July, the Trump administration announced plans to impose tariffs on $200 billion of Chinese exports and the consultation period ended yesterday. That effectively means that Trump is free to impose the tariffs whenever he wants. The next few days could be even more interesting than the past few days.
Sterling extended its gains against the dollar yesterday as the greenback is currently suffering from a period of weakness. However, the gains weren't all that encouraging, as investors await news on progress in Brexit negotiations. The fact is, ongoing concerns over trade wars are diminishing risk appetite at present and until more is known, we can expect the currency markets to be fairly subdued. However, as ever, nothing is certain and it makes sense to take steps to de-risk your business.
That's what The Collective did and you can read more about the work we did with them in a recently published case study.
GBP: dollar's loss is sterling's gain
The headlines were dominated by the New York Times op-ed and continuing trade war fears, but sterling still managed to extend its recent gains against the euro and dollar. In truth, there were no economic data releases from the UK and the moves were brought about more by dollar weakness than anything else.
Today is ever so slightly busier, with the Halifax house price index for August set for release. We will also see consumer inflation expectations for the third quarter of 2018.
EUR: German factory orders unexpectedly drop
German factory orders had been expected to rise by 1.8% in July from a downwardly revised 3.9% fall in the previous month. However, orders unexpectedly fell by 0.9% and marked the second consecutive decline. This was largely down to a 3.4% drop in foreign demand.
We also saw construction PMI from Germany which increased to 51.5 in August from July's four-month low of 50. The figures are nothing to get too excited about, but there will be those who are thankful that the figure didn't drop below 50. The pace of job creation also accelerated which will provide some comfort.
Today we will see the third estimate for the eurozone's GDP growth rate for the second quarter of 2018. It is expected that year-on-year, growth will have eased to 2.2% from 2.5% in the previous period. On a quarterly basis, the figure is expected to remain at 0.4%. We will also see the balance of trade figures from Germany and the industrial production figures.
USD: initial jobless claims hit lowest level since December 1969
Trade tensions are certainly not (yet) having a negative impact on US employment data, with yesterday's initial jobless claims release hitting its lowest figure since December 1969. In the week ending 1 September 2018, the number of Americans filing for unemployment benefit fell by 10,000 to hit 203,000. The markets had expected a slight increase to 214,000.
However, only 163,000 private sector jobs were created in August which was some way below the 190,000 expected. This is quite a drop from the previous month's 217,000 and could signal that non-farm payrolls will miss expectations later today. The dollar lost some ground against sterling and traded sideways against the euro throughout the day. Trade tensions continue to support the dollar as investors look to safe havens. The recent sell off of emerging currencies appears to be rebounding if yesterday is anything to go by, with the Argentinian peso and South African rand gaining some ground.
Composite and services PMI were slightly below expectations but both sectors appear to be performing robustly. Today's highlights include the aforementioned non-farm payrolls and the unemployment rate for August.
For more on currencies and currency risk management strategies, please get in touch with your Smart Currency Business trader on 020 7898 0500 or your Private Client trader on 020 7898 0541.