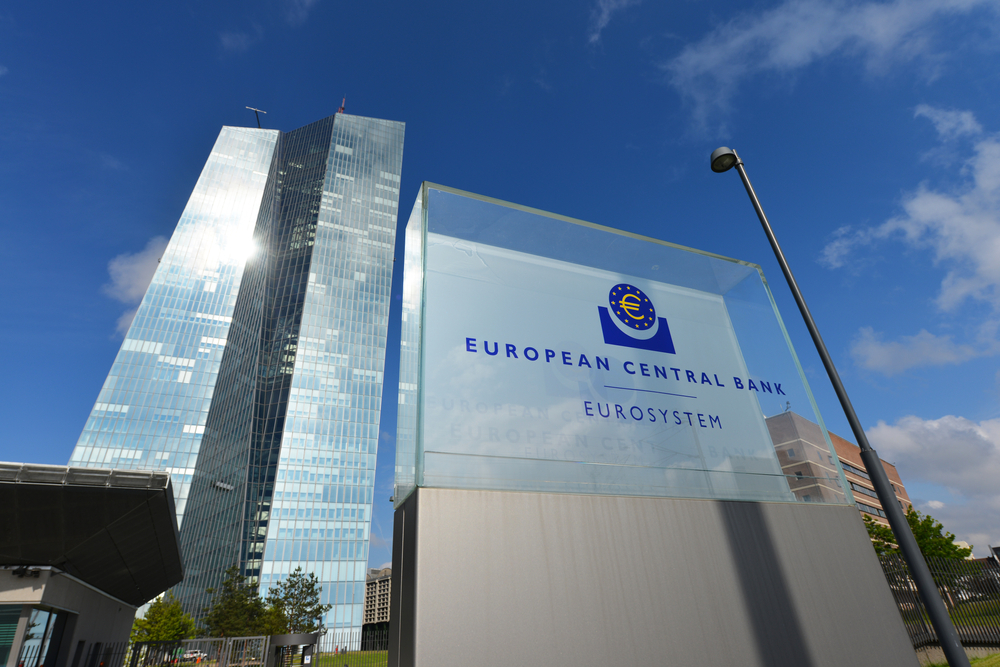 The ECB headquarters in Frankfurt (nitpicker / Shutterstock.com)
In a hectic day for the markets, the pound dropped against the euro, dropped again, and then gradually recovered to end the day precisely where it began. There was a similarly pleasing symmetry to GBP/USD too but behind the graphs there was some fascinating data that told us plenty about the state of the US and UK economies.
To the UK first, where the economy as measured by Gross Domestic Product (GDP) showed a sharp drop in July, by 0.5%, dragging annual growth back down to zero.
In the US there were no such surprises, but inflation was revealed to have picked up in August by 0.6% to an annualised 3.7%, up from 3.2% in June. The feeling that this could translate to more Federal Reserve interest rate rises knocked US shares, with the Dow losing 100 points. On the other, more positive hand, 'core inflation' with more volatile food and fuel removed actually fell, to 4.3%.
It was all a bit quiet from the eurozone yesterday, but that's set to change at lunchtime today with the European Central Bank (ECB) making its own interest rate decision.
In business news, the big news was the fall of UK GDP, although this was largely blamed on strike action in health and education, while unseasonal rain washed out retail, construction and a fair amount of leisure spending in July.
Also yesterday, four directors and financial controllers from the collapsed cake retailer Patisserie Valerie were charged with fraud, while the accounting firm Deloitte is set to cut as many as 800 jobs in its UK division.
Where economics meets politics, Prime Minister Rishi Sunak recommitted his government to the pension triple lock.
Make sure any upcoming transactions are protected against the risks of sudden market movements. Secure a fixed exchange rate now with a forward contract; call your Business Trader on 020 3918 7255 to get started.
GBP: Sterling shrugs off GDP disappointment
The pound remained level overall yesterday, but there is no disguising that it's been on a negative run, losing between 0.7 and 0.9% in the past week against the Aussie, NZ and Canadian dollars and a little less against EUR and USD.
There's a slight let up in the data now, with inflation the next big one, on Wednesday, followed by the interest rate decision a week today. Watch out for the ECB decision later today, however.
GBP/USD past year
EUR: All eyes on Frankfurt
The single currency was unable to be pinned down yesterday, with modest rises against the Scandinavian currencies but weaker against the various dollars.
The ECB's monetary policymakers have been meeting at the bank's headquarters in Frankfurt, Germany, and will announce their decision at 12.15 today. Current betting is essentially too close to call between no change and a 25 basis point rise, with the ECB's traditional unanimity apparently under threat.
Tomorrow there will be a mass of data releases, including final readings for inflation, plus wage data.
USD: Dollar rises with inflation
The dollar bounded out of the traps when the US markets opened today, in reaction to a small rise in inflation. However, it was pegged back by the core inflation data suggesting the battle is still going the Fed's way and the overall gain was around 0.25% against the euro.
There is plenty for the markets to chew on today, however, with retail sales and PPI (producer prices) giving more clues to the direction of US prices.
The week will end with the Michigan Consumer Sentiment reading tomorrow.
For more on currencies and currency risk management strategies, please get in touch with your Smart Currency Business trader on 020 3918 7255 or your Private Client trader on 020 7898 0541.