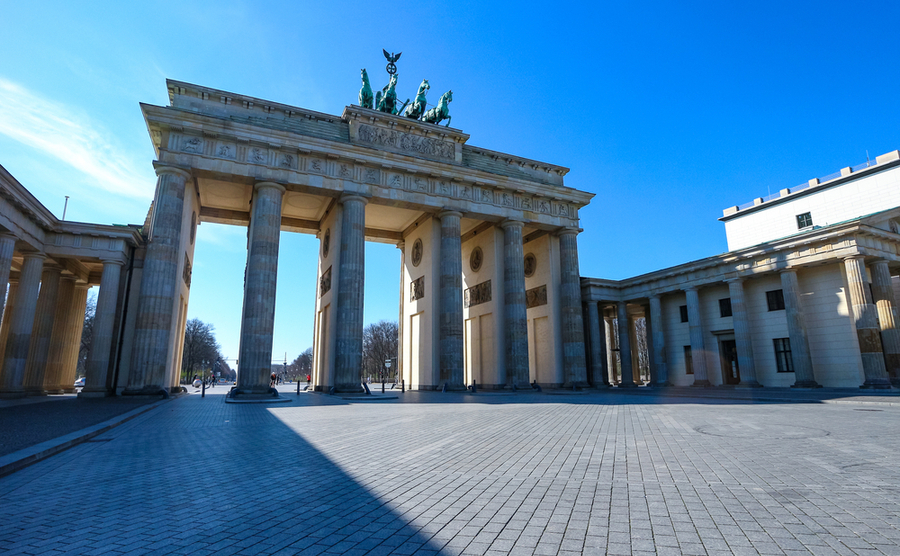 A quiet day in Berlin as the lockdown is reimposed (Sybille Reuter / Shutterstock.com)
Brandenburg Gate (Sybille Reuter / Shutterstock.com)
It's widely expected that the Prime Minister will announce today that the UK's lockdown will ease further, with the current two-metre rule potentially to be reduced from 4 July. That will enable pubs and cafes to open in some format (various safety features are being mooted, including ordering not at the bar but by app), while businesses as diverse as hairdressers, cinemas and art galleries will be given the green light to open again too.
The government will warn that the harsher lockdown could be re-imposed if cases rise again, but yesterday's new cases being under 1,000 and fatality rate down to 15 in the UK (albeit the weekend figure) is the lowest for over three months.
France relaxed most of its lockdown restrictions yesterday and more countries are reopening flights. There have been warnings from Berlin, Lisbon and Victoria, Australia, however, which have all had to reimpose local restrictions.
Cases continue to rise in some parts of the world, especially in the southern hemisphere as it goes into winter.
Germany has woken up to an accounting scandal, while the Pope has made an impassioned plea for the world to look after itself, and the poor, better.
Ensure any upcoming transactions are protected against the risks of sudden market movements. Secure a fixed exchange rate now with a forward contract; call your Business Trader on 020 7898 0500 to get started.
GBP: Sterling basks in Brexit silence
Sterling strengthened marginally yesterday, by around a third of a cent against the euro but rather more than a cent against the US dollar.
The new low in Covid cases may have been a factor, but the lack of Brexit news – which has mainly been negative recently – was probably more important.
Also helping was the rising stock market, which tends to carry sterling with it.
Today we have the Purchase Managers' Index (PMI) for services and manufacturing in the UK, Germany and Eurozone. In a normal month anything below 50 is seen as negative, but the expectation is for around 46 for manufacturing and 40 for services, a rise from 40.7 and 29.0 respectively last month.
EUR: Germany faces threats from Covid and accountants
Germany's success against Covid-19 has caused envy and soul-searching in many countries, including France and the UK, but a flare-up in Berlin has caused a draconian lockdown behind wire barriers. Could it spread? The Eurozone's largest economy also faces the embarrassment of its greatest tech success Wirecard, apparently having fraudulently misrepresented its sales.
Today we're seeing PMI for Germany, France and the Eurozone.
France came in early this morning above expectations, at 52.1, 50.3 and 51.3 respectively for manufacturing, services and composite. Germany lags a little behind, at 44.6, 45.8 and 45.8. However, these are all, needless to say, far better than last month. The Eurozone figures will be along at 9, expected at 44, 41 and 43.
USA: Housing and PMI data for USA
The dollar will continue to be influenced by the rise and fall in pandemic numbers coming from US states. The US dollar has a complicated relationship with troubles on its own doorstep, gaining from being a safe haven even as investors take fright at the damage being done to the US economy. For now the fear factor is winning, and the dollar is being supported.
This afternoon it's the USA's turn for PMI data, with Markit manufacturing PMI forecast at 47.8 (a rise from 39.8 last month).
Tomorrow we have the US house price index, with a small rise of 0.1% expected month-on-month.