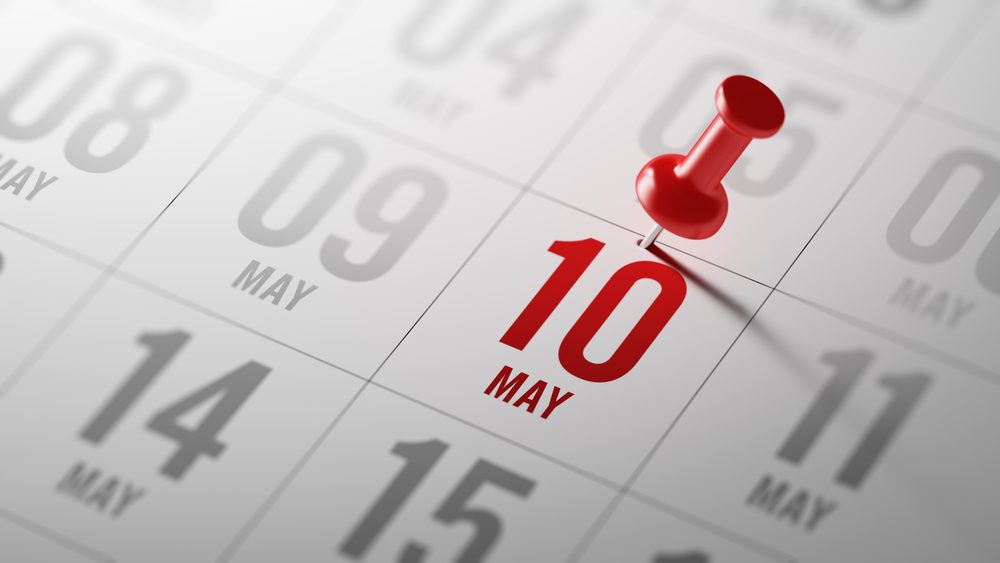 Sterling's disastrous end to last week came as a result of the release of the GDP growth rate for the first quarter of 2018 and what it could mean for UK interest rates. Investors had been betting that the Bank of England would increase interest rates on 10 May and it did seem as if it was nailed on. However, when figures showed the British economy grew by just 0.1% in the first three months of this year, the markets were rattled and sterling weakened sharply.
With that in mind, it was faintly surprising that the pound managed to climb against the euro and, while it weakened further against the dollar yesterday, the losses were minimal. Meanwhile, HSBC announced it no longer expects a May rate hike. Perhaps more alarmingly, the bank said that "The outlook points to no further UK interest rate rises this year or next…we expect significant downward revisions to the BoE's GDP growth forecast." Worrying.
Of course, that doesn't mean to say that HSBC is correct; our currency forecasts show how different major banks' predictions can be, but the rate of the change in expectations is remarkable. Just two weeks ago it looked certain that interest rates would rise and let's remember – the BoE could still hike rates.
The currency markets are often at the mercy of speculation over what might happen and what actually happens. When the two are similar there is often volatility between currency pairings, but when the two are substantially different there is often even greater volatility. That is why currency risk management strategies can be so effective at removing uncertainty and allowing you to concentrate on the task of running your business. Speak to one of the team today to discuss the options available to you.
GBP: sterling's performance could have been worse
Reduced expectations of a May rate hike have depreciated the pound since the end of last week. When HSBC announced it expected no further interest rate rises this year or next, it was reasonable to expect some significant moves in sterling. However, while it continued its slide against the dollar, the situation wasn't quite as bad as it could have been. That it made gains against the euro is rather remarkable and perhaps the European Central Bank's recent comments had something to do with it.
Regardless, the outlook for the British economy is not great at the moment and you do have to wonder what will happen to sterling as more economic data is released. The run up to 10 May, when the Monetary Policy Committee announces its interest rate decision, could see some huge volatility on the currency markets.
Today we have the mortgage approval and lending figures for March, as well as the Markit manufacturing purchasing managers' index. The figure is expected to dip from 55.1 in March to 54.8 in April.
EUR: German retail sales unexpectedly decline
The euro weakened against sterling and the dollar yesterday following the release of some disappointing data from Germany. Retail sales had been expected to grow by 0.8% in March, but they actually declined by 0.6%. Somewhat surprisingly, they actually came in better than expected on a year-on-year basis.
The other release of note was the German inflation rate which came in as expected at 1.6%. While the aforementioned retail sales were disappointing, it is perhaps the ECB's recent remarks that interest rates would be kept on hold for the foreseeable future which led to the euro's poor performance. However, as we have said before, this will not cause Mario Draghi any discomfort, as it is known he favours a weak euro.
It is a fairly quiet day for eurozone economic data today, but tomorrow promises to be extremely busy, with a raft of PMI data, the unemployment rate for March, and the eurozone's GDP growth rate for the first quarter of 2018.
USD: dollar continues its recent positive run
As it stands, the Federal Reserve look far more likely to increase interest rates than the BoE and ECB. Earlier in the year, we saw the dollar weaken when Fed Chair Jerome Powell said he expected there to be only three rate hikes in 2018, but if recent events are anything to go by, that could be three more than we see in the UK or eurozone. Nothing is set in stone yet, and we could still see a UK rate hike in May, but the markets are certainly less confidence than they were just a couple of weeks ago.
The dollar is benefiting from this speculation, as well as the US Treasury yield's recent push through the psychologically important 3% barrier. Economic data from the US has also been positive of late which has certainly not harmed the dollar's movements. Tomorrow we could see more positive data, with the release of manufacturing PMI for April. Last month, the figure came in at 59.3 and though it is expected to dip to 58.3, that reading would still show impressive strength.
However, the highlight of this week is the Fed rate decision which we will see tomorrow. Powell might provide further indication of future economic policy and were he to allude to more rate hikes, the dollar would likely strengthen further.
For more on currencies and currency risk management strategies, please get in touch with your Smart Currency Business trader on 020 7898 0500 or your Private Client trader on 020 7898 0541.