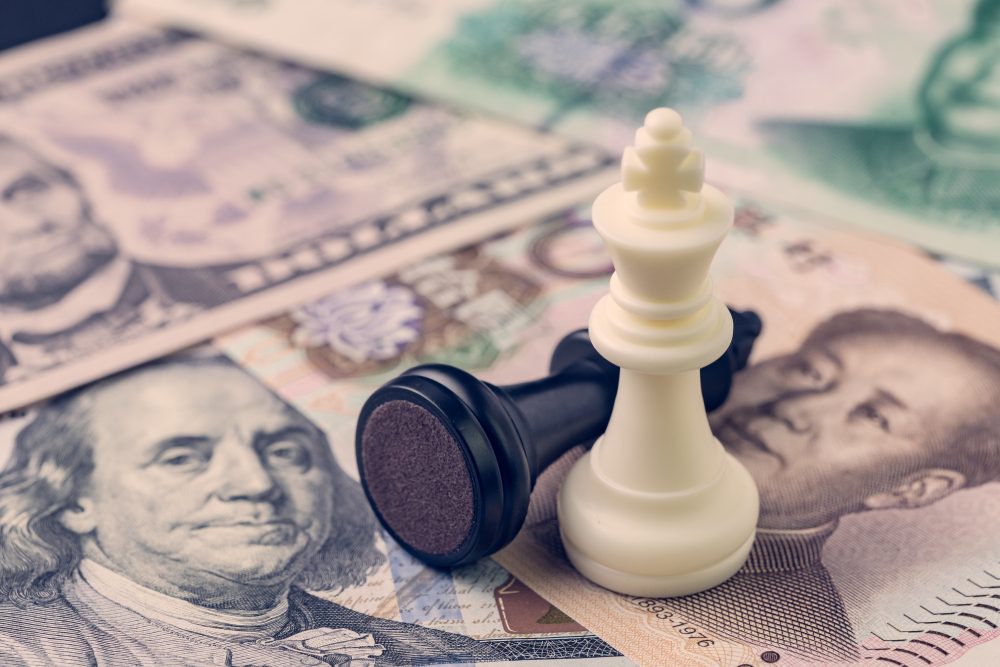 Global trade tensions continued to grow yesterday which sent the US stock market sliding. Other markets followed suit in a clear sign that investors are concerned over the lasting effects of Trump's decision to impose tariffs on a range of imports from countries around the world.
In the early hours of Monday morning, we learned that the Trump administration is considering cracking down on Chinese investment in the US. The new rules, which could come into effect within the next few days, would stop businesses with at least 25% Chinese ownership from acquiring US companies involved in 'industrially significant technology'. Steve Mnuchin, the US Treasury Secretary, sought to clarify the reports, saying they were inaccurate, but this didn't stop markets around the world falling sharply lower.
We also saw Harley Davidson announce it is planning to move some of its production out of the US in a bid to minimise the costs of Europe's new tariffs on motorcycle imports. It is not yet known how many US jobs this could affect, but the company's base is in Wisconsin – one of the rural states that voted for Trump in the 2016 presidential election. The announcement helps demonstrate the wider impacts of trade tariffs and how trade wars aren't good or easy to win.
The news led to a weakened dollar, which lost ground against the euro and fell back from its position earlier in the day against sterling. The pound was also helped by the fact that the markets now believe there is more than a 50% likelihood that the Bank of England will increase interest rates in August, with a 90% chance of a hike before the end of the year. However, a EU summit that takes place this Thursday and Friday – where Britain is hoping to secure a favourable Brexit deal – could hit sterling if all doesn't go to plan.
With that in mind, we could be in for some volatility towards the end of the week and beyond. Download our Treasury Management White Paper which provides an overview of some things to consider and take a look at our risk management web page which should prove useful too.
GBP: Boris flies off to Afghanistan and avoids vote
Talk of Trump's trade tariffs dominated the headlines yesterday on what was a fairly quiet day for UK economic data. However, on the political front, MPs took to trolling Boris Johnson, who is thought to have fled the country in order to avoid having to vote on the Heathrow expansion. Johnson had previously said he would lie down in front of bulldozers to prevent a third runway being built, but he is now in Afghanistan and won't have to vote.
Today we will see UK finance mortgage approvals but otherwise, it is another quiet day. In fact, it is pretty quiet until Thursday, when we will see Nationwide housing prices, but this week's highlight is the final reading of the GDP growth rate for the first quarter of 2018. That will give us a real indication of how the UK's economy has been performing and could cause some sterling volatility.
EUR: German business confidence deteriorates
The threat of a trade war continues to hit Europe, as figures released yesterday showed that German business confidence has deteriorated. The Ifo business climate index fell to 101.8 in June from an upwardly revised 102.3 the month before. While it came in above expectations, the reading still points to the lowest figure since May 2017.
The euro enjoyed a good day against sterling and the dollar yesterday and, while the gains weren't all that significant, it may well be the start of a decent run for the single currency. It is fair to say it hasn't been performing all that well of late, so now might be the time for it to buck recents trends.
There are no major economic data releases from the eurozone due today or tomorrow, but on Thursday we will see Gfk consumer confidence for Germany, as well as business confidence, consumer confidence, and economic, services and industrial sentiment for June. The releases should give us a real idea of how the eurozone has been performing of late and it will be interesting to see whether trade war fears continue to affect the economy.
USD: Harley-Davidson to move production out of America
Harley-Davidson announced it is planning to move some of its production out of the US following Europe's new tariffs on motorcycle imports. The tariffs, which came into effect yesterday, add $2,200 to the average price of a bike exported from the US to Europe and the shift of production is designed to avoid the additional costs.
New home sales in the US jumped by 6.7% in May from an upwardly revised 3.7% drop in April. It is the highest figure since November and easily beat expectations of a 0.7% increase. Still, trade war fears sent the dollar tumbling against a basket of currencies and we could yet see further losses throughout the week.
Today is fairly quiet, but we will see consumer confidence for June and tomorrow we will see the durable goods orders for May. Last time around, they slumped by 1.7% month-over-month.
For more on currencies and currency risk management strategies, please get in touch with your Smart Currency Business trader on 020 7898 0500 or your Private Client trader on 020 7898 0541.