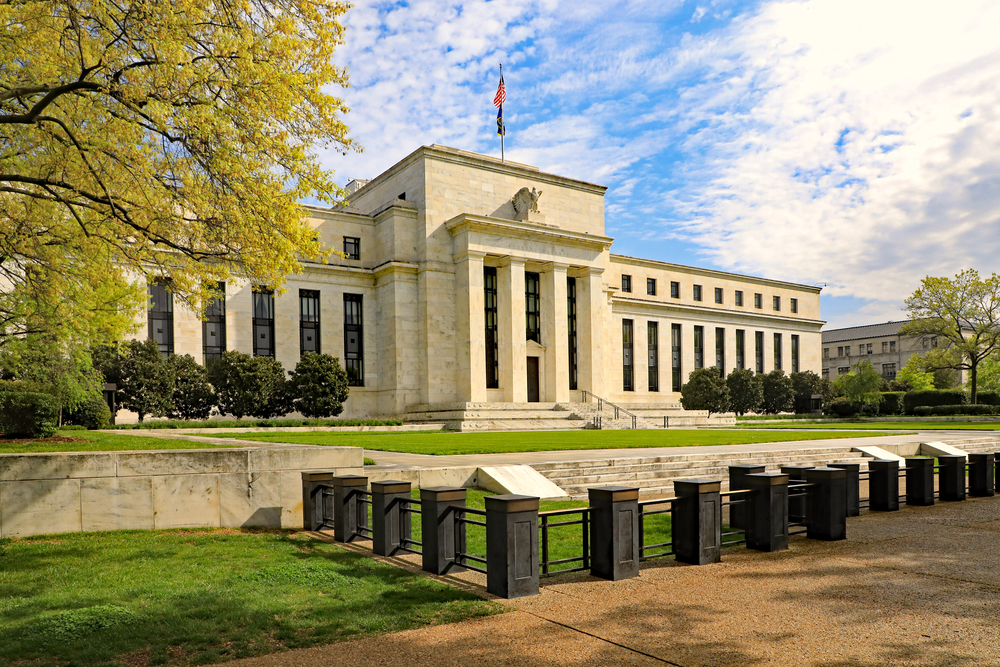 The Federal Reserve raised interest rates to 5.5% in its July meeting
Yesterday the Federal Reserve raised interest rates by 25 basis points to 5.5% in July from 5.25% in June. This is the highest rate since January 2001 and the 11th consecutive rate hike in the U.S. central bank's past 12 policy meetings.
The pound carried Tuesday's gains into Wednesday, gaining almost half a per cent on the day. This morning, the pound has continued to climb, adding 0.5% since yesterday's close.
Against the euro, the pound made modest daily gains of 0.2% and remains steady this morning ahead of the European Central Bank's (ECB's) interest rate decision at 1:15 pm (UK time).
The ECB is expected to raise Bank Rate by 25 basis points, which would take the rate to 4.25% heading into August.
After the FTSE 100 closed at its highest level in over two months on Tuesday when Unilever shares soared, the index plunged 0.7% yesterday following worries over the US ceiling.
NatWest shares fell 3.74% yesterday in the wake of CEO, Alison Rose's resignation. Rose admitted to leaking confidential information about former UKIP member Nigel Farage to the BBC.
In the wake of the NatWest backlash, senior executives from UK top banks, Barclays, HSBC, Lloyds and others were summoned to a London meeting and later agreed to overhaul their handling of account closures and swore to uphold clients 'freedom of expression'.
Junior doctors in England will stage a four-day walkout from 11–15th August in the latest wave of union strikes. The British Medical Association said junior doctors have lost "more than a quarter" of their pay in the last 15 years and are "here to get it back".
US new home sales fell more than expected, dropping 2.5% to 697,000 in June. The median price of new houses sold dropped to €419,400, while the average sale price was €494,700 as opposed to €432,700 and €472,000 this time last year.
In France, the unemployment rate soared by 13,200 people to 2.79 million in June, edging closer to the 12-year low reached in March this year. These stats reiterate tightness in the European labour market.
This afternoon, economists will receive June's figures for US durable goods orders which are forecast to come in at 0.6%, from 1.7% in May.
Make sure any upcoming transactions are protected against the risks of sudden market movements. Secure a fixed exchange rate now with a forward contract; call your Business Trader on 020 7898 0500 to get started.
GBP: pound recovers in wake of Fed rate hike
A week away from the Bank of England's interest rate decision, the pound's major influences this week come from other Central Bank interest rate decisions. Sterling has gained 1% since yesterday morning and remains steady ahead of the ECB decision.
GBP/USD: the past year
EUR: GfK consumer morale improves
This morning, new figures from the GfK Group revealed Germany's consumer climate indicator rose slightly to -24.4 in August, up from -25.2 in July. Higher than forecasts, the morale is believed to be boosted by waning pessimism in the hope of calming inflation.
USD: Fed's last move in the inflation battle?
The Federal Reserve's decision to raise interest rates by a quarter of a percentage marks the US central bank's 11th hike in the last 12 policy meetings and possibly a final move in its monetary tightening policy.
For more on currencies and currency risk management strategies, please get in touch with your Smart Currency Business trader on 020 7898 0500 or your Private Client trader on 020 7898 0541.