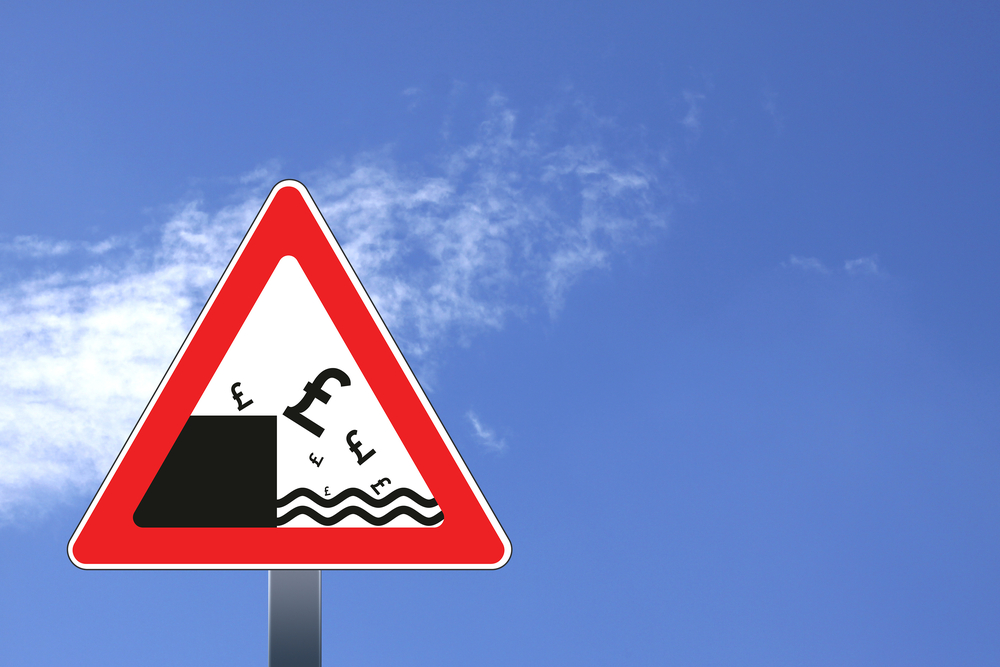 Yesterday's positive inflation news of a 0.6% decline heavily impacted the pound
Yesterday proved that good news for the economy and public isn't always reflected in the currency, when a sharp decline in monthly inflation led to the pound weakening.
Around 1.5% was knocked off GBP/USD and 0.75% off GBP/EUR, taking with it all the gains of the past week.
The big news of the day was inflation falling by 0.6% in January, following December's 0.4% rise. The drop was bigger than expected and added up to an annualised rate of 10.1%. Moreover, the ONS's data for core inflation, with the more volatile food and fuel prices removed, was below yesterday's annual earnings data.
One of those declining prices was UK houses, where the average home cost £294,000 in December, which was £2,000 less than in November.
UK inflation readings were in sharp contrast to yesterday's Spanish inflation figure which was rising by some measures, and US inflation, which was revealed on Tuesday to be above expectations.
On the plus side, retail sales were revealed to be well above expectations in the USA, decisively reversing December's decline to rise 3% in January.
Elsewhere in business news, the troubled airline Flybe failed to find a buyer, while on the high street McDonalds raised prices and Subway started looking for a buyer.
The political event of the day came from Scotland's First Minister Nicola Sturgeon, who announced that she is standing down as SNP leader.
Another union has refused to accept a pay deal, joining health service and railway staff. Fresh waves of strikes are being planned.
Make sure any upcoming transactions are protected against the risks of sudden market movements. Secure a fixed exchange rate now with a forward contract; call your Business Trader on 020 7898 0500 to get started.
GBP: Pound in inflation's shadow
After several top-level data releases that sent sterling slowly higher over the course of the week and then down very rapidly yesterday, today is a quiet one for data.
However, falling yesterday's inflation fall it will be interesting to hear the Bank of England's Chief Economist and Executive Director for Monetary Analysis and Research Huw Pill speaking at 18:00 this evening.
Tomorrow morning will be retail sales. Will they have recovered from last month's unexpected drop? Data has packed a punch so far this week and this could be the sting in the tail.
GBP/USD: the past year
EUR: Euro down on the US dollar
It was a mixed day for the euro, recovering strongly against most currencies, including sterling, but losing 0.5% against the US dollar. This morning, the euro has regained some strength but remains lower than yesterday's highs.
Data was mixed too, with eurozone industrial production falling more steeply than expected. Spanish inflation data was patchy, still relatively low at 5.9% but not falling quite as fast as expected last month and indeed higher than last month year-on-year. We'll hear French inflation tomorrow, but the quiet week for data continues, leaving the single currency in a passive mode.
USD: dollar boosted by retail sales
It was a stellar day for the dollar, strengthening by between 0.5 and 1.5% against major rivals.
Retail sales were one of the drivers, confounding the markets by reversing December's 1.1% loss to a 3% rise in January. The NY Empire State Manufacturing Index climbed 27.1 points too.
Today we'll hear housing data, with Building permit numbers at 2pm, the in evening it's something of an FOMC bonanza, with three members of the Fed's rate-setting panel offering their views.