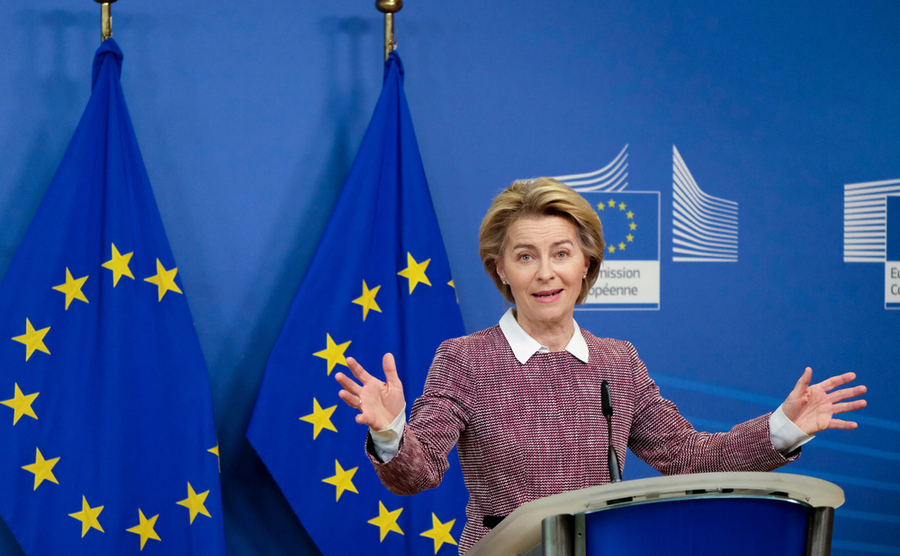 European Commission President Ursula von der Leyen (Alexandros Michailidis / Shutterstock.com)
Sterling staged its own V-shaped recovery yesterday, dropped sharply against all major currencies following comments from the Bank of England that it is preparing for negative interest rates, but recovering close to where it started by the close, following positive comments from the EU on trade negotiations.
The government admitted that it had been unprepared for the surge in demand for Covid tests, as over 3,000 new daily cases were recorded for the sixth time this week. Test numbers should double by the end of October, said several spokespeople and Ministers. Even so, they are actively considering further social distancing measures.
Britain is not alone; Spain and France are both seeing well over 10,000 new cases daily.
Interest rates remained unchanged for now, however, as is the level of quantitative easing.
Make sure any upcoming transactions are protected against the risks of sudden market movements. Secure a fixed exchange rate now with a forward contract; call your Business Trader on 020 7898 0500 to get started.
GBP: Pound swings low on negative rates fears
The Bank of England will "begin structured engagement on the operational considerations in 2020 Q4". That's the phrase in the minutes accompanying today's interest rate decision that saw sterling tumbling at midday yesterday.
Despite this, sterling ended the day roughly back where it started after an encouraging comment from EU Commission president on Brexit talks talks, which she said she was convinced would lead to a deal.
The Bank expects GDP for 2020 to be around 7% below 2019 slightly less bad than originally expected. . There are no more data releases ahead of the weekend, and there are no more Brexit talks scheduled for next week either, so the main focus is likely to be on the continued spread of Covid and the likelihood of a further lockdown.
EUR: Commission president "convinced" of success
The single currency gained almost 1% on USD yesterday but after a strong start ended the day weakening against sterling.
The drop against sterling was a result of the EU Commission president saying she was convinced that a trade deal could be reached with the UK in time.
Eurozone inflation data was as forecast, at 0.2% for the year to August. The unexpected star of European recovery continues to be Italy, with little sign of a second Covid wave, no quarantine from the UK and construction fat ahead of expectations at just 1.1% down in the year to July.
USD: Dollar slips further
The dollar had further losses against EUR as the markets continued to process yesterday's Federal Reserve comments that allow for a more relaxed stance on inflation.
Despite the devastating fires in the Pacific northwest and the continuing Covid crisis (the US is still seeing daily death totals of around 1,000), the number of unemployment claimants fell last month to a four-week average of 912,000, down for 960,000 last month.
For more on currencies and currency risk management strategies, please get in touch with your Smart Currency Business trader on 020 7898 0500 or your Private Client trader on 020 7898 0541.