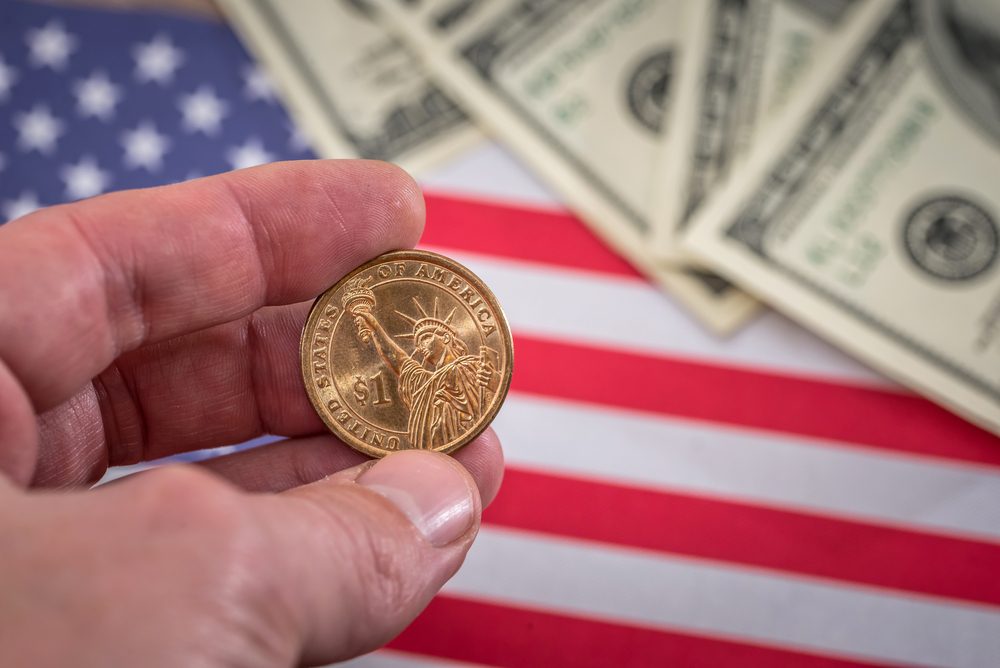 The dollar's loss was sterling's gain on Friday as comments made by Donald Trump weakened the dollar against a basket of currencies. In the early hours of Friday morning, Trump launched an attack on the Federal Reserve, claiming that the central bank risked undermining all of his hard work strengthening the US economy.
In an interview with CNBC, he said that if the Fed kept increasing interest rates it would drive up the dollar. Trump's comments are unprecedented, as central banks are supposed to be independent of politics, but his remarks still spooked investors who now have to determine whether what he said will influence policymakers.
The White House later insisted he respected the independence of the Fed and it is somewhat ironic that Trump's tax-cutting agenda is one of the reasons that policymakers need to act; hiking rates is a means of preventing a dangerous inflationary bubble. Still, when the reports came out, the dollar weakened and sterling and euro both climbed. Ultimately, it was good news for the pound which suffered an extremely volatile week, beginning with a slowdown in wage growth, continuing with steady inflation, and ending with disappointing retail sales. Brexit uncertainty hasn't helped matters either, but it was a good end to the week for the pound, which also managed to retrace some of its recent losses against the euro.
So far this year, there has been more than a 14-cent swing between the highs and lows of GBP/USD and the major banks' latest forecasts show a 22-cent difference in the minimum and maximum rate predictions for GBP/USD three months from now. Those types of swings can have serious impacts on your budget, margins and profit. We published the latest edition of our forecasts on Friday so if you haven't already, grab hold your copy now.
Trump stole more headlines on Friday when he threatened to put tariffs on all Chinese imports. In the same interview with CNBC he was 'ready to go to 500', which would drive up the cost of all Chinese imports into America. He said he would do it if China doesn't listen to America's complaints about its trade policies. Stock markets around the world began by falling, but the situation could arguably have been worse. Wall Street did open lower, but not by as much as had been expected earlier in the day.
Today we have the flash consumer confidence reading for the eurozone, as well as existing home sales in the US.
GBP: extremely volatile week for sterling
On Friday, the pound retraced some of its recent losses against the euro and dollar to end the week on a high. The moves against the dollar came as a result of Trump's comments on Fed policy, where he lamented its rate hikes. It is clear that Trump favours a weak dollar and believes that if rates continue to rise then it would weaken the US economy.
The only release of note on Friday was the public sector net borrowing figures for June, which showed that the UK government posted a total net borrowing deficit of £4.53 billion compared with £4.629 billion a year earlier. The deficit was wider than the £3.5 billion the markets had expected, but overall, public borrowing hit its lowest mark for 11 years. Britain borrowed a total of £5.4 billion to balance the books last month, which was £800 million less than the same month last year. This could encourage the government to cut taxes or boost spending in the autumn Budget.
Today is fairly quiet for UK economic data, but tomorrow we will see CBI industrial trends orders for June, while Wednesday sees finance mortgage approvals for June.
EUR: euro ends the week as it began against the dollar
It was a mixed week for the euro, particularly against the dollar, as it began the week strengthening, before two consecutive days of losses. However, on Thursday it made the tiniest bit of ground, before gaining more than 0.5% against the greenback on Friday. Like sterling, the euro benefited from Trump's comments on Fed policy which drove the dollar down and affected stock markets around the world.
There were no major economic releases from the eurozone on Friday, but this week promises to be an extremely busy one. Today we have the flash consumer confidence reading for July, before a raft of Markit purchasing managers' indices from Germany and the eurozone. Composite, manufacturing and services PMI are expected to dip across the board in July. While what analysts are forecasting only amount to slight slowdowns in growth, we could be in for some surprises.
On Thursday, the European Central Bank will announce its interest rate decision, but we all already know that president Mario Draghi has said rates won't be hiked until at least the middle of next year. It would be one of the biggest surprises in recent times if policymakers did an about-turn. It will be interesting to see what is said in the accompanying press conference – especially if there is a change in future policy.
USD: Donald Trump's comments spook markets and weaken dollar
Donald Trump probably slept well over the weekend given the dollar's performance on Friday. It recently hit its highest mark for a year against a basket of currencies and the president clearly was not a very happy man. He told CNBC that the Fed risked undoing all of his hard work strengthening the US economy if they continue to raise interest rates.
While it is true that the fed have tightened monetary policy more than the Bank and England and ECB, Jerome Powell must have been a little bemused given much of the Fed's latest actions have in part been forced by Trump's tax policies.
Trump also threatened to impose tariffs on ALL Chinese imports if China didn't bow to his demands to change its trade policies. This sent the European markets a little lower, as Europe is also in Trump's firing line.
Today we have existing home sales in June and tomorrow sees composite, manufacturing and services PMI for July. On Wednesday we have new home sales in June and on Thursday, durable goods orders for the same month. The main release comes on Friday, with the quarter-on-quarter GDP growth rate scheduled.
For more on currencies and currency risk management strategies, please get in touch with your Smart Currency Business trader on 020 7898 0500 or your Private Client trader on 020 7898 0541.