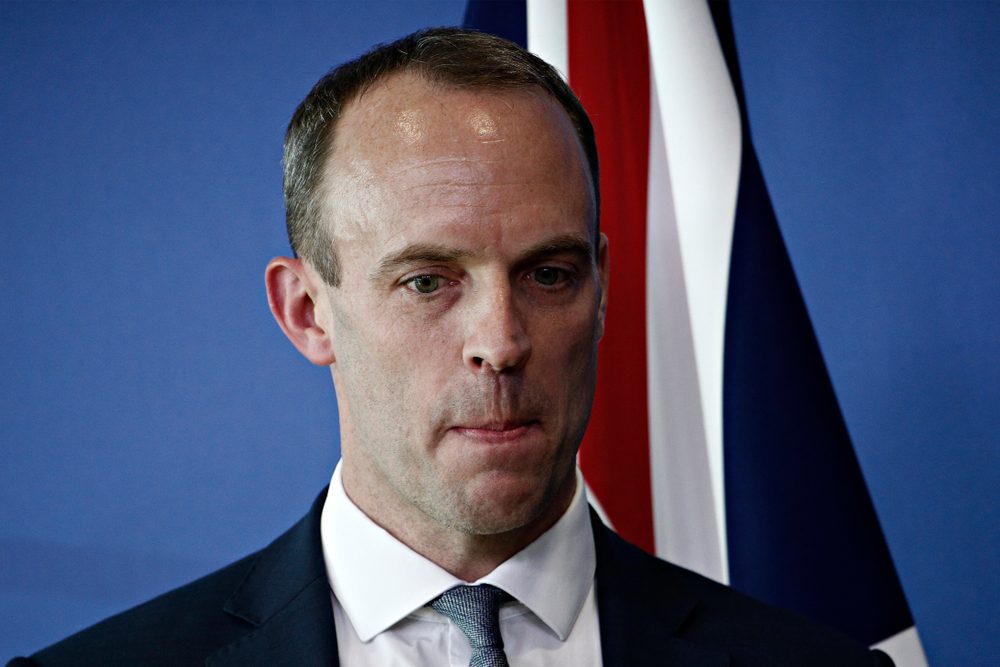 What a day. The morning started sedately enough, as we all caught up on Brexit developments. Theresa May managed to get the Cabinet to support her Brexit withdrawal agreement and the pound was hovering around the $1.30 mark. Then Dominic Raab resigned as Brexit secretary and a fresh wave of turmoil began. In his resignation letter, Raab said that he couldn't support the proposal deal for two reasons. First, the regulatory regime proposed for Northern Ireland threatens the integrity of the UK and second, the indefinite backstop arrangement.
Before Raab quit, the Northern Ireland minister Shailesh Vara resigned and after Raab quit, Esther McVey followed suit. The pound weakened sharply and was down by more than 1% against the euro and dollar. The weakening continued throughout the day and wasn't helped by reports that 84 Tory MPs plan to vote against May's deal. Jacob Rees-Mogg called for a no-confidence vote in Theresa May and expects many more letters to be sent to Sir Graham Brady, chair of the 1922 Committee (Conservative MP Henry Smith submitted his own letter later in the day). There is a very real possibility that May could step down from her role.
So, where do we go from here? We don't know and we won't pretend to. There are so many possibilities at present that it would take a brave person to say anything with any certainty. However, it does look as if May's proposals will not get through Parliament which would mean a return to the drawing board. A no-deal Brexit is, once again, looking increasingly unlikely, although we could even see a general election and/or a second referendum.
UK retail sales fell 0.5% in October. The markets had been expecting a 0.2% increase, so the release was particularly disappointing. Balance of trade figures from the eurozone showed the surplus narrowed sharply to €13.1 billion from €25.3 billion in the same month the previous year/ Exports fell by 1% while imports increased by 6.4%. In the US, retail sales increased by 0.8% in October from 0.1% the previous month, beating expectations of 0.5%. Another release that appears to confirm the strength of the US economy.
Today there will be continued Brexit fallout and it will be interesting to see what happens to the value of the pound on the final day before the weekend. The recent levels of volatility really do help to cement the importance of putting currency risk management strategies in place. Our team can provide guidance on some methods that enable you to protect your business whilst allowing some room to take advantage of favourable market moves. Drop them a line today and they'll only be too happy to help.
GBP: Dominic Raab resigns on a day of extreme turmoil
It is more or less impossible to keep abreast of developments at the moment, with fresh headline-generating pieces of news being issued almost every minute of every day. Yesterday was extremely hectic on the floor, as well as in the Commons. It is difficult to see how Theresa May could have done much more than she has – her task has been impossible from the start, with absolutely no chance of pleasing several competing ideologies.
But this is politics and for three hours, May had to listen to MPs tear her Brexit proposals to shreds. The deal looks to be a non-starter now, with very little chance of it passing through Parliament. Dominic Raab resigned as Brexit secretary, while Michael Gove is reported to have turned down the offer of being his replacement. Esther McVey has stepped down, while several MPs have written letters to Sir Graham Brady, chair of the 1922 Committee. If Brady receives 48 votes of no confidence, then there will be a leadership challenge (which May could still win).
Retail sales were disappointing in October, with month-over-month figures coming in at -0.5%, while the year-on-year figure fell to 2.2% from 3% the previous period. It is the smallest annual gain in retail sales since April. However, given the political events of the day, this release slipped under the radar somewhat. There are no economic data releases today, which is perhaps just as well given what our attention will be trained on throughout today.
EUR: eurozone balance of trade figures narrow sharply
The euro enjoyed a fine day against the pound yesterday following the political fallout we saw from the UK. It is the biggest day of gains against sterling for some time now. Against the dollar, things were much more sedate; the appetite of investors clearly revolved around the pound and will likely continue to throughout today.
Economic data from the eurozone was disappointing though, with the balance of trade figures showing the trade surplus narrowed sharply to €13.1 billion in September from almost double that the same month last year. Other than that, it was fairly quiet – the headlines were understandably dominated by UK politics.
Today sees wholesale prices from Germany, as well as the eurozone's inflation rate for October. It is expected to nudge up to 2.2% from 2.1% the previous month. European Central Bank president Mario Draghi is due to give a speech this morning and it will be interesting to see if he says anything about future monetary policy, particularly given recent disappointing data from across the eurozone.
USD: better-than-expected retail sales in October
The headline release from the US yesterday was October's retail sales figures which showed healthy month-over-month growth of 0.8%. This was some way better than the 0.5% expected and a marked improvement on the previous month's figure of 0.1%. It is the largest increase in retail sales since May and was mainly down to rebuilding efforts after Hurricane Florence.
Initial jobless claims up to 10 November 2018 were slightly worse than expectations, rising to 216,000 from 214,000 the previous week and above the 212,000 the markets had been expecting. Still, it is possible that the Veterans Day holiday affected the reading and even if it didn't, US employment has been performing exceptionally well for some time now.
Like the euro, the dollar soared against sterling, though this was down to the pound's weakness rather than dollar strength. The pound fell below $1.2750 several times throughout the day and when we consider that it touched $1.3030 earlier, we begin to get a sense of how dramatic the weakening was.
Today we will see industrial and manufacturing production figures for October, but attention will still largely be on UK politics, Brexit and the pound's performance.
For more on currencies and currency risk management strategies, please get in touch with your Smart Currency Business trader on 020 7898 0500 or your Private Client trader on 020 7898 0541.