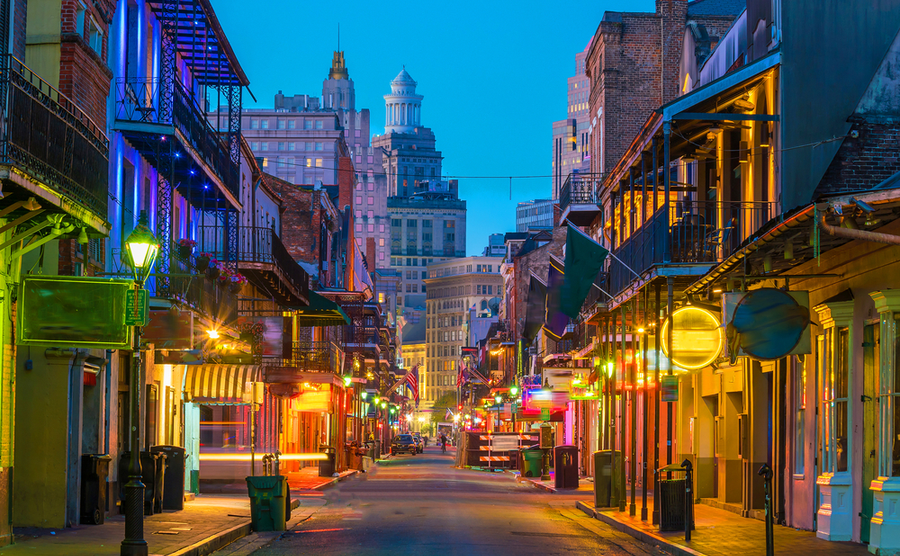 No Mardi Gras today, a deserted New Orleans
As Covid-19 causes Mardi Gras celebrations to be cancelled around the world today for the second year, the UK continued to see 25% falls in cases and hospitalisations compared to last week, and nearly a quarter of the population vaccinated.
That translated into another rise in the strength of the pound to a nearly one-year high against the euro and three-year high against the US dollar.
In the UK, the FTSE had its best day since early January, rising 2.5%.
In business news, the car maker Jaguar is setting itself as a rival to Tesla as it promises to go all-electric within 15 years.
There has been more criticism heaped on EU Commission President Ursula von der Leyen, this time from within the EU, as senior MEP Guy Verhofstadt said she had prolonged "drastically the Covid pandemic on mainland Europe".
US economic leaders in the West Wing and the Fed are pushing ahead with a $1.9bn stimulus package, brushing aside fears that it could be inflationary.
Make sure any upcoming transactions are protected against the risks of sudden market movements. Secure a fixed exchange rate now with a forward contract; call your Business Trader on 020 7898 0500 to get started.
GBP: Pound's climb continues
Sterling continued its climb against the euro yesterday, hitting another highest level since last spring. It also set a new nearly three-year high against the US dollar.
With no data releases in the UK yesterday, the prompt for sterling's success continues to be the rapid drop in Covid cases, hospitalisations and deaths as the vaccine approaches reaching a quarter of the population.
Disappointing results for European industry will have fuelled the market's optimism about sterling, but the pound will be subject to movement if better EU data is revealed during the day.
EUR: Data to fore as criticism continues
It was an up-and-down day for the euro against the US dollar yesterday, but all within fairly tight margins, and that has continued in early trading today.
Yesterday, industrial production figures for the Eurozone were worse than expected, down 1.6% for the month of December and 0.8% on the year.
It's a busy morning for data. Unemployment in France came in at 8% at 7am, slightly better than expectations, and later this morning we have employment and GDP for the eurozone as well as the ZEW economic sentiment index, both for the entire bloc and for its biggest economy, Germany.
USD: Softening dollar slides again
The dollar's 10-day slide against the euro and pound continued yesterday, albeit in a fairly muted way. The dollar lost against most major currencies, including GBP, NZD and CHF.
There are some mid-level data releases today, but the bigger news will be tomorrow, with retail sales and minutes of the Fed's monetary policy meeting.
For more on currencies and currency risk management strategies, please get in touch with your Smart Currency Business trader on 020 7898 0500 or your Private Client trader on 020 7898 0541.