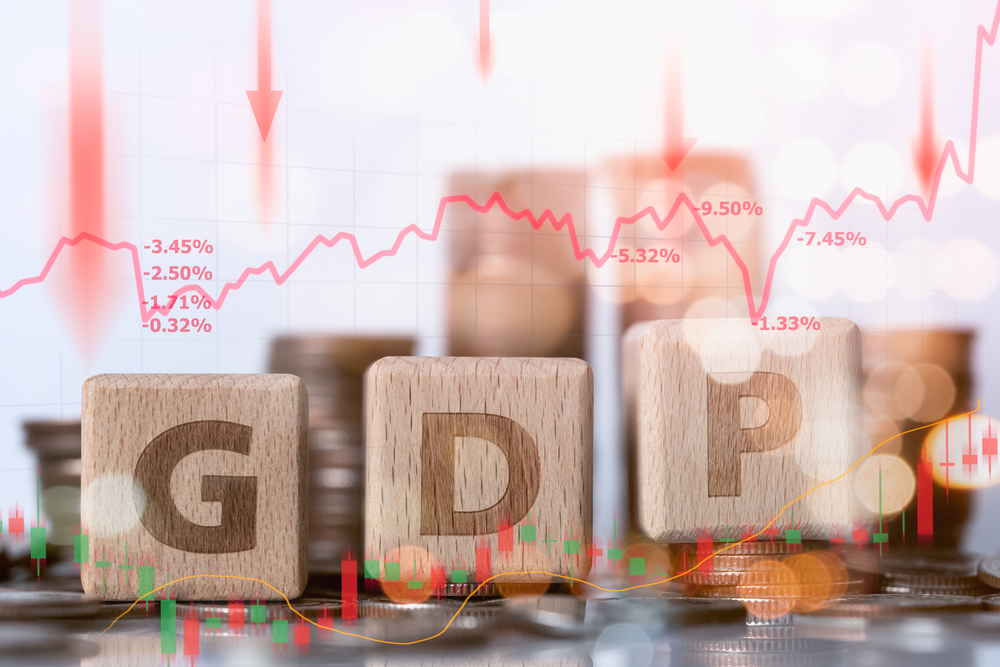 Sterling gained around 1% against the US dollar yesterday, hitting its highest level since March 2022 and 5% above its average over the past five years. There were similar gains against other major rivals but against the euro it was more muted at about 0.25% over the course of the day.
The main reasons were, from the UK side, better than expected GDP results, which combined with a big increase in wages in the past year, as announced on Tuesday, supports the idea that there will be more interest rate rises.
The economy shrank by 0.1% in June, when a drop of 0.3% had been expected, taking the annualised figure to negative growth of 0.4%. The extra public holiday for the King's coronation was a contributory factor.
A very different picture in the USA, where June's inflation figure of 3%, along with core inflation finally dropping too, suggests that the US Federal Reserve can, after all, rein back on its interest rate rises. One more hike is now predicted from the Fed rather than two, and this hit the dollar severely.
It was good news for stocks and shares though, with the promise of less pain for borrowers sending the FTSE to its biggest one-day jump of 2023 on Wednesday, and a smaller rise yesterday.
One commodity sure to rise in price is olive oil, with Europe's heat and drought sending the price of olive oil from €4 per kilogram in September to €7 today. A bottle of olive oil in the UK has already risen by 47% in the year to May, and more increases are expected.
In business news, Hollywood actors are set to join writers in strike action in the US, over the use of artificial intelligence (AI) in TV and films.
Less glamorously but also based on new technology taking jobs, next week sees new strike action on UK railways and underground from Monday.
In the public sector, Prime Minister Rishi Sunak announced yesterday that NHS and other public sector staff would receive 5 to 7% pay increases this year – his "final offer". This looks likely to be accepted by teachers but not by doctors.
Make sure any upcoming transactions are protected against the risks of sudden market movements. Secure a fixed exchange rate now with a forward contract; call your Business Trader on 020 3918 7255 to get started.
GBP: Sterling boosted across the board
Sterling continued its near-constant 10-month rise against the US dollar yesterday, boosted by the news that America's tightening monetary policy appears to be working considerably better than the UK's. So far this morning the pound has fallen back, but only marginally.
Yesterday the British economy was revealed to be have shrunk fractionally in May, largely due to extra public holidays, even while salaries are rising at a record level. We will see what impact that is having on inflation on Wednesday, in what will otherwise be a fairly quiet week for data.
GBP/USD past year
EUR: Patchy day for euro
Like other currencies, the euro had a strong day against the US dollar yesterday, strengthening by 0.75% by the end of the day. It weakened, however, against the pound and continues to bobble around close to an 11-month low.
French inflation was confirmed at 4.5% in June yesterday, a sharp drop from 5.1% in May.
Next week's data is a little light, but there will be final results for inflation across the eurozone.
USD: Dollar on backfoot as Fed wins inflation battle
Big losses continued for the US dollar yesterday, the largest of which were 1.4% against the Australian dollar and 1.1% against sterling.
With US inflation falling fast the markets expect the Fed to pause interest rate rises. Good news for US mortgagees and businesses that borrow, and the stock exchanges responded accordingly. The S&P 500 rose by 0.62%.
This afternoon we'll hear the Michigan Consumer Sentiment index. The expectation is that the mood among consumers will have improved. We will see more evidence of that with retail sales data on Tuesday.
For more on currencies and currency risk management strategies, please get in touch with your Smart Currency Business trader on 020 3918 7255 or your Private Client trader on 020 7898 0541.